Celebrity Big Brother 2013: Good neighbour Toadfish to be a fab housemate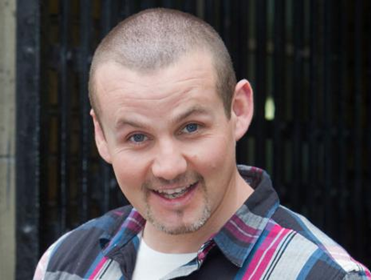 Will Toadfish (Ryan Moloney) go all the way?
Eliot Pollak reviews the celebrities in order they entered the Big Brother house and gives us his idea of the likely Winner at this early stage...
"Bland enough to go far, and should cope with the basement well enough too. Even took being confused for a show-runner by the drugged-up model with good grace. Our tip at this stage."

Frankie Dettori - 6/17.0
Oh, Frankie. Surely you're too good for this, even after your recent drug mishaps. You went through the card at Ascot for goodness sake. A good 'character' as proven on Question of Sport, so may go quite far. There was absolutely no need to gallop into the house however.

Rylan Clark - 9/52.78

Quite simply everything that is wrong with modern Britain. Chosen along with the jockey to compete in the secret task deciding which celebs go to the basement - who could have guessed there would be such a twist on opening night! Said in his little vignette that he doesn't classify himself as a celeb. You're not alone mate.

Paula Hamilton - 47/148.0

A lady who has certainly had some work done on her face, with the mouth and nose unlikely to feature in any cosmetic surgeon's show catalogue. I suspect she will be an enormous pain, although if she survives the basement with good grace, her stock could rise.

Tricia Penrose - 18/119.0

In truth, the CBB producers gave up the ghost by issuing their 'household names' with the sort of name-tags you get at cross-industry off-site training days, so we would all know who the hell they are. Penrose is another who makes us grateful for that assistance, although it was to be fair, covering her best assets.

Ryan Moloney - 6/16.8
Toadfish from Neighbours. Been in that show so long, he probably actually does live in Ramsey Street. Seems like a decent fair-dinkum kind of bloke, and is certainly recognisable to the unemployed layabouts who watch and vote in this drivel. Bland enough to go far, and should cope with the basement well enough too. Even took being confused for a show-runner by the drugged-up model with good grace. Our tip at this stage.

Gillian Taylforth 10/111.0

Ah some true tabloid fodder at last. Way before phone hacking was cool, Taylforth was helping to sell tabloids by the millions, with her car-based antics (Google it kids). She has no chance - her price is far too short. Lay Taylforth. Not lay-by this time.

Sam Robertson - 31/132.0

Ooh a real lad. He even hinted he has had sex with lots of women. Get him. The only interesting thing about Robertson is the rumour that he was lined up for the last CBB, but bottled it due to anxiety. This time, it looks as if he has had some medicinal help coping.

Lacey Banghard - 49/150.0

It was at this point where my will to live pretty much left the building. I didn't watch her interview but suspect she said she is very clever and people shouldn't assume she is thick because of what she does for a living. And yes, it is her real name.

Claire Richards - 13.5

The faded star seeking redemption. The fat lass who wishes to be the nation's sweetheart. Expect tears and hissy fits. She is the dark horse, and well worth a bet to finish in the top three at 2/13.0.

Neil Ruddock - 12.5

Was he the last-minute Jim Davidson replacement? Ruddock delivers a similar sort of shtick although moderately less offensive. His last major reality outing on I'm a Celeb Series 3 went badly, lasting just 11 days, mainly spent lounging around moaning about a lack of food. Did well on the footballers Come Dine with Me, although struggled on Celebrity Life Swap where he looked a lowlife. Could go either way.

Heidi and Spencer - 109/1110.0
Ah, an American wearing military garb. Lovely. No chance.