Celebrity Big Brother 2013: Charlotte to emerge victorious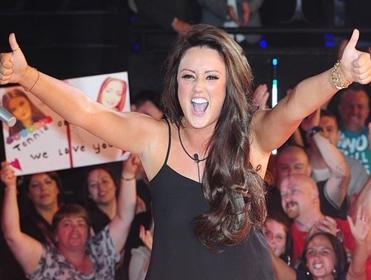 Will Charlotte win CBB 2013?
Claire Taylor's two antepost tips - Abz Love and Charlotte-Letitia Crosby - now head the betting ahead of Friday's final and she is back with her final recommendations on this year's series...
"The Geordie Shore cast members are all behind her on Twitter along with a few other well-known reality stars, so Charlotte should still be able to pip Abz to the finishing post." 
So, we have made it to the final. A double eviction on Wednesday night saw the viewers wave goodbye to Courtney Stodden first, shortly followed by the shock exit of Louie Spence. 
Arguing their way into the final on Friday night we have Charlotte-Letitia Crosby, Abz Love, Lauren Harries, Mario Falcone, Carol McGiffin and Vicky Entwistle.
We are almost at the end of the series now, and this final week has seen some clear divisions amongst the contestants, with Big Brother creating most of the fireworks with their endless supply of alcohol to thirsty housemates.
Vicky, currently trading at 34.033/1, should be the first celebrity evicted in Friday's finale. By far the most argumentative female in the house, she will tell anyone that will listen she isn't like her alter ego Janice Battersby, but from what the viewers have witnessed this week, most will beg to differ. I predict her to limp home in sixth place.
Mario Falcone - available at 41.040/1 - has been somewhat of a hidden character throughout the show. He's made the final night with just a few nominations, and likes to think of himself as a nice guy. Perhaps he is a genuine bloke, but I cannot see Mario finishing higher than fifth place. His on/off 'showmance' with Courtney secured her eviction and, other than the odd giggle, Mario hasn't offered much and shouldn't finish any higher.
Carol, trading at 21.020/1, has been an interesting character. Her popularity peaked in week two with her comical characteristics, but now as we sail through week three we have seen a massive decline in her chances of winning. She can be very bitchy, very confrontational, her age and experience tends to lead the younger housemates astray. She is proud to not be 'ladylike'; however, at 53 you would think she would have grasped the basics of manners. No higher than fourth for me.
In third place I have Lauren Harries, who is trading at 4.57/2. She has been on a huge journey throughout her Big Brother experience and I personally have really enjoyed watching her. Her clumsiness is absolutely hysterical and at the same time she has a wonderful naivety about her. I suspect when the show has ended and her fellow contestants have stumbled back into reality, we may see more of Lauren on our TV screens. 
With gritted teeth I am still going to place Abz - my 21.020/1 each way shout at the beginning of the series - in second place. His odds have shortened dramatically over the last week and he is now the favourite to actually be crowned the winner, trading at 2.01/1.
Abz has experienced a superb final few days; his gentle and sweet nature loving ways have melted the hearts of the viewers it seems. He has quietly relaxed in the background, allowing the stronger personalities to destroy their chances of winning. He has remained the same, quiet guy throughout.
He only actually faced eviction once in the entire series, but I could argue the fact he hasn't really done anything worthy of winning the show. 
This leads me onto Geordie Shore's Charlotte-Letitia Crosby, my 5.04/1 tip from opening night, who is at now available at 2.6213/8.  
I believe Charlotte will be crowned Queen of Celebrity Big Brother 2013. She is still (just) topping the polls that I have seen and she still seems to be the main focus of the entire show. If only a handful of her Twitter following vote for her she will be crowned the winner.
The Geordie Shore cast members are all behind her on Twitter along with a few other well-known reality stars, so Charlotte should still be able to pip Abz to the finishing post. 
Recommended Bets:
Charlotte-Letitia Crosby to win at 2.6213/8
Please note: Prices quoted are from our Sportsbook product so any winnings are exempt from commission