Celebrity Big Brother 2012: Julian Clary the early pick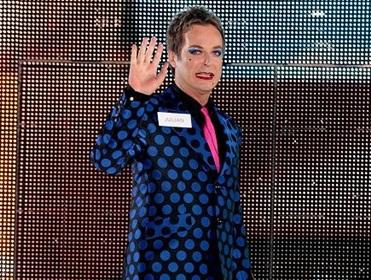 Julian Clary enters the BB house, whill he exit it a winner?
Big Brother may be over but the Celebrity version has just commenced. Simon Hopper previews all the housemates and picks out his best bet at this early stage...
"A controversial character, as well as one of the best known celebs in the house, Julian should do very well. I'd have him as favourite at this stage."

With a winner's list that includes the likes of Chantelle, Ulrika Jonsson, Alex Reid and Paddy Doherty, it really is remarkable that Celebrity Big Brother is still going. But as long as Channel 5 continue to foot the bill then we'll continue to have plenty of value betting opportunities available. Here's my early take on every celeb housemate for this summer's series:
Martin Kemp 3.711/4: Probably the best known housemate in there this year and Martin will obviously be the housewives' choice. Hard to ignore his claims but he's no value at 3.711/4 considering it's so early in the show.
Julian Clary 4.67/2: Has to be on the shortlist. A controversial character, as well as one of the best known celebs in the house, Julian should do very well. I'd have him as favourite at this stage.
Cheryl Fergison 6.86/1: Cheryl, aka Heather Trott from Eastenders, is definitely one for the shortlist. She's one of the best known housemates and also coped brilliantly with her opening night 'acting' alongside Julie Goodyear. However, a soap star has never won Celeb BB - perhaps the public are disappointed when they realise the character they loved on the small screen isn't actually real.
Coleen Nolan 8.07/1: Coleen will be hoping to follow in the footsteps of fellow Loose Women panellist Denise Welch, who won the last edition of the show. However, is she as controversial as her predecessor? Having an edgy personality is normally a vital trait required to win the show - look at the likes of Denise, Mark 'Bez' Berry, Ulrika Jonsson and Alex Reid. Only time will tell but she does fit the normal profile of a winner.
MC Harvey 16.5: His good friend Romeo performed excellently on the show last year and if Harvey is anything like his buddy then he'll be around until the latter stages. Good value to make the top three, though winning may be just beyond him.
Julie Goodyear 17.5: Julie is bona fide soap royalty and she was absolutely hilarious in her opening night 'fight' with Cheryl. She will definitely go down well with the public but I'm slightly concerned about the poor record of soap stars, as well as her age (no-one over 54 has ever won the show).
Ashley McKenzie 30.029/1: The Team GB athlete will be hoping that Olympics fever continues for the duration of his stay in the house. It's hard to ignore the fact that Ashley is cashing in on the euphoria of the 2012 games and while I'm sure he's a nice guy, most Celebrity Big Brother winners were well known to the public before they went in. For that reason I don't think he can win.
Prince Lorenzo Borghese 32.031/1: Not a well-known figure in the UK, though given he appeared on American show 'The Bachelor' we know what sort of character we will be getting. Like The Situation, he will find it tough to win because he's a foreigner.
Michael 'The Situation' Sorrentino 34.033/1: Foreigners don't tend to go too well on Celeb BB - they simply don't have a home fan base to fall back on. The Situation will probably be nicer than his brash media personality would imply but I can't back him simply because he's not British.
Danica Thrall 44.043/1: Young models don't have the best of records on the show - Chantelle is the only ever winner under the age of 30 - so it will be a tall order for Danica to win.
Rhian Sugden 46.045/1: Rhian reminds me of Natasha Giggs, who was another attractive young woman looking to turn round her reputation after a spate of nasty newspaper rumours. Like Natasha, I think she'll show her fun side and do fine though I can't see beyond a top five finish.
Samantha Brick 90.089/1: No. Samantha is just not endearing enough to win Celebrity Big Brother. Also, if you're public enemy number one to Daily Mail readers then this show is not the place to come.
Jasmine Lennard 110.0109/1: Jasmine is a lot younger than your average Celeb BB winner and the fact she's not as famous as some of the other housemates will count against her.
Verdict: Four housemates fit the Celeb BB winner trends nicely: Coleen Nolan, MC Harvey, Julian Clary and Martin Kemp. At the current prices I'd side with Julian Clary 4.67/2: he's controversial, relatively famous and will appeal to the right age group.

Recommended Bet
Back Julian Clary to win Celebrity Big Brother @ 4.67/2
Discover the latest articles