Britain's Got Talent: Rob the builder to make it to the final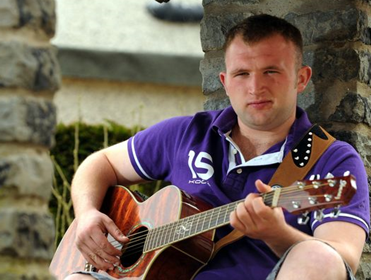 Robbie Kennedy can progress to the final tonight
The third semi-final of Britain's Got Talent looks one of the most open of all, with five acts in with a chance of making it to the final. Mike Norman previews...
"He has that rough edge to his voice, which draws you in and urges you to listen more. He's [3.4] to back tonight, and he could be the one in an open heat."

It's fair to say that Tuesday's semi-final didn't go exactly to plan.
I can't even remember (without looking it up) the name of the act that I tipped to win, she was that bad. Alice Fredenham is her name (now that I've looked it up), and it has to be said that she got it completely wrong.
Yes, she mucked up during her performance. But apart from that her song choice was dreadful. As soon as she started singing - which was in tune - her odds started to drift on the exchange. It was a complete turn off, and she deserved what she got... which was zilch.
She's still available to back at [140.0] in the Outright Winner market because there is a wildcard slot up for grabs, but if she does get picked then she will have to imrove dramatically.
At [4.8] in that winner market is Tuesday's winner Jack Carroll, who was favourite to win on the night of course, continuing the terrific record of favourites in semi-finals, something I alluded to at the beginning of the week.
I'm not a fan of Carroll's act, though it's difficult not to admire his bravery, nerve and quality for someone so young. Comedian's don't do well on this show however (where have you heard that before) and I will be looking to get him beat come the night of the final.
Tonight's semi-final looks a decent contest but only because of the fact that you can give a chance to at least four or five of them in the Semi-Final 3 Winner market, as opposed to the usual two.
Luminites are the current [2.2] favourites, and have a decent chance of making it three from three for favourite backers this week. They are a vocal act consisting of four ex-buskers and they have the usual combination of a good-looking female lead singer, a guitar player, a rapper, and someone who just looks good to make up the numbers.
I fear they'll have to be outstanding to win tonight, and I'm not convinced they will be.
Robbie Kennedy could well be outstanding. Not just tonight but in his career should he be given a chance after Britian's Got Talent. This is a really likeable acoustic guitar singer who rather chose the wrong song in his audition, before Simon Cowell told him to sing something else.
And when he did perform another song he brought the house down and the judges to their feet. He has that rough edge to his voice, which draws you in and urges you to listen more. He's [3.4] to back tonight, and he could be the one in an open heat.
Rosie O'Sullivan - another vocal act with a fantastic voice - could well prove a huge danger to the front two in the betting, but the advice is to perhaps get involved In-Play. Tonight could be one of those times when whoever performs last stays in the memory longer.
The kids have dominated this year's show so far, and dance troupe Pre Skooll could continue the trend. They were slick and polished in their audition and there's no reason why they won't poll a lot of votes this evening. At [3.2] in the To Qualify market they have a chance.

Recommended Bets
Back Robbie Kennedy to win at [3.4] or higher
Back Pre Skooll to qualify at [3.2] or higher