Britain's Got Talent Betting: Lucy to prove she is a special Kay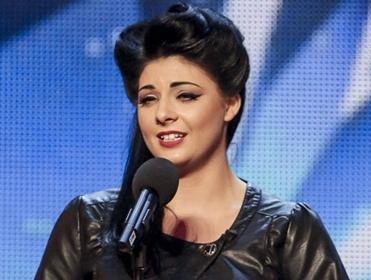 Lucy Kay is a warm favourite for tonight's third BGT semi-final
Watching the second semi-final of Britain's Got Talent was painful viewing for Mike Norman, but not because he got a lot wrong but more because of the poor quality of the acts. Here's our man's thoughts ahead of tonight's third semi-final...
"You won't get much of a price I'm afraid but she really is impossible to oppose. At present Kay is trading at [1.4] to win and that might actually turn out to be a very decent price, though there's no harm in holding out for a bit better as the day progresses."

Last night's second semi-final of Britain's Got Talent can only be described as a total mess - car crash TV at its finest.
It was embarrassing to watch at times, not least when the act I was looking forward to most - Kevin K - took to the stage. Within 10 seconds it was evident that the one fear I had for him, that he'd be nowhere near as good as he was in his audition, was about to come true.
It was a complete farce; no humour, dreadful miming, poor dancing, and the huge worry I now have is that Kevin 'not very Special' K might be the Thursday night act at my local social club in the coming weeks.
But despite making the entertainer my recommended wager last night I do feel that's about the only aspect of yesterday's column that I got wrong. And even then I did warn that he could go backwards rather than forwards.
I spoke at length at how Ed Drewett was a very risky betting proposition, and despite him being matched at [1.51] to win during the day (and at [1.33] to qualify) his fate was effectively sealed when he was the second act to take the stage. The final nail was hammered into his coffin when Simon Cowell, rightly so, criticised him for singing the same song he had performed during his audition.
So hopefully some of you opposed Drewett on the back of my words, and hopefully some of you backed James Smith in the winner market at a high of [4.2] after I said that he was the better of the singers and that it could be argued he was the safest wager of the night at [1.8] (matched at [1.86]) to qualify.
Smith will be joined by dance troupe The Addict Initiative (matched at [20.0] to qualify) in the final but in all honesty neither act will cut much ice against Monday's two qualifiers Collabro and Darcy Oake.
On the back of last night's awful show Collabro have shortened to [2.6] in the outright Winner market, Darcy can be backed at [15.0], Smith at [17.0], and The Addict Initiative at [44.0].
So here's hoping for some better acts in tonight's third semi-final which is surely at the mercy of opera singer Lucy Kay.
You won't get much of a price I'm afraid but she really is impossible to oppose. At present Kay is trading at [1.4] to win and that might actually turn out to be a very decent price, though there's no harm in holding out for a bit better as the day progresses (Kay has been matched at [1.5] to win this evening).
It's not just the fact that Kay is a fantastic singer who wowed the judges at her audition, and it's not simply because she has a heartwarming 'beat the odds' story that makes her a very strong favourite this evening; it's the fact that most of the acts in opposition look very low on quality.
One exception could be girlband REAformed who were put straight through to the live semi-finals courtesy of Alesha Dixon's golden buzzer. And unlike David Walliams, who ridiculously wasted his golden buzzer on some camp out-of-tune karaoke singer, Dixon at least looks to have made good use of her chance to give one act a 'golden' opportunity.
Determined to bring urban music back into the limelight REAformed produced a good rendition of Kiki Dee's I've Got the Music in Me, with Dixon immediately comparing them to Misteeq who she of course was part of for almost six years.
Unlike comedy acts, magicians, dance troupes etc, you know for sure that a vocal act is very likely to be just as good in the live shows as they were in the audition. The one mistake they must not make is what Ed Drewett did and perform the same song again.
My one worry about REAformed is will the public keep on voting for vocal acts? We've already got two through to the live final a week on Saturday and there's another three in with a decent chance tonight. Having said that, if you can get matched at somewhere near [2.4] about REAformed in the To Qualify market then they look a far safer option than 12-year-old Ellis Chick.
Chick was decent in his audition, but he looked and sang like an adult in a child's body and there was something I just didn't like about his performance. He may well prove me wrong, but he's not for me.
Other than those mentioned already it's possible that Sam Jones could impress, but ventriloquists rarely do well in this show and he will need to produce something brilliant to make it to the next stage. Good luck to him.
Cabaret dancers Crazy Rogue and French dance trio Yanis, Arnaud, and Mehid are about the best of the rest but I'm already sensing another night of embarrassment for a lot of acts.
Lucy Kay should win, REAformed should hopefully be put through by the judges, so while I'm quietly confident about these two predictions I'm absolutely certain about one part of tonight's show - and that's that I will be putting the kettle on when Brian Chan takes to the stage.

Recommended Bets
Back Lucy Kay to Win @ [1.4] or better
Back REAformed to Qualify @ [2.4] or better