Britain's Got Talent 2012: Sensational duo get nation talking
Britain's Got Talent

/ Mike Norman / 26 March 2012 / 1 Comments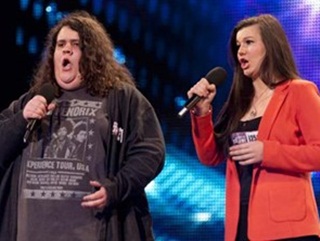 Charlotte and Jonathan stole the show during week one of Britain's Got Talent
"It was like a scene from Beauty and the Beast in the sense that this young, shy, boy became an adorable powerful man in the company of a beautiful woman. It was wonderful to watch."
Britain's Got Talent had to make a big impression this year and it most certainly did on Saturday night says Mike Norman, thanks mainly to a brilliant singing duo called Charlotte and Jonathan.

After last year's disappointing series Britain's Got Talent had to do two things this year.
First, they had to make sure that David Hassellhoff never got near a judging panel in this country ever again, and secondly, the hit ITV talent competition had to return in 2012 with a huge bang.
The first part has been achieved to date, the second part was spectacularly achieved when the first audition show aired on Saturday night.
From the moment a roller-skating dancer practically threw his female partner off stage I knew that this series was going to be better than the last. And with Simon Cowell once again pulling the strings amongst the new judging panel it wasn't long before some incredible talent started to shine through.
Rightly so, all the talk this Monday morning is about Charlotte and Jonathan, a young operatic/pop duo of immense quality and potential.
They arrived on stage at the perfect time, just when Cowell was growing increasingly fed up at having to endure such acts as a man blowing through his nose to perform the Last of the Summer Wine theme tune on his harmonica. Hard-to-please Cowell was then heard muttering, "Just when you thought it couldn't get any worse", to guest judge Carmen Electra as an overweight, long-haired teenager and his friend took to the stage.
But what happened shortly after was TV gold, another magical moment in Britain's Got Talent's brief history.
Performing Celine Dion and Andrea Bocelli's The Prayer, a visibly nervous Jonathan almost came in too early, but when the duo did start singing the packed audience were soon on their feet in appreciation, and Cowell suddenly had that glint in his eye.
It was like a scene from Beauty and the Beast in the sense that this young, shy, boy became an adorable powerful man in the company of a beautiful woman. It was wonderful to watch.
What made this act incredible was the sincere friendship Jonathan and Charlotte share. True, Jonathan has a world-class operatic voice, and at just 17-years-old, he already has an amazing future ahead off him. But for this competition he and Charlotte have to remain as a duo, despite Cowell hinting that Jonathan would be better off as a solo artist.
Sixteen-year-old Charlotte is very mature for her age, and through her support and kindness, brings the best out of Jonathan. She has a strong voice herself, and it's evident that Jonathan is at ease by her side. As a duo they are already the act to beat in this year's competition.
Up until Jonathan and Charlotte's audition, teenager Sam Kelly was arguably the stand-out performer. A down to earth and likeable young man, Sam wowed the audience and judges with his rendition of Adele's Make You Feel My Love, to which the theatre fell into complete silence. It was a delicate and emotional performance, and one that tells me that we'll be seeing a lot of Sam as the competition goes on. Already, he looks a certain finalist.
The two other acts to impress were Welsh choir Only Boys Aloud, and ballroom dancers Sugar Dandies.
Only Boys Aloud, consisting of 133 members made up of teenage boys from tough backgrounds, gave a moving performance that had Amanda Holden admitting, "Oh my goodness, you brought a lump to my throat and a tear to my eye." Ballroom dancing partners Bradley and Soran also got great comments from the judges with Alesha Dixon saying, "That was a real love story, I just fell in love with you, you dance beautiful together."
It's only week one, and there's the possibility that ITV have already revealed their trump card in Charlotte and Jonathan (Paul Potts and Susan Boyle were both shown in the first week), but on the early evidence Britain really has got talent... a lot more than last year that's for sure.