US Election: Five reasons why Brexit doesn't mean Donald Trump wins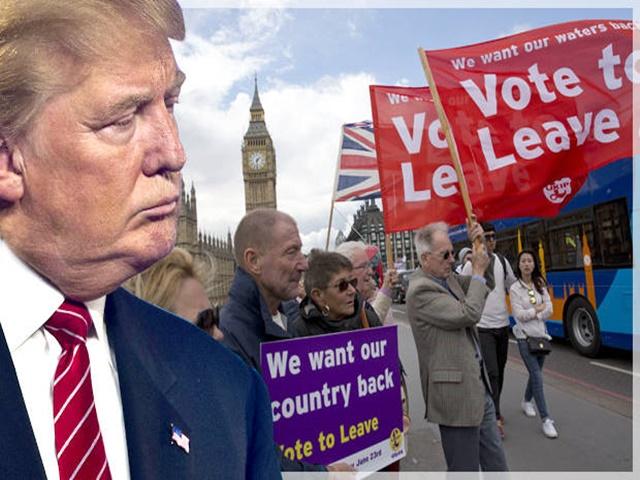 A vote for Brexit doesn't mean Trump wins, says Paul
Post-Brexit, many say there are no more certainties in politics and Donald Trump's shock nomination seemed to confirm that. Paul Krishnamurty, however, says the similarities end there...
"Voters are perfectly capable of distinguishing between a referendum on a profound national question and the choices on offer at conventional elections. They may very well be angry about immigration and sceptical about free trade, but choosing a government involves countless extra considerations."
The decision of UK voters to quit the European Union did not just send shockwaves through British politics. The world was watching, seeking to understand what it may signify for their own futures. Indeed, it was widely seen as the latest demonstration of an anti-establishment trend sweeping across the Western world.
In particular, as I've found in numerous Stateside interviews, Americans want to know if this reflects a rise in populist nationalism that will lead to the unlikeliest candidate in their history taking the presidency in November.
On at least a superficial level, there are similarities between Brexit and the rise of Donald Trump. Anger towards mass immigration and free trade deals. Distrust of institutions and the mainstream media. The idea that nations have been in decline. Just as the Leave campaign urged Britons to 'Take Back Control' of their country, Trump's slogan is 'Make America Great Again'.
Brexit also represented a massive shock in betting terms, puncturing the theory that political markets are the ultimate indicator of elections. Leave was given only a 10% chance, trading around 8.07/1 when polls closed. If a clear correlation between the two votes can be found, 5.04/1 (20%) about Trump could represent great value.
My view, however, is that punters should be wary of reading too much into Brexit. Rather than ignoring the numerous reasons to oppose Trump, laid out on these pages last week, consider the following five factors.
1) Referenda are fundamentally different from conventional elections
Voters are perfectly capable of distinguishing between a referendum on a profound national question and the party or individual choices on offer at conventional elections. They may very well be angry about immigration and sceptical about free trade, but choosing a government involves countless extra considerations.
In a referendum, voters are taking a decision to bind their government, rather than necessarily replace it. Theresa May starts her tenure as British PM with widespread support, despite supporting Remain. Scots voted against independence in 2014, then overwhelmingly for its SNP advocates in 2015. To this day, polls suggest Scottish voters are happy with the paradox.
Likewise whereas Euroscepticism has a long tradition in the UK, Brits have never voted for a government in favour of leaving the EU. Tony Blair was passionately pro-European yet won three terms during a period of unprecedented mass immigration. During each campaign, EU policy was found to have had negligible effect on voting intention.
2) Outsiders are in vogue but swing voters remain in the mainstream centre ground
For all the waves being made by outsiders across Europe, their ability to win elections remains unproven. In Britain, UKIP rose from nowhere to gain four million votes, yet ended up with just one parliamentary seat at last year's General Election. Their message appealed to a substantial angry minority but repelled a greater number.
For now at least, Europe's three biggest countries - UK, Germany and France - remain governed by mainstream parties, suggesting the centre ground remains the place to win swing voters. Whilst they have broken through in Greece and Spain, these countries are notably different in terms of their broken economies and collapse of the centre-left. Neither phenomena applies to the USA.
3) Polls regularly pointed towards Brexit, but bode terribly for Trump
Ultimately, Brexit wasn't such a shock. Over the previous 40 years, polls consistently showed support for Leave well above 40%, sometimes ahead. During the final month of the campaign, Leave led more polls than Remain.
The same cannot be said of Trump, who has consistently trailed Hillary Clinton both nationwide and in the key swing states. Trump's favourability numbers are historically poor, pointing to the landslide defeat implied by his odds.
4) Turnout trends favoured Leave, but are less likely to help Trump
The referendum was close and ultimately determined by differential turnout. Nearly half the population had been consistently against for decades and, predictably, took the chance to have their once-in-a-lifetime say. Remain relied upon pragmatism rather than passion and couldn't match Leave for motivation.
Leave supporters tended to be older and reliable voters, whereas younger Remain voters are notoriously unreliable and less likely to be registered.
Whilst the second point also applies to Republicans, it didn't stop the Democrats winning four of the last six presidential elections. Clinton's party knows the value of turnout and will pour resources into getting their supporters registered and to the polls.
Moreover, Trump is so uniquely toxic that he will ensure low-turnout groups such as Hispanics register in record numbers to stop him. This could profoundly alter the maths in swing states like Nevada and Florida.
5) We can still trust the wisdom of crowds
The reputation of betting as a predictor took a knock with Brexit, but it only represents a single example and the story is more complex. One of the core arguments is that the market represents the wisdom of crowds.
However in this unique case, the market didn't reflect the crowd. Across the betting industry, many more individual bets were struck on Leave than Remain, but the sheer size of the latter forced it into favourite.
Over time, it may emerge that referenda (this was only the second since Betfair's inception in 2001), have a different dynamic. In normal elections involving political parties and candidates, the market favourite from 100 days out in a UK or US election is usually the winner. Expect Clinton, the strongest US presidential favourite ever, to maintain it.

***

Follow Paul on Twitter and check out his website, Political Gambler.

Discover the latest articles