US Politics: Why did Donald Trump back down on immigration?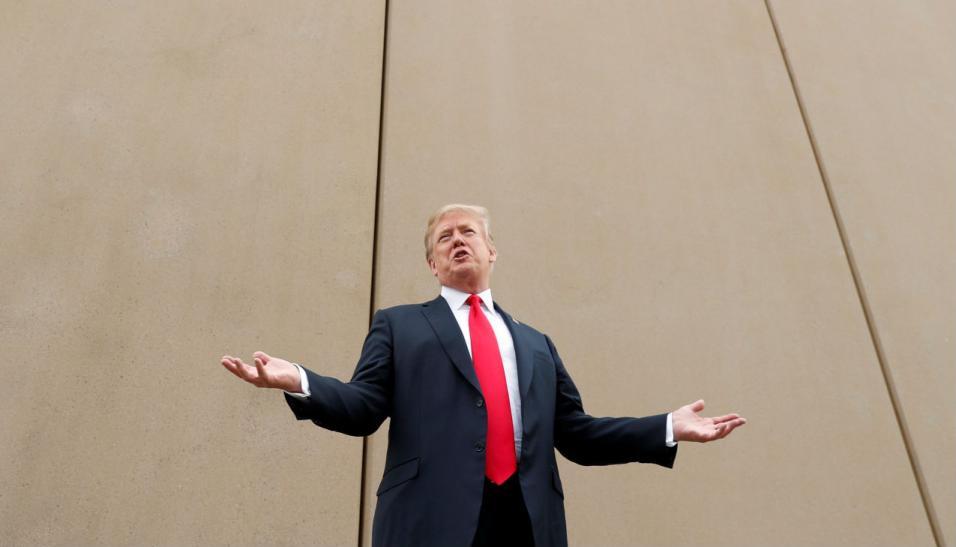 The US President has shown a rare spell of humility as he backs down over one of his tougher immigration policies.
President Donald Trump has had a rare change of heart by deciding to stop families being separated at the border. The Tradefair team brings you the latest from US politics...
"The dilemma is that if you're weak - if you're weak, which some people would like you to be, if you're really, really, pathetically weak, the country's going to be overrun with millions of people."

- Donald Trump, US President.
Can you remember the last time Donald Trump backed down over something? The US President has found himself in hot water more than once. From the ongoing Stormy Daniels scandal to the allegations of Russian interference in his election, and even the infamous Access Hollywood tape, Trump has been under constant pressure. Despite this, he has remained staunch and stood his ground regardless of the evidence he may have been confronted with.
But the latest immigration row has proven to be different. The US President has signed an executive order to end a practice that he introduced, where children were separated from their parents if caught crossing the border.
It comes after weeks of intense international pressure over the policy, which has seen 2,342 children taken away from their parents, according to immigration officials. Pictures of children sleeping in fenced enclosures, alongside audio of them crying, have been released in recent days, sparking international criticism.
Trump deflects blame but refuses to back down
However, the President remained characteristically defiant in his approach, saying that it wasn't in his power to amend the ruling.
This was backed up by his Secretary of Homeland Security Kirstjen Nielsen, who said: "Congress and the courts created this problem, and Congress alone can fix it. Until then, we will enforce every law we have on the books to defend the sovereignty and security of the United States."
Trump also tried to deflect responsibility on to his opponents, the Democrats, though he didn't give any explanation as to why they were at fault. The President introduced the bill and Republicans hold the majority in both Houses, while the Democratic party have urged Trump to reverse the policy.
Seemingly out of the blue, the President did a complete u-turn and signed an executive order to remove the practice. The document, signed yesterday (June 20), calls for families to be detained together, prioritising cases that involve families, and amending a court ruling that dictates how long children can be detained for.
A change of heart for the President?
So why has Trump had a sudden change of heart? He's certainly not afraid of ruffling a feather or two. His previous immigration policies have been just as controversial, including his decision to remove the DACA legislation that safeguarded 'dreamer' immigrants who entered the US as children, and his contentious travel ban for people from certain Muslim-heavy countries.
According to reports, the President has been swayed by images of children being taken away from their parents, saying the amendment was all about "keeping families together". However, the decision won't do anything to reunite the thousands of children who have already been affected by the policy with their parents.
"I did not like the sight of families being separated," he said, but quickly added that his zero-tolerance policy towards illegal migrants would continue.
"I think anybody with a heart would feel very strongly about it," he said. "We don't like to see families separated."
Other reports have suggested it was his wife Melania and daughter Ivanka who twisted his arm, as both allegedly felt "strongly" about ending the practice.
Speaker of the House of Representative Paul Ryan said it would vote today (June 21) on legislation to "keep families together". It's thought the bill will also reference dreamer immigrants who have found themselves in a state of limbo since the order was abolished earlier this year.
It's "a tough dilemma"
Speaking from the Cabinet Room in the White House's West Wing, the President spoke about the difficulty he had making the decision to amend the policy.
"The dilemma is that if you're weak - if you're weak, which some people would like you to be, if you're really, really, pathetically weak, the country's going to be overrun with millions of people," he said.
"And if you're strong, then you don't have any heart. That's a tough dilemma. Perhaps I'd rather be strong, but that's a tough dilemma."
It's unclear when the ruling will come into force, and some have criticised the move as a publicity stunt or a stopgap that won't really address the problem in the long term.
Currently children aren't allowed to be detained for more than three weeks, but wouldn't be able to enter the criminal justice system either. As Trump hasn't backed down on prosecuting families caught crossing the US border illegally, it's unclear what would happen to the children after the three-week period is up if their parents are still going through the courts.
There are concerns that the amendment to keep families together would directly - or indirectly - mean they are detained indefinitely.
Did US businesses sway Trump?
Perhaps it was the decision by major American businesses to distance themselves from the widely-condemned policy that triggered a change of heart in the President. Six American airlines - Alaska, American, Delta, Frontier, Southwest and United - all said Trump was not to use their planes to transport child migrants who have been taken away from their parents because it went against their values.
This certainly would go against Trump's 'America First' mantra if major US businesses are turning against his harsher policies. For a President who prides himself on the economy, any decision that showed a divide between him and American companies would be bad news, especially with concerns that the US is rapidly approaching a trade war.
Talks between the US and China have escalated in recent days, with a White House official accusing Beijing of "theft" and them accusing the US of "blackmail". This disrupted global stock markets as investors became wary of an international trade war.
It comes after President Trump threatened to impose further levies on Chinese goods, amounting to $200 billion. This is in addition to the $50 billion already announced to balance what he sees to be unfair trade practices. China has said it will retaliate if the US proceeds with its threats.

What is Tradefair?
Tradefair is Betfair's new spread betting service, offering trading on thousands of financial markets such as Gold, EUR/USD, FTSE 100 and Twitter. Whether you think prices are going up or down, Tradefair lets you take a view.

Check out our latest Special Offers

Please note: Our services include products that are traded on margin and carry a risk that you can lose more than your initial deposit. The products may not be suitable for everyone - ensure you fully understand the risks involved.