US Politics: Trump visits El Paso and Dayton in wake of mass shootings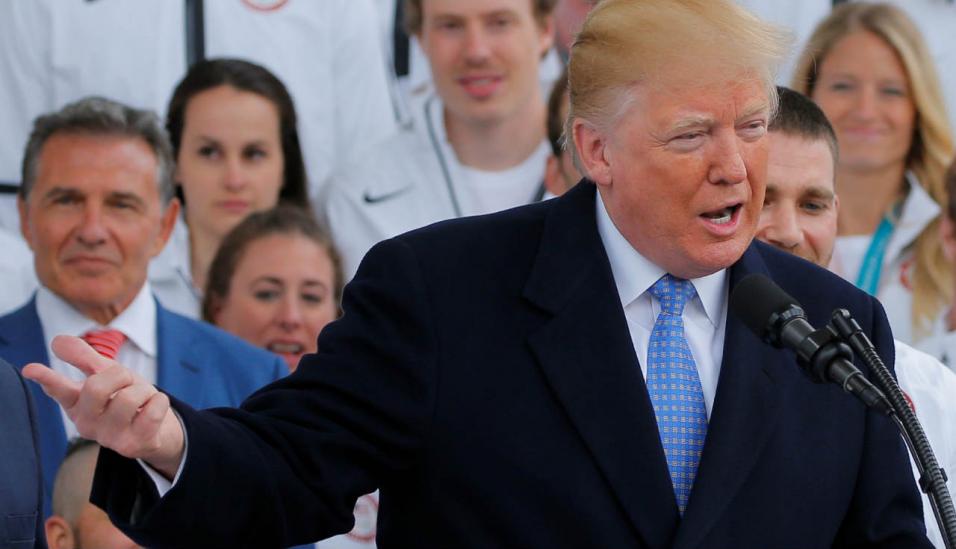 Donald Trump has visited the sites of the latest US mass shootings
Donald Trump has visited the cities of Dayton, Ohio and El Paso, Texas, where two mass shootings that occurred within hours of each other. Tradefair brings you the latest from US politics...
"Today, we must come together and say, Donald Trump, your racism, your hatred, your bigotry are not welcome here. We must turn our grief into anger and our anger into action,"

- Adri Perez, El Paso local leader of the American Civil Liberties Union
Donald Trump has visited the cities of Dayton, Ohio and El Paso, Texas, which last weekend witnessed two mass shootings that claimed the lives of at least 31 people and injured 50 more.
In El Paso, a man entered a Walmart store on the morning of August 3 with an assault-style rifle and killed 22 people. The police later arrested 21-year-old Patrick Crusius and charged him with capital murder.
Some 13 hours later, in the early hours of August 4, nine people were killed by a lone gunman in a busy nightlife area in Dayton. The perpetrator, 24-year-old Connor Betts, was shot and killed by police within a minute of the attack beginning.
The crimes prompted further calls for tighter gun control in the US, as well as greater concern over the language and political rhetoric often used by Mr Trump, which has been described as racist and anti-immigrant. His visits to El Paso and Dayton led to protests from both critics and supporters of the president.
Trump visits grieving cities
Trump spent Wednesday visiting Dayton and El Paso, where he met emergency responders and survivors of the shootings.
The president's Twitter feed was full of positive accounts of his time in both cities. He said he made a "warm and wonderful visit" to Dayton and described the people he met there as "the finest anywhere".
He also tweeted upon leaving El Paso that the media had "worked overtime trying to disparage me and the two trips, but it just didn't work".
"The love, respect and enthusiasm were there for all to see. They have been through so much," he added.
The president also criticised Dayton mayor Nan Whaley and Ohio's Democratic senator Sherrod Brown for a news conference that he described as a "fraud". He said their comments "bore no resemblance to what took place with those incredible people that I was so lucky to meet and spend time with".
Both Whaley and Brown said the president had been well-received by victims of the shooting, but also expressed concern over his past rhetoric. Brown accused Trump of being "in bed" with the National Rifle Association (NRA).
He is one of many to have aimed criticism at the president in the aftermath of the recent shootings.
'Inspired by racism'
Anti-Trump protesters used this week's visits to El Paso and Dayton as an opportunity to voice their anger at the president's controversial rhetoric and opinions, which many perceive as racist and incendiary.
In El Paso, there were signs bearing messages such as "Trump is a racist", "Protect our kids, not the NRA" and "Racist, go home". Supporters of Trump also took to the streets during the president's visits.
Adri Perez, a local leader of the American Civil Liberties Union, told the crowd in El Paso: "Today, we must come together and say, Donald Trump, your racism, your hatred, your bigotry are not welcome here. We must turn our grief into anger and our anger into action."
Beto O'Rourke, an El Paso native and candidate for the Democratic 2020 presidential nomination, has been one of the most vocal critics of Trump, who responded by telling O'Rourke to "be quiet".
The Democrat then took to Twitter to say: "22 people in my hometown are dead after an act of terror inspired by your racism. El Paso will not be quiet and neither will I."
One of the most controversial aspects of the El Paso shooting in particular is that language used by the perpetrator reflected words often used by Trump himself.
The gunman is thought to be the author of an online post describing the attack as "a response to the Hispanic invasion of Texas". The president has frequently used the term "invasion" when referring to illegal immigration across the US-Mexico border.
The gun control debate
One of the potential consequences of the El Paso and Dayton shootings is that gun control could become a more prominent part of the political debate in the build-up to the 2020 US presidential election.
The Democratic party is currently in the process of narrowing down the field of candidates to go up against Trump next year, with former vice-president Joe Biden and Massachusetts senator Elizabeth Warren among the frontrunners.
Trump has already started his campaign for re-election in 2020, repeatedly referring to the success that the US economy and stock markets have enjoyed under his administration.
One of the overriding themes of his presidency, in economic terms, has been the prolonged trade war between the US and China. The president last week threatened a further ten per cent tariff on imports from China by September 1st, stoking investor concerns that led to US stocks experiencing their worst week of the year.
What is Tradefair?
Tradefair is Betfair's new spread betting service, offering trading on thousands of financial markets such as Gold, EUR/USD, FTSE 100 and Twitter. Whether you think prices are going up or down, Tradefair lets you take a view.
Check out our latest Special Offers

Please note: Our services include products that are traded on margin and carry a risk that you can lose more than your initial deposit. The products may not be suitable for everyone - ensure you fully understand the risks involved.
Discover the latest articles
Read past articles