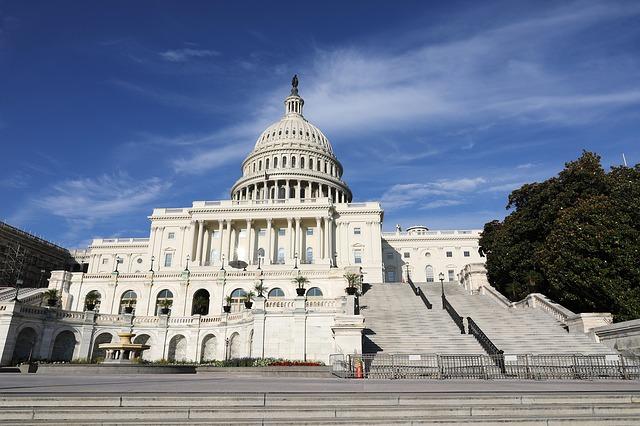 Donald Trump has endorsed the Democrats over his own party, leaving many stunned.
Republicans are left shocked as President Trump sides with Democrats over fiscal policy. The Tradefair team brings you the latest news from the US...

"The President can speak for himself, but his feeling was that we needed to come together to not create a picture of divisiveness at a time of genuine national crisis, and that was the rationale,"

- Mitch McConnell, Republican Senate majority leader.
US President has shocked Congress by turning against his own party to support a deal pushed by the Democrats.

During a Congress meeting yesterday (September 6), Donald Trump ignored the advice of many Republicans by endorsing the plan, which focuses on a number of key fiscal issues. The deal, proposed by Senate Minority Leader Chuck Schumer and House Minority Leader Nancy Pelosi, would ensure a safe passage of funding for the Hurricane Harvey victims but is tied to other measures.

The plan would see the debt ceiling raised for only three months, which goes directly against the advice of Trump's own Treasury, and keeping government open until the end of December. Many Republican leaders also wanted to see the two issues - debt and relief funding - kept separate.

During the session, key members of the Republican party initially wanted to see the debt ceiling raised for 18 months before eventually proposing a six-month extension. However, Democrats bucked the deal and maintained their proposal of just three months.

"Given Republican difficulty in finding the votes for their plan, we believe this proposal offers a bipartisan path forward to ensure prompt delivery of Harvey aid as well as avoiding a default, while both sides work together to address government funding, DREAMers, and health care," Charles Schumer, the top Democrat in the Senate, and House Minority Leader Nancy Pelosi said.

A source briefed on the meeting said leading Republicans, including Trump's own Secretary Steven Mnuchin, echoed concerns raised by House Speaker Paul Ryan about having a short-term solution, CNN reports.
Hurricane Harvey

Before the disaster caused by Hurricane Harvey, Mnuchin had been wanting a "clean" raise to the debt ceiling, meaning one that isn't attached to other bills. However, some opposed this move saying they wouldn't want to increase the US's borrowing limit without reducing federal spending. Any level of significant spending cuts would have been deeply opposed by the Democrats.

Reports suggest that the President had grown tired of the debate and wanting to reach a conclusion so sided with the Democrats. Mnuchin was in the middle of discussing the benefits of a longer-term plan when President Trump cut him off and made the decision.

In a press meeting aboard Air Force One, Trump confirmed the agreement: "We essentially came to a deal, and I think the deal will be very good.

"We had a very, very cordial and professional meeting."

This is said to have left many Republicans feeling "shell-shocked" and "blindsided" by the President's sudden change of heart.
Is tax reform on the way?

Investors have been keenly waiting for Trump to pass some kind of tax reform to boost business and trade in the US but there has been little to no movement on this during his eight-month stint in the Oval Office.

This latest action from the President could be a sign that he is on the way to addressing tax reform, especially as the meeting with Congress came the day after a separate discussion with Republican leaders about the issue.

During the meeting, Trump's advisors told him that any deal would be unlikely to make much progress before Thanksgiving celebrations as the party would need time to build support. They reportedly also raised issues with an already-full legislative calendar for September that would be prioritised over tax reform deals, according to CNN sources.
A busy time in Congress

Leaders have to raise the debt limit by September 29 and pass a spending bill by September 30 to prevent a shutdown of the federal government.

The President's decision to back the Democrat deal will free up the legislative calendar that he had been warned about.

Reports indicate that Trump was keen to make a deal when he went into the meeting with Congress to clear the way for tax reform legislation. However some believe that it is a more significant change of approach from the President.

"The President can speak for himself, but his feeling was that we needed to come together to not create a picture of divisiveness at a time of genuine national crisis, and that was the rationale," Republican Senate majority leader Mitch McConnell said.

Under the agreement, Congress will seek to advance a bill that funds the government and raises the debt limit until the middle of December, when Democrats will have another chance to leverage more power.

If sources are correct and this is a shift towards fiscal policy then it will be good news for financial investors and the markets in general.
What is Tradefair?
Tradefair is Betfair's new spread betting service, offering trading on thousands of financial markets such as Gold, EUR/USD, FTSE 100 and Twitter. Whether you think prices are going up or down, Tradefair lets you take a view.

Check out our latest Special Offers

Please note: Our services include products that are traded on margin and carry a risk that you can lose more than your initial deposit. The products may not be suitable for everyone - ensure you fully understand the risks involved.