US Politics: Trump set to be investigated by New York attorney general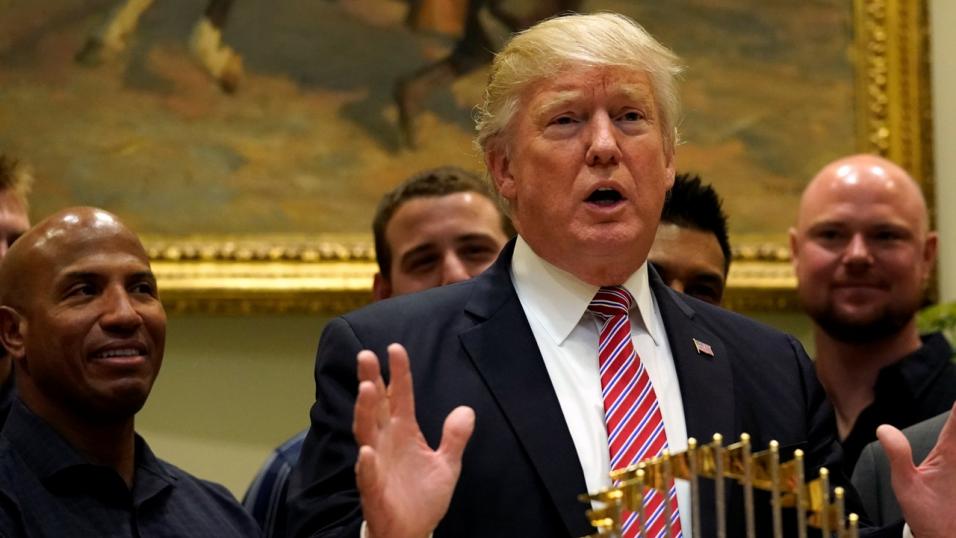 Trump faces more legal woes as New York's next attorney general sets her sights on him
President Donald Trump is set to face more legal scrutiny. The Tradefair team brings you the latest from US politics...
"We will use every area of the law to investigate President Trump and his business transactions and that of his family as well."

- Letitia James, Attorney General-elect for New York
Rarely a week goes by without Donald Trump being in the thick of some form of legal row, and this week has only raised the stakes further.
In an exclusive interview with NBC News, the attorney general-elect for New York Letitia James revealed she plans to go after the president in a big way, with a series of investigations into him, his family and "anyone" in his circle who might have broken the law.
The latter category is a pretty large one, considering the large number of people going through the rotating door of the administration, of whom some - such as his former lawyer Michael Cohen - have already found themselves in deep trouble.
James, who it will surprise nobody to hear is a Democrat, said: "We will use every area of the law to investigate President Trump and his business transactions and that of his family as well."
Among the areas she has pledged to investigate are Trump's real estate holdings in New York, following the publication of claims about his finances in a New York Times article in October. The article also explored questions about government subsidies Trump received.
Other issues to be explored include the 2016 Trump Tower meeting with an official from Russia, whether his New York businesses put him in violation of the emoluments clause in the Constitution and whether the Trump Foundation has committed any offences.
Allegations have been made that the foundation breached electoral law and could face huge financial penalties. The Trumps have already tried and failed in a legal bid to have the case thrown out by the New York State Supreme Court on the grounds that the investigation was politically motivated.
A key plank of James's election campaign was a change in the double jeopardy law, which could see presidential pardons being nullified. Under the present law she might not be able to investigate those who have received such clemency.
Speaking about this plan, she remarked: "I think within the first 100 days this bill will be passed. It is a priority because I have concerns with respect to the possibility that this administration might pardon some individuals who might face some criminal charges, but I do not want them to be immune from state charges."
With big names like former US Attorney General Loretta Lynch being enlisted by James to help her work in investigating Trump and his associates, she clearly means business.
Could Trump be impeached?
The holy grail of all this, of course, would be the discovery of something so serious that it could lead to impeachment proceedings against Trump.
The president's former lawyer Michael Cohen has added to Trump's concerns this week as he was sentenced to three years in jail for lying to congress about his boss's property deal in Moscow, as well as election campaign finance rule violations - relating to hush money paid to women alleged to have had affairs with Trump - and tax evasion.
In isolation, that might simply be an embarrassment to the president, who had employed Cohen for a decade. Trump recently labelled him "a liar" and "weak". While the lying element is technically correct, given Mr Cohen has belatedly admitted this charge, it is what he was lying about that could yet harm the president, even if Trump has denied the Moscow transaction had anything to do with the election.
Having once said he would "take a bullet" for Trump, Cohen is clearly not willing to do so now. Facing up to the prospect of time behind bars, he told the judge his boss had made him "follow a path of darkness rather than light" and that he had "felt it was my duty to cover up his dirty deeds". He also spoke of a "blind loyalty" to Trump.
Of course, the words of a convicted criminal may indeed be taken with a pinch of salt, and the president may argue that these are the words of an embittered man looking for someone to blame.
The trouble is, Cohen is not alone. There is also the case of US National Security Adviser Michael Flynn, who has admitted doing some lying of his own, to the FBI over a meeting with a Russian official. Unlike Cohen, Flynn agreed to co-operate from the outset, which has ultimately led to him being spared the prospect of jail.
Naturally, Trump has had some choice words for Mr Flynn as well, but investigators are bound to wonder how much of this can ultimately be traced back to him. Cohen might not feel he is willing to "take a bullet" for his old boss any more, but will there be others who don't in the first place? If there is a whistle to blow and a genuine smoking gun, prosecutors will surely find it.
Still, Trump seems not to mind being involved in legal business too much. Indeed, he has even spoken in recent days of potentially intervening in the case of Huawei executive Meng Wanzhou, who has been arrested in Canada under suspicion of violating sanctions on Iran and could be extradited to the US. Trump has said he might seek to have her released in order to prevent a further deterioration in relations with China, This position has not gone down well with the Canadian government, which has accused him of politicising the case.
It is safe to say that the markets will be watching developments closely. If the time comes when a legal investigation lands a direct hit on Trump instead of one of his cohorts, that is when talk of impeachment might have real gravitas.
However, halfway through his term it is only the likes of Flynn and Cohen who have ended up in the soup. It is perfectly possible that they may indeed have ended up taking the bullets for the president and that those hoping for his removal will have to hope the Democrats' next presidential candidate can perform better than Hillary Clinton.

What is Tradefair?
Tradefair is Betfair's new spread betting service, offering trading on thousands of financial markets such as Gold, EUR/USD, FTSE 100 and Twitter. Whether you think prices are going up or down, Tradefair lets you take a view.

Check out our latest Special Offers

Please note: Our services include products that are traded on margin and carry a risk that you can lose more than your initial deposit. The products may not be suitable for everyone - ensure you fully understand the risks involved.