US Politics: Trump reportedly ignores national security advice to congratulate Putin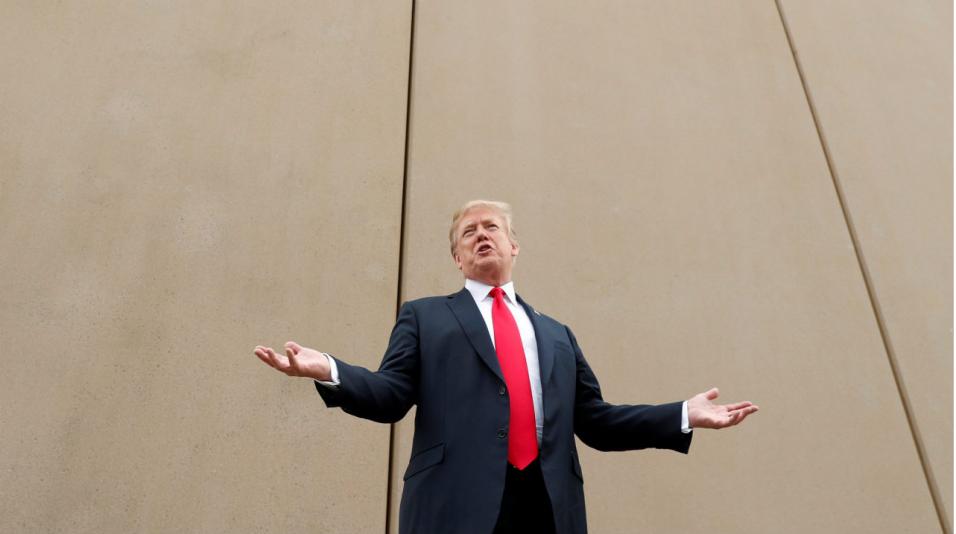 President Trump congratulates Russian leader Putin on his latest election victory, against national security advice.
National security reportedly warned President Trump not to congratulate Vladimir Putin on his latest election victory so why did he ignore their advice? The Tradefair team brings you the latest in US Politics...
"Don't create a constitutional crisis. Congress cannot preempt such a firing. Our only constitutional remedy is after the fact, through impeachment. No one wants that outcome. Mr. President, please don't go there."

- Jeff Flake, US Republican Senator.
President Trump ignored warnings from national security when he rang Russian leader Vladimir Putin to congratulate him over his latest election victory, new reports claim.
According to officials familiar with the call between the two Presidents, Trump was sent briefing materials that included a less-than-cryptic message of "DO NOT CONGRATULATE" in block capitals.
However, Donald Trump decided to go against this advice and rang newly-elected Russian leader shortly after his win was confirmed. Putin has been President of the Russian Federation since May 2012, but also previously held the position between 2000 and 2008.
It's not just that President Trump chose to go against his own advisers' warnings that makes his correspondence with the Kremlin a little controversial. Recent events have caused tensions between the Kremlin and the US to become strained as Washington looks to support its British allies.
Was Russia behind the nerve agent attack?
A former Russian spy living in the UK was poisoned, along with his daughter, with a powerful nerve agent on March 4. Both Britain and the US have blamed the Kremlin for the incident, which has left both people, as well as a police officer who arrived at the scene, in a critical condition in hospital.
With Russia's international relations being particularly difficult at the moment, it's perhaps clear to see why national security advisers would recommend the President avoids congratulating Vladimir Putin on his latest election victory.
As has become the norm during his year-long presidency, Trump shook off criticism for his latest move, blaming it on the "fake news media".
He tweeted: "I called President Putin of Russia to congratulate him on his election victory (in past, Obama called him also). The Fake News Media is crazed because they wanted me to excoriate him. They are wrong! Getting along with Russia (and others) is a good thing, not a bad thing."
President Trump went on to add that the Kremlin is able to help solve problems with North Korea, Syria, Ukraine, ISIS, Iran and "even the coming Arms Race".
Where does the US stand?
The Commander-in-Chief was also reportedly encouraged to personally condemn the recent events in the UK but is yet to do so and apparently it was not a topic discussed during the phone call.
America has moved to introduce tougher sanctions on Russia, which White House Press Secretary Sarah Huckabee Sanders said "made their stance clear".
"We've been very clear in the actions that we've taken that we're going to be tough on Russia, particularly when it comes to areas that we feel where they've stepped out of place," Sanders said. "We've placed tough sanctions on Russia and a number of other things where we have shown exactly what our position is."
She also said the President is determined to have a good relationship with Putin to allow him to tackle global challenges, including dealing with North Korea.
Trump's ongoing trouble with Russia
Despite this, the conversation with President Putin, which Trump described as a "very good call", has prompted a fresh wave of criticism over his relationship with Russia.
Robert Mueller is currently heading up a Special Counsel that is investigating the role the Kremlin may have played in President Trump's election campaign and his subsequent victory.
Donald Trump's son-in-law and security adviser Jared Kushner has been under particular scrutiny after reports emerged that he met with Russian officials including Ambassador Sergei Kislyak during the 2016 campaign.
The President has unsurprisingly been critical of the investigation into his conduct, with Mueller being his main target since he was appointed just a few months after Trump's inauguration.
"Special Council is told to find crimes, whether a crime exists or not. I was opposed to the selection of Mueller to be Special Council. I am still opposed to it," he tweeted.
Because of his feelings towards Mueller and the investigation as a whole, there have been reports that the President is trying to get him removed.
"Please don't go there"
A number of Republican lawmakers have warned Trump against taking this sort of action, with Senator Jeff Flake even saying it would invoke impeachment.
"Don't create a constitutional crisis. Congress cannot preempt such a firing. Our only constitutional remedy is after the fact, through impeachment. No one wants that outcome. Mr. President, please don't go there," Flake tweeted on Tuesday.
President Trump's actions are unlikely to bring comfort to many people, least of all investors who are already wary of geopolitical instability. This has caused the stock market to bounce around over the past few weeks, with the Dow Jones taking a particular hit.
The news that the Federal Reserve was raising interest rates by 0.25% will be unwelcome too, especially with suggestions that policymakers would introduce at least two further increases this year.
Speaking at a press conference, Federal Reserve Chair Jerome "Jay" Powell also warned against the rising trade tensions after Trump's tariff increases.
He said there is a "risk to the outlook", citing conversations with business leaders and central bankers.
Although the Fed's decision was caused by positive figures - mostly record-low unemployment - investors will be concerned that its adjustment will lead to higher rates for consumers and businesses.
This makes expansion of any kind much more difficult for companies of all sizes, as borrowing becomes more expensive.

What is Tradefair?
Tradefair is Betfair's new spread betting service, offering trading on thousands of financial markets such as Gold, EUR/USD, FTSE 100 and Twitter. Whether you think prices are going up or down, Tradefair lets you take a view.

Check out our latest Special Offers

Please note: Our services include products that are traded on margin and carry a risk that you can lose more than your initial deposit. The products may not be suitable for everyone - ensure you fully understand the risks involved.