US Politics: Trump refuses to drop US base names honouring Confederate generals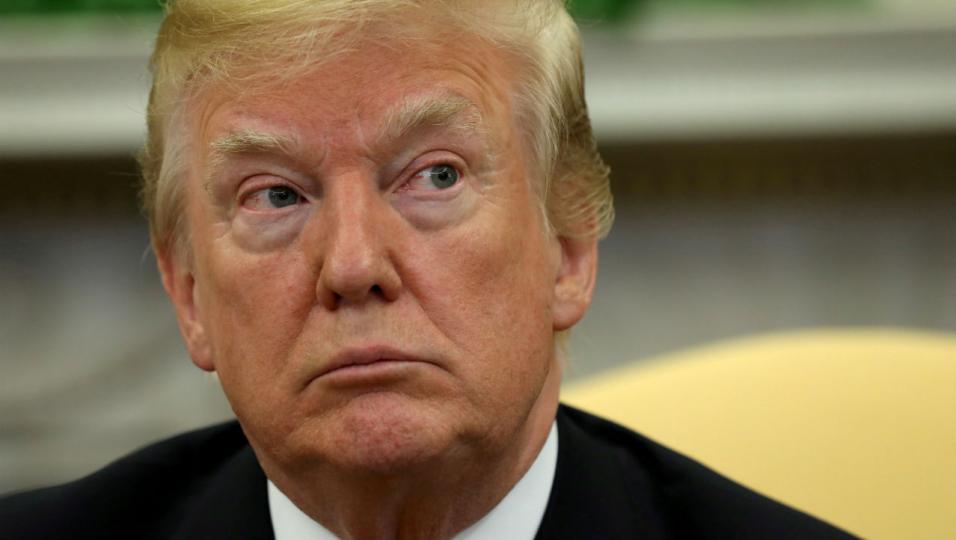 Trump said the military bases are part of American history
Donald Trump has insisted he will "not even consider" renaming military bases that were named after Confederate generals. Tradefair brings you the latest from US politics...
My administration will not even consider the renaming of these magnificent and fabled military installations."

- Donald Trump
Donald Trump has insisted that US military bases named after Confederate generals will not be renamed.
There have been calls for bases like Fort Bragg in North Carolina and Fort Hood in Texas to be renamed to cut ties with the Confederacy - the coalition of slaveholding southern states whose secession from the Union triggered the American Civil War in 1861.
Prominent figures like four-star US Army general David Petraeus have backed the idea, amid ongoing anti-racism protests and calls for widespread change following the death of George Floyd.
However, the president has said he will "not even consider" renaming the military bases.
'Victory and freedom'
Symbols of the Confederacy have been targeted by demonstrators as part of the protests that began after Floyd died in police custody on May 25.
A statue of Jefferson Davis, the president of the Confederacy, was pulled down in Richmond, Virginia, while local media in the nearby city of Portsmouth reported that protestors had attacked a Confederate monument.
It emerged this week that defence secretary Mark Esper and army secretary Ryan McCarthy could be "open to a bipartisan discussion on the topic" of renaming military bases.
Petraeus published an article in The Atlantic insisting "it is time to remove the names of traitors like Benning and Bragg from our country's most important military installations".
"The irony of training at bases named for those who took up arms against the United States, and for the right to enslave others, is inescapable to anyone paying attention," he added.
However, Trump immediately dismissed the idea. He tweeted that bases named for Confederate generals were part of American heritage and symbolised "a history of winning, victory and freedom".
The bases are predominantly located in southern states that helped deliver Trump's victory in 2016 and will prove crucial to his prospects for re-election in November.
"My administration will not even consider the renaming of these magnificent and fabled military installations," the president said.
"Our history as the greatest nation in the world will not be tampered with. Respect our military!"
Meanwhile, Nancy Pelosi, the speaker of the House of Representatives, called for Confederate monuments in the US Capitol building to be removed. She said they commemorated "men who advocated cruelty and barbarism to achieve such a plainly racist end".
"Their statues pay homage to hate, not heritage. They should be removed," the California Democrat added.
Controversy and conspiracy theories
The debate over bases being renamed and Confederate symbols being removed is the latest episode in the ongoing fallout from Floyd's death, which occurred while he was being detained by Minneapolis police officers on May 25.
Trump's handling of the situation has not been without controversy. The president this week tweeted that Martin Gugino, a 75-year-old man who was pushed over by police during protests in Buffalo, could have been trying to "scan police communications in order to black out the equipment".
He said: "I watched, he fell harder than was pushed. Was aiming scanner. Could be a set up?"
The Trump administration also faced questions after tear gas and rubber bullets were used to disperse peaceful protesters from a park in Washington DC, after which the president crossed the park to pose with a Bible in front of a church.
White House press secretary Kayleigh McEnany said the appearance had been "widely hailed".
However, only 27% of registered voters in a POLITICO/Morning Consult poll said they somewhat or strongly agreed that Trump is religious. More than half (55%) strongly disagreed.
Trump trailing?
A separate poll for CNN, conducted by SSRS, suggested Trump is currently trailing presumptive Democratic presidential nominee Joe Biden, ahead of the general election in November.
The results showed Biden 14 percentage points ahead of his Republican rival. It also suggested that Trump's current approval rating is 38% - the lowest recorded since January 2019.
Trump's re-election campaign team took issue with the findings, arguing that the poll was "designed to mislead American voters through a biased questionnaire and skewed sampling".
A letter signed by the Trump campaign's senior legal adviser Jenna Ellis and chief operating officer Michael Glassner read: "It's a stunt and a phony poll to cause voter suppression, stifle momentum and enthusiasm for the president, and present a false view generally of the actual support across America for the president."
CNN stood by its poll and rejected the Trump administration's calls for a retraction and an apology.
As both Trump and Biden set their sights on election success in November, one theme that is sure to prove critical is the American economy's recovery from the Covid-19 pandemic.
The latest labour market figures showed an unexpected fall in the unemployment rate in May, while stock markets have been steadily regaining the losses recorded in March.
Yesterday, however, the Dow Jones Industrial Average fell by just over 1% and the S&P 500 saw a 0.5% drop.
What is Tradefair?
Tradefair is Betfair's new spread betting service, offering trading on thousands of financial markets such as Gold, EUR/USD, FTSE 100 and Twitter. Whether you think prices are going up or down, Tradefair lets you take a view.
Check out our latest Special Offers

Please note: Our services include products that are traded on margin and carry a risk that you can lose more than your initial deposit. The products may not be suitable for everyone - ensure you fully understand the risks involved.