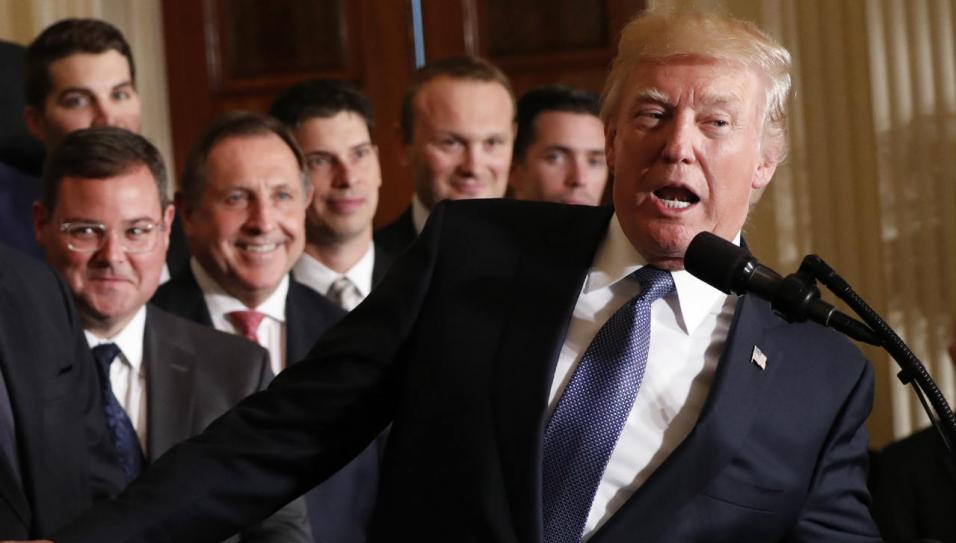 Donald Trump has refused to back down on the matter of immigration as the Dreamer row continues.
US President Donald Trump has maintained a firm stance over immigration policies, threatening to veto any plans that don't fit with his. The Tradefair team brings you the latest in US politics...
"I am asking all senators, in both parties, to support the Grassley bill and to oppose any legislation that fails to fulfill these four pillars – that includes opposing any short-term 'Band-Aid' approach."

- Donald Trump, US President.
Donald Trump has refused to back down from his tough stance on immigration, threatening to veto any plans that look to water down his policies.
The President intends to radically reshape the US's immigration system and build a wall along the Mexican border. However, these matters have been incredibly contentious and attracted much criticism.
This has triggered a Senate debate on how immigration should be managed in the future, specifically looking at the Deferred Action for Childhood Arrivals (DACA) bill that was rescinded last year.
Brought in under President Barack Obama, DACA safeguarded immigrants who had been brought to the US illegally as children. It gave them the same rights as American citizens to have an education and get a job.
Immigration war wages on
President Trump has been under much pressure since he abolished the programme in September last year to find another solution for the "Dreamer" immigrants, with many having grown up and built lives in the US.
He has now thrown his support behind a bill outlined by Republican Senator Chuck Grassley that he says incorporates his four principles outlined in the White House framework. This sets the benchmark for any immigration bill that intends to be passed through.
Any legislation that doesn't fit this framework, would not "deliver safety, security and prosperity to the American people", according to the President.
Under the new framework, Trump will grant legal status to around 1.8 million Dreamer immigrants, which will include a 12-year scheme to full citizenship. This would only be on the table if the President gets support for tougher immigration laws and the construction of his border wall.
Reform of the immigration system?
If Trump's immigration changes are brought in it would be a significant shift in how the US determines which people to let into the country and which to not. Instead of being focused on reuniting families, the new immigration system would give preferential treatment to those with the highest skills.
"I am asking all Senators, in both parties, to support the Grassley bill and to oppose any legislation that fails to fulfil these four pillars - that includes opposing any short-term 'Band-Aid' approach," Trump said in a statement.
Senator Grassley's proposal would see 1.8 million Dreamers get the opportunity to become a US citizen, while also delivering $25 billion to improve border security, while also restricting family-based immigration and ending the visa lottery.
However, the National Immigration Law Center called it a "copied and pasted" version of the President's "#DACA ransom".
The organisation tweeted: "It's not a serious proposal to #ProtectDreamers and only caters to one audience - anti-immigrant restrictionists. Anything that resembles this bill should be rejected immediately."
Senators must reach an agreement
Time is running out for senators to reach an agreement on immigration, with less than three weeks until DACA officially expires. However, the President seems to be standing firm on his outlook, refusing to support any bill that doesn't follow his strict framework.
A bipartisan proposal from Republican Senator John McCain and Democratic Senator Chris Coons would offer a scheme for 3.2 million illegal immigrants to gain citizenship but would only give $3 billion to Trump's border security plans.
The Department of Homeland Security (DHS) criticised the bill, saying in a statement: "The McCain-Coons proposal does not authorise a single penny for appropriations for border security, ensuring that our nation's border is never secured or our national security protected."
"Rather than securing our border, the McCain-Coons proposal requires DHS to submit a strategy on border security Congress - something that DHS has already done," it added.
Pressure on the President
The Senate needs to choose a bill that will surpass the 60-vote benchmark necessary to progress out of the chamber and then it will also need to get the approval of the more conservative House of Representatives.
All this means that the White House could be heading for another Federal shutdown, which is unlikely to calm any of the concerns about the Dow Jones.
The markets have been experiencing a turbulent few weeks as investors become wary of the potential for interest rate hikes with the US approaching near full-employment. As the President's tax reform starts to come into fruition, it may be enough to stabilise the Dow Jones in the short term at least.
However, if the White House heads for another shutdown, it may cause doubt in the markets about Trump's ability to pass meaningful legislation.

What is Tradefair?
Tradefair is Betfair's new spread betting service, offering trading on thousands of financial markets such as Gold, EUR/USD, FTSE 100 and Twitter. Whether you think prices are going up or down, Tradefair lets you take a view.

Check out our latest Special Offers

Please note: Our services include products that are traded on margin and carry a risk that you can lose more than your initial deposit. The products may not be suitable for everyone - ensure you fully understand the risks involved.