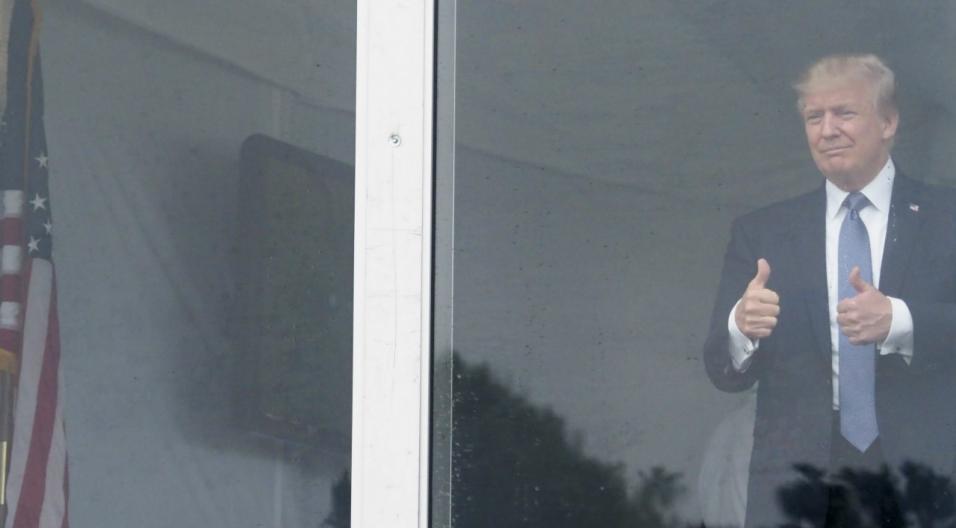 President Trump has announced that Congress have agreed to his tax reforms, putting them one step closer to implementation.
US President Donald Trump has said he has agreed tax reform with Congress and cuts will be his "Christmas gift" to Americans. The Tradefair team brings you the latest in US politics...
"We're not going to lose our businesses again like has happened over the last number of decades. America is coming back bigger, better and stronger than ever before."

- Donald Trump, US President.
Donald Trump has announced that Congress has supported his landmark tax reform bill, which already had the backing of the House and many Senators. He said it would increase jobs and wages, while also offering "massive tax relief" to American families and businesses.
In an address from the White House, the US President called the changes a "Christmas gift" for American families.
He cited one example of the impact the tax amendments would make, saying a typical family of four earning $75,000 would see an income tax cut of over $2,000, reducing their tax bill by half.
A landmark bill for Trump and Americans
This is an important step in Trump's nearly year-long presidency. It represents his first major legislative success and also shows him delivering on one of his main campaign promises.
Speaking to a select audience, the US President described the current system as "burdensome, complex and profoundly unfair" and said he was just "days away" from keeping his campaign trail pledges and "delivering a truly amazing victory for American families".
Trump announced: "As we speak, Congress has reached an agreement on tax legislation that will deliver more jobs, higher wages and massive tax relief for American families and for American companies."
The tax cuts haven't been well-received across the board, with critics concerned that it will benefit the rich far more than the average American. However, the US President seems convinced that it will drive more money into the US economy, pushing up competition and increasing employment.
A win for American businesses?
Earlier in the day, at a private luncheon, the President said the bill would cut taxes for businesses big and small, allowing them to grow, hire and compete with other global organisations.
He said companies are paying some of the highest taxes in the industrialised world and the amendment would bring it down to one that would be "extremely impressive to a lot of people".
Trillions of dollars would be brought back into the US, the President claimed, estimating it could be around $4 trillion or more.
Many experts believe that cutting taxes could raise the trade deficit, which measures the difference between US imports and exports, and some have even said Trump's tax reform relies on this.
The President and his administration claim the tax cuts - totalling $1.5 trillion - will pay for itself by boosting economic growth and not increase the federal budget deficit. However, even the most optimistic projections are based on an increase in trade deficits.
Simplifying a "burdensome" tax system?
Speaking about the previous "burdensome" tax code, Trump said it had caused the loss of jobs and left "millions of parents worried that their children might be the first generation to have less opportunity than the last".
"We're not going to lose our businesses again like has happened over the last number of decades. America is coming back bigger, better and stronger than ever before," he said.
"America is about getting ahead, about finding the best in ourselves and in each other. We are reclaiming our destinies as Americans, a nation that thinks big, dreams bigger and always reaches for the stars. We didn't become great through massive taxation and Washington regulation," Trump added.
Is there trouble ahead for Trump's Republicans?
The tax reform comes as a welcome distraction from news earlier in the week that the Republicans have suffered a major loss, leaving their majority in the Senate hanging by a thread.
It means Trump and his supporters will have to fight even harder to get the support needed to pass future legislation. For many, it also symbolises a shift away from Republicans as Alabama had been a strong hold seat for the party for more than 25 years.
However, for now the President will be focusing on his tax reform victory and the potential gains it could have on the US economy.
Financial investors will be keen to see what is the long-term impact of the tax changes. When the House gave Trump its support, the Dow Jones industrial average closed at a record high but it soon fizzled out and only gained around 0.25% by the close of the latest session.
This indicates that many investors are still cautious, and with good reason. Instability among the political system, with its relations with North Korea, the Russian probe and Brexit negotiations all having an effect, means many are keeping their cards close to their chest for now.
What is Tradefair?
Tradefair is Betfair's new spread betting service, offering trading on thousands of financial markets such as Gold, EUR/USD, FTSE 100 and Twitter. Whether you think prices are going up or down, Tradefair lets you take a view.

Check out our latest Special Offers

Please note: Our services include products that are traded on margin and carry a risk that you can lose more than your initial deposit. The products may not be suitable for everyone - ensure you fully understand the risks involved.