US Politics: Trump orders troops to secure US-Mexican border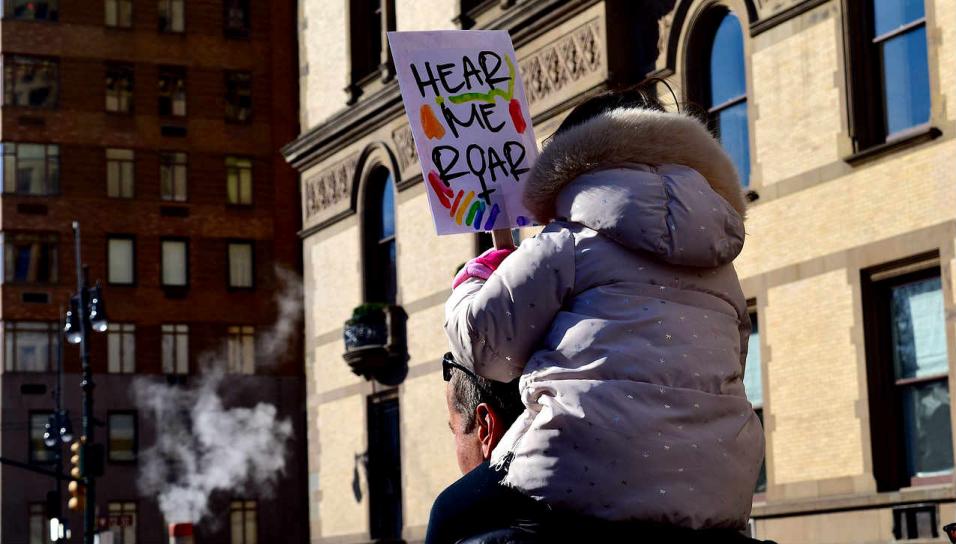 President Trump has ordered the deployment of the National Guard to secure the US-Mexican border.
The US President has ordered military personnel to help secure the border it shares with Mexico. The Tradefair team brings you the latest in US Politics...
"The big Caravan of People from Honduras, now coming across Mexico and heading to our "Weak Laws" Border, had better be stopped before it gets there."

- Donald Trump, US President.
President Donald Trump has instructed military troops to guard the US-Mexican border, ahead of his plans to build a wall between the two nations.
It comes after reports emerged that "caravans" of people were entering North America, according to the Commander-in-Chief's Twitter account.
Increased tensions for President Trump
The big Caravan of People from Honduras, now coming across Mexico and heading to our "Weak Laws" Border, had better be stopped before it gets there. Cash cow NAFTA is in play, as is foreign aid to Honduras and the countries that allow this to happen. Congress MUST ACT NOW!

? Donald J. Trump (@realDonaldTrump) April 3, 2018
The sight of groups of families moving towards the Mexican border from Central American countries is nothing unusual for this time of year. In fact, during Holy Week it's become a tradition for refugees and migrants to leave their homes in search of a better life elsewhere.
Dubbed the Easter Caravan, it is organised by activists who want to highlight the plight of families seeking sanctuary in Mexico or the United States. However, this year the event has gathered more attention than normal due to the US President's public condemnation of it.
Our Border Laws are very weak while those of Mexico & Canada are very strong. Congress must change these Obama era, and other, laws NOW! The Democrats stand in our way - they want people to pour into our country unchecked....CRIME! We will be taking strong action today.

? Donald J. Trump (@realDonaldTrump) April 4, 2018
Mexico addresses migrant problem
Although Trump recommended a "nuclear" solution to prevent "people and drugs" crossing the Mexican border, officials have decided on a less drastic approach.
Mexican officials have been clear that it will offer humanitarian visas to those who are most in need, allowing them to stay in the country legally for a year, while others will be given a month-long pass to enable them to submit applications for a more permanent living status.
Many of the travellers are fleeing violence and crime, but there are concerns that some are just migrants looking to move without going through the legal process.
Any other migrants who are not offered either visa option are being asked to leave Mexico within 20 days. President Trump's concern is that many will not stay in Mexico and will instead continue to the US border and gain entry.
However, Mexican officials have been clear that it's not their place to prevent people from entering other countries.
Earlier this week, the offices of the Mexican Secretary of Government and the Secretary of Foreign Affairs released a joint statement that announced they would be offering refugee status to select individuals for the first time since the "Easter Caravan" began in 2010.
"It is not up to this government to make immigration decisions for the United States or any other nation," the statement reads.
Since 2014, Mexico has received funding from the US to better secure its southern border. It's also worked alongside the United States Agency for International Development (USAID) last year to try and discourage Central Americans from leaving their countries by improving trade-related transparency and jobs training. It's estimated that 80,000 were deported from Mexico last year alone, with most of these being from Central America.
Deployment of US troops
Now the US Secretary of Homeland Security Kirstjen Nielsen has announced that the National Guard will be deployed to the US-Mexican border. Despite Nielsen claiming the plan had been on the table for a while, there are very few details about the duration, rules of engagement or even the cost of the decision.
Neither she nor the White House Press Secretary Sarah Huckabee-Sanders were able to answer questions about any of these key areas when asked by reporters at the press conference. Nielsen said the number of guardsmen called up would be "as many as needed to fill the gaps today" and added that it was hoped deployment would begin "immediately".
US law restricts the National Guard from acting as civilian law enforcement on American soil but have commonly been used as additional support for border control during previous administrations.
Nielsen and Huckabee-Sanders also had to field questions about supposed progress on the border wall announced by President Trump. According to reports, the only work that has been carried out since his inauguration is that previous fences have been updated.
Nielsen said: "To us, it's all new wall." She also clarified claims from the President that the military would be helping to build the wall, saying that "some land on the border" is owned by the Department of Defense.
As tensions between the US and Mexico don't seem to be easing in light of the latest developments, there may be additional concerns about Trump's international relations since he entered the Oval Office.
There has been significant concern among investors about the threat of a trade war, causing global stocks to tumble. Although many have recovered, the erratic behaviour of some of the world's most important financial indicators will be an unwelcome situation for many traders.
It comes after China has been clear that it will retaliate to President Trump's increased import tariffs, while the EU also pledged to respond in kind to the decision.

What is Tradefair?
Tradefair is Betfair's new spread betting service, offering trading on thousands of financial markets such as Gold, EUR/USD, FTSE 100 and Twitter. Whether you think prices are going up or down, Tradefair lets you take a view.

Check out our latest Special Offers

Please note: Our services include products that are traded on margin and carry a risk that you can lose more than your initial deposit. The products may not be suitable for everyone - ensure you fully understand the risks involved.