US Politics: Trump impeachment hearings to go public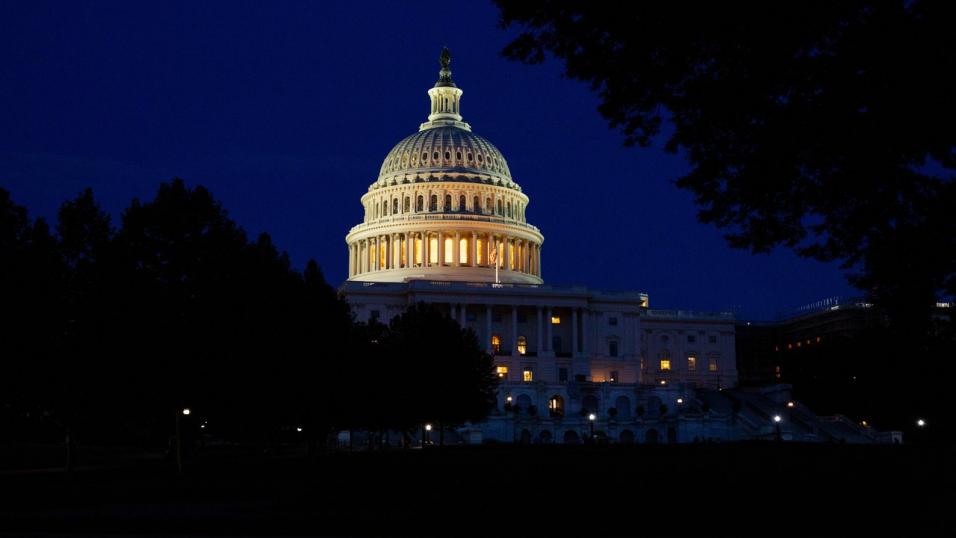 Impeachment proceedings will continue on Capitol Hill next week
Impeachment proceedings against Donald Trump will enter a new phase next week as the inquiry holds its first public hearings. Tradefair brings you the latest from US politics...
"We are getting an increasing appreciation for just what took place during the course of the last year - and the degree to which the president enlisted whole departments of government in the illicit aim to get Ukraine to dig up dirt on a political opponent."

- House Intelligence Committee chairman Adam Schiff
Witness testimonies in the impeachment investigation into Donald Trump have, so far, taken place behind closed doors, which has attracted criticism from some Republicans. Next week, however, the process will enter its next phase as public hearings begin, with three state department officials set to testify first.
The inquiry is looking into claims that Trump pressured Ukraine to conduct an investigation into the president's political rival Joe Biden and potentially dig up dirt on the Democrat, who is one of the leading contenders to take on Trump in the 2020 election.
Trump denies any wrongdoing and claims he is the victim of a witch hunt.
Democrats build their case
Future hearings on Capitol Hill will be broadcast live and both Democratic and Republican lawmakers will be given the chance to question witnesses.
Due to appear next week are acting US ambassador to Ukraine Bill Taylor, former ambassador to Ukraine Marie Yovanovitch and state department official George Kent. Both Taylor and Yovanovitch have already testified behind closed doors.
As the inquiry goes public, it will continue to be overseen by House Intelligence Committee chairman Adam Schiff, who this week spoke to reporters about the impeachment case Democrats are steadily building against the president.
"We are getting an increasing appreciation for just what took place during the course of the last year - and the degree to which the president enlisted whole departments of government in the illicit aim to get Ukraine to dig up dirt on a political opponent," he said.
Trump has frequently targeted Schiff in attacks on social media, calling him a "corrupt politician".
Explosive private testimony
Taylor has provided some of the most significant evidence in the impeachment investigation so far. A week ahead of his planned public hearing on Wednesday November 13, Democrats released a transcript of Taylor's private testimony, in which he told committee members it was his "clear understanding" the president had withheld hundreds of millions of dollars in US military aid to Ukraine because he wanted the country to investigate Biden and his son, Hunter Biden.
Trump has made allegations of corruption against the Bidens, claiming that Joe Biden used his political power while he was vice-president to quash an investigation into Burisma, a Ukrainian oil company. Hunter Biden formerly sat on the board of the firm.
Taylor also told the committee that Rudy Giuliani, Trump's personal lawyer, played a key role in efforts to pressure Ukraine into launching an investigation into the Bidens.
Another key witness in the impeachment investigation is US ambassador to the EU Gordon Sondland, who this week submitted a three-page addition to his previous testimony.
Sondland revised his past denial of suggestions that military aid to Ukraine could be frozen for political reasons, based on recollections of a conversation he had with Andriy Yermak, an aide to Ukrainian president Volodymyr Zelensky.
"I now recall speaking individually with Mr Yermak, where I said resumption of US aid would likely not occur until Ukraine provided the public anti-corruption statement that we had been discussing for many weeks," Sondland said.
Trump, meanwhile, has continued to insist there was no quid pro quo arrangement between the US and Ukraine to discredit Biden in exchange for military aid.
President as combative as ever
Trump has been as fiery and aggressive as ever this week, using a 2020 campaign rally in Louisiana as an opportunity to launch further attacks on his favourite targets: Democrats and the mainstream media.
"The crooked media have launched a deranged, delusional, destructive and hyper-partisan impeachment witch hunt," he said.
The president also accused the Democrats of "shameful conduct" and claimed his supporters will vote his political opponents out of office in 2020, allowing the Republicans to "take back Congress".
On Twitter, Trump celebrated the recent performance of US stock markets, with all three of the main Wall Street indexes - the Dow Jones Industrial Average, the Nasdaq Composite and the S&P 500 - hitting all-time highs on Monday.
Both the Dow and the Nasdaq benchmarks set new records on Tuesday, largely thanks to optimism about a breakthrough in the trade dispute between the US and China.
Investors are hoping a new agreement between the two sides will lead to the suspension of tariffs on $156 billion of Chinese imports to the US scheduled to take effect from December 15, as well as the potential rollback of tariffs on $110 billion of goods introduced in September.
What is Tradefair?
Tradefair is Betfair's new spread betting service, offering trading on thousands of financial markets such as Gold, EUR/USD, FTSE 100 and Twitter. Whether you think prices are going up or down, Tradefair lets you take a view.
Check out our latest Special Offers

Please note: Our services include products that are traded on margin and carry a risk that you can lose more than your initial deposit. The products may not be suitable for everyone - ensure you fully understand the risks involved.
Discover the latest articles
Read past articles