US Politics: Trump impeachment defence concludes amid calls for more witnesses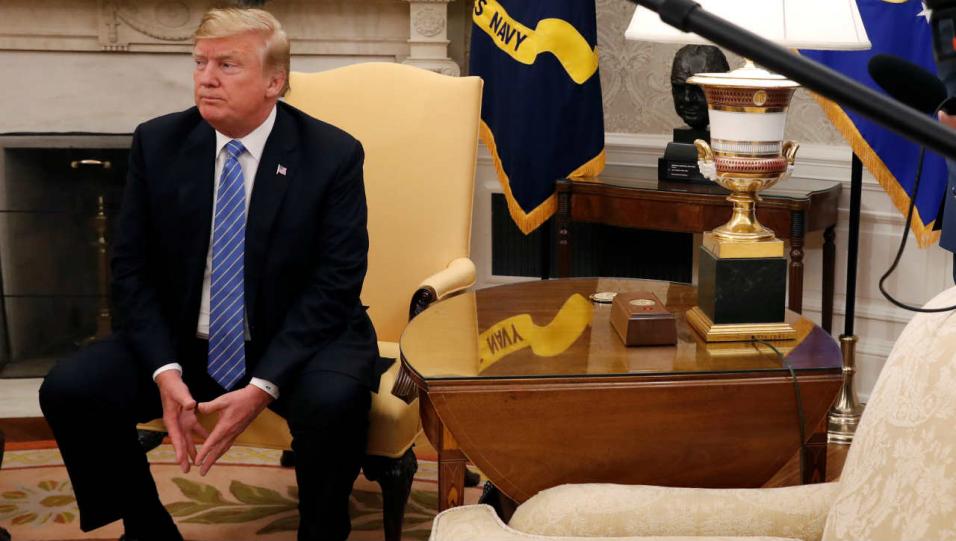 Democrats want Trump removed from office
Donald Trump's legal team have concluded their oral arguments in defence of the president, allowing the Senate impeachment trial to advance to its next stage. Tradefair brings you the latest from US politics...
These articles must be rejected. The Constitution requires it. Justice demands it."

- Trump's personal lawyer Jay Sekulow
The legal team representing Donald Trump this week concluded their oral arguments in defence of the president, setting the stage for the impeachment trial in the US Senate to move onto two days of questioning.
Trump is facing charges of abuse of power and obstruction of Congress, in connection with allegations he tried to pressure the Ukrainian government into discrediting his political rival, Joe Biden. The president denies any wrongdoing.
Democrats are calling for further witnesses to testify in the trial, but would require support from Republican senators to win a vote calling for additional testimony.
One of the most notable figures who could be called to appear in the trial is former national security adviser John Bolton, who hit the headlines this week as it was reported that he directly implicates Trump in a new book.
What happened this week?
Trump's defence team concluded their oral arguments on Tuesday (January 28), having only used about half of the 24 hours allocated to them over the course of three days. The Democrat team, in contrast, used all of their allotted time to argue in great detail that the president should be removed from office.
Among those arguing in defence of Trump was his personal lawyer, Jay Sekulow, who insisted that the bar for impeachment "cannot be set this low".
He added: "These articles must be rejected. The Constitution requires it. Justice demands it."
White House counsel Pat Cipollone called on senators to "end the era of impeachment for good".
The conclusion of the president's defence set the stage for two days of questioning on Wednesday and Thursday, during which senators can submit questions for debate by the opposing legal teams.
On the first day, it was asked whether the Senate can reach a fully informed verdict without hearing from the likes of Bolton and acting White House chief of staff Mick Mulvaney.
Democrat Adam Schiff, the House Intelligence Committee chairman, said: "The short answer to that question is 'no'. There's no way to have a fair trial without witnesses."
A vote on whether or not to allow additional witnesses is expected on Friday. Democrats would need at least four Republicans to vote in favour of hearing further testimony for the motion to pass, and there are indications that some more moderate senators could be willing to do so.
Republican Mitt Romney of Utah said: "I think it's increasingly likely that other Republicans will join those of us who think we should hear from John Bolton."
Bolton bombshell
Democrats have said repeatedly they want to hear from Bolton in particular, and the calls for the former national security adviser to testify became louder this week amid media reports about his new book.
Bolton reportedly writes that Trump directly withheld aid from Ukraine in an effort to pressure the Ukrainian president, Volodymyr Zelensky, into announcing a corruption investigation into Biden.
Since Biden is one of the leading candidates for the Democratic presidential nomination this year, Democrats argue that Trump's efforts to trigger the investigation equate to soliciting foreign help to win an election, which is illegal.
Bolton's claims that he was instructed directly by the president to withhold aid could also undermine the Republican argument that no first-hand witnesses can link Trump to any scheme to pressure Ukraine.
Speaking to reporters this week, the US president admitted he doesn't want Bolton to testify in the impeachment trial, citing national security concerns.
Trump goes on the attack
Trump responded to the reports about Bolton's book by launching an attack on the former national security adviser, saying Bolton had "begged" him for a job.
The Republican leader also said that, if he had followed Bolton's advice, "we would be in World War Six by now". He went on to claim the forthcoming book is full of classified national security information, while dismissing it as "nasty and untrue".
As his impeachment trial continued to unfold in the Senate this week, Trump formally signed a new trade pact with Mexico and Canada. The US Mexico Canada Agreement is set to replace the 1994 North American Free Trade Agreement (Nafta), which the president has described as America's "worst" deal.
Fulfilling his campaign pledge to abolish Nafta is likely to be one of Trump's key talking points as he campaigns for re-election this year, along with claims about the strength of the US economy.
The president has previously touted record highs on US stock markets when celebrating economic performance.
This week, however, Wall Street felt the effects of growing concern about the spread of the coronavirus in China. The Dow Jones Industrial Average and S&P 500 on Monday witnessed their biggest daily falls since last October, while the Nasdaq Composite Index had its worst day since August last year.
All three indexes were relatively flat on Wednesday January 29.
What is Tradefair?
Tradefair is Betfair's new spread betting service, offering trading on thousands of financial markets such as Gold, EUR/USD, FTSE 100 and Twitter. Whether you think prices are going up or down, Tradefair lets you take a view.
Check out our latest Special Offers

Please note: Our services include products that are traded on margin and carry a risk that you can lose more than your initial deposit. The products may not be suitable for everyone - ensure you fully understand the risks involved.
Discover the latest articles
Read past articles