US Politics: Trump ignoring poor public opinion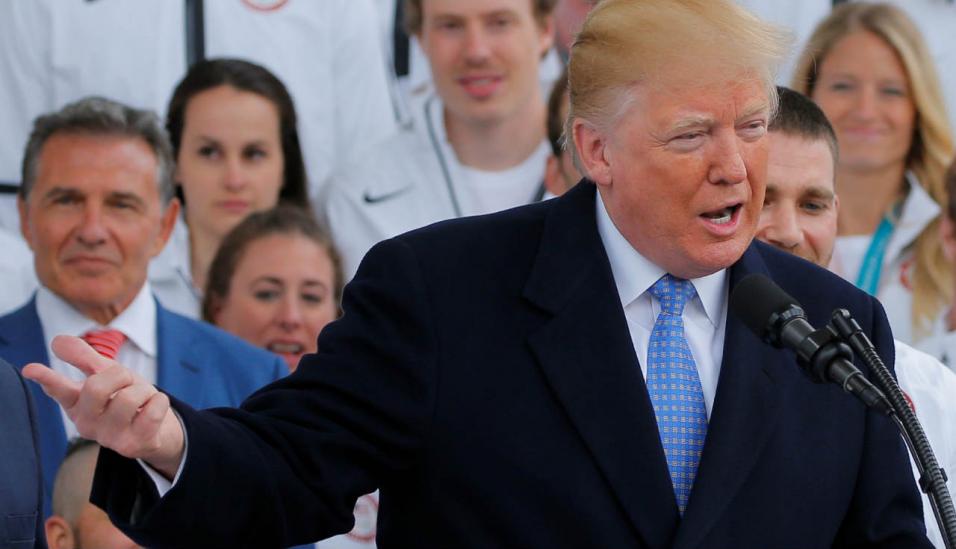 Trump remains calm despite falling popular opinion
Donald Trump faces an increasingly negative public opinion of his time as president. The Tradefair team brings you the latest news in US politics...
"The Intelligence people seem to be extremely passive and naive when it comes to the dangers of Iran. They are wrong!"

- Donald Trump
Donald Trump faces yet another challenge today (January 31) following the release of the latest opinion polls, which highlight a significant slide in the president's popularity.
According to a new poll from The Washington Post-ABC, some interesting shifts in public opinion have been witnessed in the backlash from the recent US government shutdown, which officially came to an end on January 25.
Lack of confidence becoming apparent
Popularity is important for any president, but with Trump having now served half of his term, these latest results paint a particularly poor picture for his chances of re-election in 2020.
According to the Post-ABC poll, 61% do not believe the president to be either "honest" or "trustworthy". At the same time, 58% believe Trump lacks the "personality and temperament" to be an effective president.
It's a sharp change in fortunes for the man who entered the White House on the back of such strong public support from his followers, albeit with countless detractors across the political divide.
Here are some of the other standout results:
- 57% rate Trump's handling of border security in a negative fashion
- 65% believe Trump does not understand the problems of people like them
- 64% do not have confidence that Trump will make the right decisions for the country's future
- 58% say Trump is not good at making political deals
Despite these troubling statistics, the president retains his bluster and believes he remains the best man for the job to bring about change in the US. Indeed, his actions over recent weeks have further highlighted the strong personal belief he has in his own abilities.
Contradiction with key staff causing backlash
It's therefore a difficult time for the president and perhaps a major factor in his growing lack of public support has been his commitment to using social media to 'name and shame' key officials with whom he has a disagreement.
One such incident happened again this week, when Trump took to Twitter to air his outrage around key intelligence figures in his own administration who briefed Congress around the ongoing dangers posed by nations like North Korea and Iran:
The Intelligence people seem to be extremely passive and naive when it comes to the dangers of Iran. They are wrong! When I became President Iran was making trouble all over the Middle East, and beyond. Since ending the terrible Iran Nuclear Deal, they are MUCH different, but....

? Donald J. Trump (@realDonaldTrump) January 30, 2019
....a source of potential danger and conflict. They are testing Rockets (last week) and more, and are coming very close to the edge. There economy is now crashing, which is the only thing holding them back. Be careful of Iran. Perhaps Intelligence should go back to school!

? Donald J. Trump (@realDonaldTrump) January 30, 2019
The manner in which the president publicly rebukes key officials has become something of a calling card during his turbulent time in office to date, but it is an action which many see as unbecoming of a president.
Whatever the reason, a growing swathe of Americans are now altering their opinion of a man they once believed could deliver widespread social change to the country, with his campaign slogan 'Make America Great Again' now seemingly hollow words for many.
End to uncertainty helping markets
The president's recent actions continue to have a negative impact on his political fortunes, but one decision that has gone down well with markets was the move to reopen the government earlier this month.
In response to the decision, the Dow Jones Industrial Average has witnessed a 1.79% lift in performance over the last five days, while the Nasdaq has grown by 2.24% over the same period and the S&P 500 is up by 1.6%.
With the uncertainty of the government closure now firmly in the past, it appears the economic fortunes of US businesses have returned to an upward trajectory. It now remains to be seen whether the president can mirror this return to positivity in his own outlook in the coming weeks.
What is Tradefair?
Tradefair is Betfair's new spread betting service, offering trading on thousands of financial markets such as Gold, EUR/USD, FTSE 100 and Twitter. Whether you think prices are going up or down, Tradefair lets you take a view.

Check out our latest Special Offers

Please note: Our services include products that are traded on margin and carry a risk that you can lose more than your initial deposit. The products may not be suitable for everyone - ensure you fully understand the risks involved.

Discover the latest articles
Read past articles