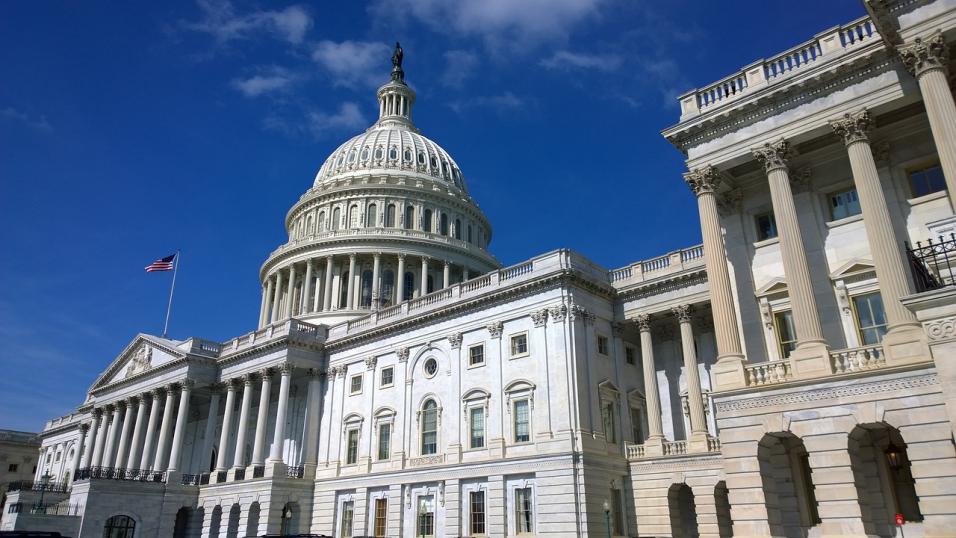 Republican Senator Jeff Flake announced he was leaving politics as he couldn't be "complicit" in President Trump's actions.
President Donald Trump's policies come under further scrutiny as he faces fierce criticism from Republican Senators in a public outburst. The Tradefair team brings you the latest news from the US...
"We must never meekly accept the daily sundering of our country – the personal attacks, the threats against principles, freedoms, and institutions, the flagrant disregard for truth or decency, the reckless provocations, most often for the pettiest and most personal reasons."

- Jeff Flake, Republican Senator.
Republican Senator Jeff Flake made a vicious and public criticism of US President Donald Trump.
Announcing that he would not be seeking re-election next year, Flake took to the Senate Floor to say he could no longer be "complicit" in going along with "reckless, outrageous and undignified behaviour" from Trump.
The Arizona Senator has frequently clashed with the US President, but this public outburst has been the most high-profile dispute yet.
Despite being a member of Trump's own Republican party, it appears the two men differ quite significantly on how the country should be governed.
Threats against principles
"We must never meekly accept the daily sundering of our country - the personal attacks, the threats against principles, freedoms, and institutions, the flagrant disregard for truth or decency, the reckless provocations, most often for the pettiest and most personal reasons," Flake said
"When such behaviour emanates from the top of our government, it is something else: It is dangerous to a democracy."
Reports suggest that his speech received a standing ovation from fellow Arizonan Senator John McCain, who has had his own troubles with the Commander in Chief.
History with McCain
During McCain's Presidential nominee campaign, Trump questioned whether the former prisoner of war was a war hero.
Speaking at a campaign event in Iowa, Trump said: "He's not a war hero. He's a war hero because he was captured? I like people who weren't captured."
McCain was badly injured in a crash in 1967 and captured, where he was held and tortured for five years by the North Vietnamese. The pair have also been at loggerheads over Trump's own military service, in which he was given five deferments from the Vietnam war for bone spurs.
McCain also sank a Republican healthcare bill backed by the White House and refused to support its successor. More recently, he has criticised the Trump administration for the way it dealt with the deaths of four US soldiers in Niger.
Growing discontent in the Republican party
The decision of Flake to use the Senate Floor to publicly distance himself from the US President could be seen as a sign of growing discontent in the Republican party, which backed Trump as its nominee.
Bob Corker, who reportedly also gave a standing ovation to Flake's speech, is another Republican Senator who has opposed Trump.
Corker, who is Chairman of the Senate Foreign Relations Committee, said the Commander in Chief was "obviously not going to rise to the occasion as President".
He added that Trump would be most remembered for the "the debasement of our nation".
The tensions from Republicans is an indication of how the party is struggling to placate Senators at both ends of the political spectrum. Trump's attempt to reform Obamacare failed to pass because it wasn't far enough away from his predecessor for the hardline Republicans, while the more liberal party members found it to be too harsh.
Division at home
The President, who is a former Democrat himself, may find that his policies are increasing the differences in his Republican party rather than bringing them together.
A number of high-profile changes have caused concern within the party and among voters, such as pulling out of the Pacific Rim trade deal and the Paris Agreement. In addition to these policy turnarounds, he's also had public disputes with the FBI and London Mayor Sadiq Khan.
However, what investors will be concerned about will be that all of these events distract from policies that could counter the potential negative impact of withdrawing from the Pacific Rim trade deal.
Trump is due to implement tax reform, which would be one of the most significant changes to the American system for decades. He will need the support of all Republicans to pass the Bill, including McCain, Flake and Corker.
Economical impact of tax cuts
If the reforms do progress there are concerns that the changes, which cut corporation tax and abolish inheritance tax, will widen the country's inequality rather than easing the burden.
Economists expect most of the savings from the tax cuts will go straight to the country's top 1%, effectively giving the rich more money in a time when they are better off than ever. It would also mean less funds for infrastructure projects, which was another campaign promise made by Trump.
It's because of this that investors are concerned that the tax cuts won't boost the US economy, at least not in the long term.
As long as the President can keep the stock market happy with his tax cuts and hold off on triggering a war with North Korea, Trump's high-profile events since January will be most likely be forgotten. Focus will turn to the mid-term elections of 2018 and all Senators will be looking to get as many votes as possible.

What is Tradefair?
Tradefair is Betfair's new spread betting service, offering trading on thousands of financial markets such as Gold, EUR/USD, FTSE 100 and Twitter. Whether you think prices are going up or down, Tradefair lets you take a view.

Check out our latest Special Offers

Please note: Our services include products that are traded on margin and carry a risk that you can lose more than your initial deposit. The products may not be suitable for everyone - ensure you fully understand the risks involved.