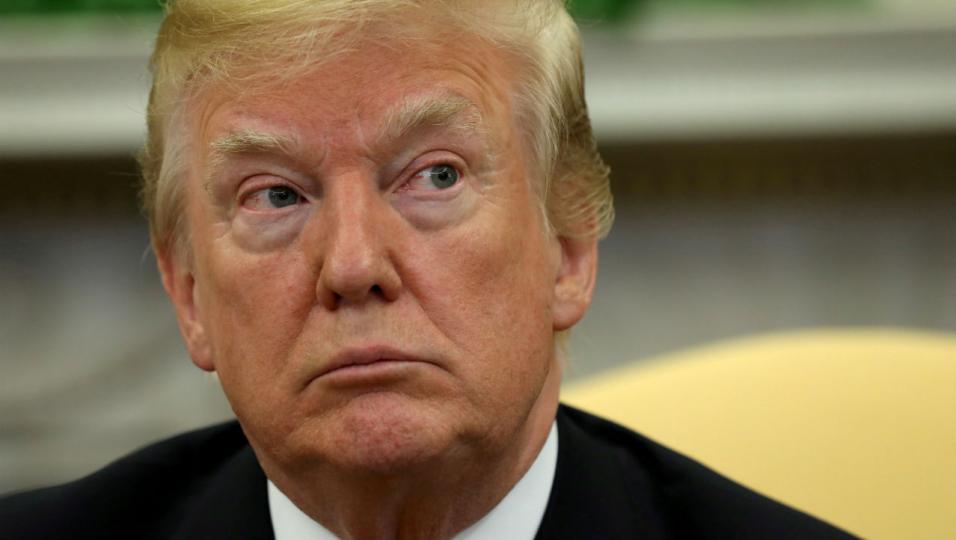 Donald Trump has showed a flippant attitude to North Korea's regime.
Donald Trump has had a flippant attitude towards North Korea's human rights violations, but will the markets care? The Tradefair team brings you the latest from US politics...
"The horror of life in North Korea is so complete that citizens pay bribes to government officials to have themselves exported abroad as slaves."

- Donald Trump, US President.
There's been a buzz around Washington all week, as the US President met with North Korea leader Kim Jong-un in what was a landmark summit. It marks the first time that a sitting US President has managed to meet with Pyongyang but did Donald Trump get what he wanted from the event?
The jury is still out on whether or not the Commander-in-Chief will get the disarmament that he craves or whether Kim is just humouring him but it appears as though that's as far as Trump is prepared to go with handling the issues surrounding the so-called secret state.
In an interview with Fox News' Bret Baier, he shrugged off the human rights record of the North Korean government, which have been condemned around the world. Indeed, the UN went as far as to say there is no parallel in the contemporary world for the level of violations happening to people in North Korea.
Inside North Korea
As Pyongyang does its best to cut itself off from the rest of the world, heavily censoring media into and out of the country, it's difficult to establish any certain truths but human rights organisations have accused Kim of a variety of crimes. These include assassination of political rivals, public executions, and starving his own people.
The US President doesn't seem to be concerning himself with such issues though, praising Kim Jong-un for his "tough guy" approach.
Baier addressed the issue, putting it to the President that the North Korean leader was a "killer. He's executing people."
Trump replied by admiring Kim for being a "tough guy" and added: "Hey, when you take over a country, tough country, with tough people, and you take it over from your father, I don't care who you are, what you are, how much of an advantage you have - if you can do that at 27 years old, that's one in 10,000 could do that."
"So he's a very smart guy, he's a great negotiator and I think we understand each other."
Notably surprised by Trump's flippant attitude to the crimes allegedly committed by his new friend, Baier again focused on the fact that Kim has "done some really bad things". However, the President simply added that "a lot of other people done some really bad things. I could go through a lot of nations where a lot of bad things were done".
Is it really a surprise?
It may not seem like much, afterall the point of the summit was always to address North Korea's nuclear programme, but Trump's glib attitude to what is seen is the worst human rights record in the world hasn't done him any favours.
A UN inquiry in 2013 - two years after Kim Jong-un's accession to leader, said the regime was guilty of "systematic, widespread and gross human rights violations".
It added: "These are not mere excesses of the state; they are essential components of a political system that has moved far from the ideals on which it claims to be founded."
But Trump didn't stop at just dismissing the allegations against Pyongyang. He went further to say that the people of North Korea "love" their leader.
Speaking to ABC's George Stephanopoulos, he said: "His country does love him. His people, you see the fervor. They have a great fervor."
Just seven months ago, the US President took a much more harsh view on the regime under Kim Jong-un.
In an official statement from the White House, Trump said: "The horror of life in North Korea is so complete that citizens pay bribes to government officials to have themselves exported abroad as slaves.
"In place of a vibrant society, the people of North Korea are bombarded by state propaganda practically every waking hour of the day. North Korea is a country ruled as a cult."
A change of heart from President Trump
The President is standing behind his reviewed attitude towards Kim and has ordered the end of US military exercises in South Korea, and ruled that Pyongyang was "no longer a nuclear threat".
Just landed - a long trip, but everybody can now feel much safer than the day I took office. There is no longer a Nuclear Threat from North Korea. Meeting with Kim Jong Un was an interesting and very positive experience. North Korea has great potential for the future!

? Donald J. Trump (@realDonaldTrump) 13 June 2018
Secretary of State Mike Pompeo took a slightly more reserved view, saying there would be no end to the sanctions on North Korea until denuclearisation was achieved.
With the mid-terms quickly approaching, it's unclear of the impact the President's flippant attitude towards North Korea's human rights violations may mean for Republicans - or Democrats - that fail to speak out against him.
There were also concerns about Trump's willingness to criticise his allies - like Canadian Prime Minister Justin Trudeau - while praising leaders like Kim Jong-un.
Connecticut Senator Chris Murphy tweeted his dismay over the meeting:
2/ The syrupy photo op with Kim, on the heels of the brutal treatment of our closest allies at the G7, is an international relations disaster. I'm fine with POTUS talking to our enemies, but not right after you savaged your friends.

? Chris Murphy (@ChrisMurphyCT) 12 June 2018
An unphased market reaction
The Wall Street Journal described the initial market reaction to the summit as "muted", citing the lack of key details as the reason for a lack of any significant impact. It seemed that investors were largely shrugging off the meeting, with AT&T's planned acquisition of Time Warner being much more relevant.
Neha Dave, from Money Control, said there was a near-term easing of market risk sentiment expected as the threat of nuclear escalation between the US and North Korea seems to have abated.
She said the South Korean and Japanese markets will feel the biggest benefits from the meeting, with global equity markets still witnessing higher levels of volatility despite positive global growth.

What is Tradefair?
Tradefair is Betfair's new spread betting service, offering trading on thousands of financial markets such as Gold, EUR/USD, FTSE 100 and Twitter. Whether you think prices are going up or down, Tradefair lets you take a view.

Check out our latest Special Offers

Please note: Our services include products that are traded on margin and carry a risk that you can lose more than your initial deposit. The products may not be suitable for everyone - ensure you fully understand the risks involved.