US Politics: Trump blames Putin for election meddling despite summit success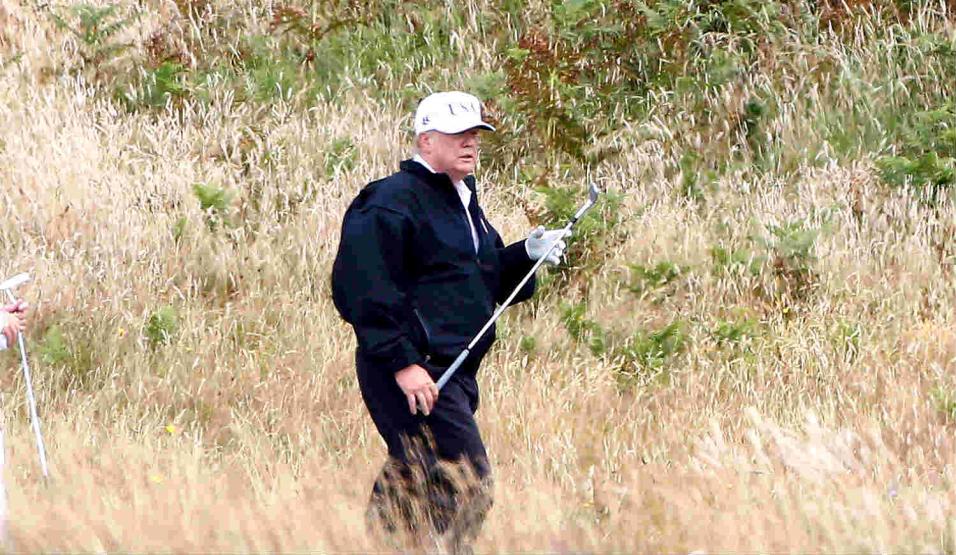 The US President has done another u-turn, holding Putin responsible for the election meddling.
President Donald Trump has blamed Vladimir Putin specifically for interfering in the US election. The Tradefair team brings you the latest from US politics...
"People said you should have gone up to him, you shoulda started screaming in his face. We're living in the real world, OK?"

- Donald Trump, US President.
Donald Trump has become well known for giving somewhat contradictory statements during his time at 1600 Pennsylvania Avenue, but his latest change of heart has caught everyone by surprise.
He has now said he holds Russian President Vladimir Putin personally responsible for meddling in the 2016 presidential election. In an interview with CBS News, he said he blamed Putin because "he's in charge of the country" and said he considered himself to be responsible for anything happening in the US.
When the Commander-in-Chief was asked about whether he backed assessments from US intelligence that Russia interfered in the 2016 election, he replied: "Yeah, and I've said that before, Jeff. I have said that numerous times before, and I would say that is true, yeah."
Just days earlier, as the leaders started their summit in Helsinki, Trump was blaming the US for the poor relationship between the two nations.
An "extraordinary" meeting?
President Trump had stressed the importance of communication between him and Putin, saying that he saw them having an "extraordinary relationship". He added: "Getting along with Russia is a good thing, not a bad thing."
However, this approach sparked bipartisan criticism. Both Democrats and Republicans wanted to see Trump take a harsher stance with Putin in public. The President rejected this criticism, saying it was a "strong news conference".
He added: "People said you should have gone up to him, you shoulda started screaming in his face. We're living in the real world, OK?"
The US President also spoke about another contentious issue - North Korea - saying Putin believes he is "doing a great job" and will offer help if needed.
"There is no rush, but we would like to see the denuclearization of North Korea. He (Putin) feels strongly about and I feel strongly about it, so that's good," Trump said.
Pressure for Trump to perform
Taking to his Twitter account, the US President defended himself and the success of the meeting from America's perspective.
So many people at the higher ends of intelligence loved my press conference performance in Helsinki. Putin and I discussed many important subjects at our earlier meeting. We got along well which truly bothered many haters who wanted to see a boxing match. Big results will come!

? Donald J. Trump (@realDonaldTrump) July 18, 2018
There was significant pressure on the President to get a more successful outcome from the summit after his previous meeting with Putin was seen to be a disappointment for the US. During the event, the Russian leader denied any responsibility in the election interference and was unchallenged by Trump.
For many, it's difficult to establish what progress was actually made during this latest meeting between the US and Russia and the forward and backwards from the Commander-in-Chief is certainly not helping.
Trouble in the Oval Office?
However, it's not just on foreign soil that the President is getting flustered over his comments as he was soon in hot water with the White House. He seemingly contradicted the Director of National Intelligence Dan Coats when he replied no to a question about whether he believed Russia was "still targeting the US".
Sarah Huckabee-Sanders, White HouAwse Press Secretary, later claimed that the President had been answering another question, adding that "the threat still exists".
There was another awkward attempt to make amends from the President as he had told reporters: "They said they think it's Russia; I have President Putin, he just said it's not Russia. I will say this: I don't see any reason why it would be."
However, he later said he had accidentally said "would" instead of "wouldn't".
Is Trump risking the US economy?
To Trump's critics, this is just more proof that the US President has no idea what he's doing in the Oval Office and the people around him are doing their best to clear up after him. But the real pressing question is whether his time in office will have significant repercussions on the global economy.
The President's efforts to put 'America first' has meant imposing additional charges on some of the US's key trading partners. This has provoked retaliatory action from the EU and China and sparked serious concerns about the impact of a trade war.
A changing climate
In many ways, the world climate is tougher now than when he first entered office. The world economy's growth is muted and not as evenly shared as it was in 2017. Despite this, the US is expanding financially but is nearing full employment. This, alongside Trump's financial policies, is accelerating inflation and prompting the Federal Reserve to spike interest rates ahead of schedule.
This climate has had an impact outside the US too, with the European Central Bank considering bringing unconventional monetary policies to an end. This makes it an uncertain time for investors.
Writing for the Guardian, Nouriel Roubini, Professor at NYU's Stern School of Business, said the US's growth-enhancing policies will be "swamped" by growth-reducing measures. He explained that even if the economy exceeds potential growth over the next year, the positive impact of these will fade by the second half of 2019.
"With the era of low volatility behind us, it would seem that the current risk-off era is here to stay," Roubini wrote.

What is Tradefair?
Tradefair is Betfair's new spread betting service, offering trading on thousands of financial markets such as Gold, EUR/USD, FTSE 100 and Twitter. Whether you think prices are going up or down, Tradefair lets you take a view.

Check out our latest Special Offers

Please note: Our services include products that are traded on margin and carry a risk that you can lose more than your initial deposit. The products may not be suitable for everyone - ensure you fully understand the risks involved.