US Politics: Trump attends Bush funeral as Russia affair rumbles on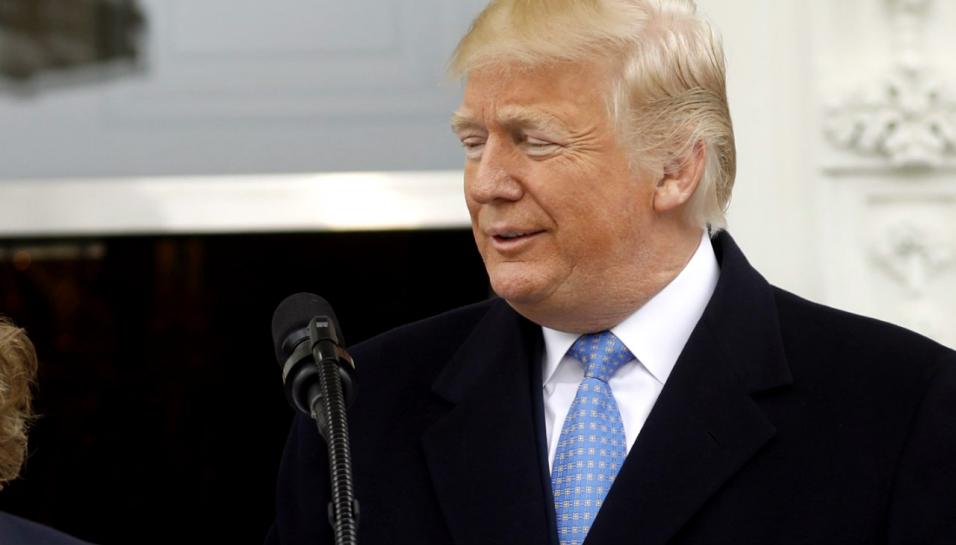 Can President Trump stop picking fights at a time of national mourning?
Trump has joined the rest of America's political class in paying tribute to the late President George HW Bush, but the rows over alleged Russian interference in the last election roll on. The Tradefair team brings you the latest from US politics...
"President George HW Bush led a long, successful and beautiful life. Whenever I was with him I saw his absolute joy for life and true pride in his family. His accomplishments were great from beginning to end. He was a truly wonderful man and will be missed by all!"

- President Donald Trump
Tact, diplomacy and the careful choice of words is not what many would associate with President Trump, but the time has definitely been right for him to find some this week, following the death of former President George HW Bush at the age of 94.
Indeed, the memorial service in Washington yesterday (December 5th) brought the current President face-to-face with the four living former Presidents, including son of the deceased George W Bush, who was himself much-criticised in office and yet has himself had plenty of negative comments to make about the current administration.
Also there were Democrats Bill Clinton and Barack Obama. Not for the first time, Trump's handshake with Obama, his immediate predecessor, was an awkward moment. He can hardly have enjoyed meeting the Clintons either, following his fierce election campaign against Hillary. In the event, his wife sat between him and Mr Obama, with Mrs Obama and the Clintons further along. Trump shook hands with both the Obamas, but not the Clintons. Jimmy Carter was also present.
Meeting the Bush's was another matter, as Trump took his presidential motorcade all of 750 ft down Pennsylvania Avenue to meet them. The current incumbent of the Oval Office was certainly not keeping a low profile.
However, Trump has some history with the Bush family, having slammed George W's decision to invade Iraq in 2003 - admittedly not one of his more outspoken views - as well as launching personal attacks on Jeb Bush when they were rivals for the Republican presidential nomination.
With plenty of other world leaders and former politicians there, ranging from Angela Merkel to John Major - who took office when Bush Snr was President - this was certainly a time for politicians to put party differences aside. While the politicians past and present may not enjoy sitting together, the service was like any other funeral, in which people who do not see eye-to-eye are thrown together will have to respect the occasion, and leave aside other concerns.
Showing respect
Among the marks of respects the President has carried out are shutdowns of several government departments from the Supreme Court and Congress to post offices and national parks, as well as government offices in the Bush family's home state of Texas. In addition, as is customary, national flags are being flown at half-mast for 30 days.
Trump's response to the initial news that the former President had died had been remarkable. As usual, it was delivered by Twitter. He said: "President George HW Bush led a long, successful and beautiful life. Whenever I was with him I saw his absolute joy for life and true pride in his family. His accomplishments were great from beginning to end. He was a truly wonderful man and will be missed by all!"
He also said Bush Snr had "inspired generations of his fellow Americans to public service - to be, in his words, 'a thousand points of light' illuminating the greatness, hope, and opportunity of America to the world".
That last phrase is somewhat telling, given that as recently as July this year Trump had dismissed the "thousand points of light" phrase as being meaningless, in contrast to his own "Make America Great Again" mantra.
All this may suggest that even Trump's famously abrasive style has been shelved, at least for this occasion.
The Russian election affair drags on
It is not as if the President has not remained in fighting mode over other matters. The admission by former national security adviser Michael Flynn that he lied to the FBI over links between Trump officials and Russia during the 2016 election campaign could appear to strengthen the case against Trump. Trump's response was that Flynn was a "liar" - which was technically indisputable as Flynn had indeed admitted to being just that - but Trump added the claim that the lie was really against him in a bid by his former employee to get a shorter jail sentence.
As it happens, Mr Flynn is not now facing jail at all, as the special counsel said it would not seek such a punishment.
Isolation at the G20
All this comes at a time when actual relations with Russia are somewhat fraught. Trump snubbed Vladimir Putin at the G20 summit last week - ostensibly over a naval incident between Russia and Ukraine - and was also at odds with the rest, being a lone dissenting voice as the other leaders pledged to do more to fight climate change. Having posed for the group picture while standing next to France's President Macron - another individual he has crossed swords with recently - he was off quickly, claiming his press conference had to be cancelled due to the death of Bush Snr.
While all this was going on, Putin - every bit the outsider himself - has talked of building new medium-range nuclear missiles if the US exits the historic treaty signed in 1987 between President Reagan and Mikhail Gorbachev.
Trump has even picked something of a fight with British Prime Minister Theresa May, claiming her proposed Brexit deal will prevent a free trade agreement being reached with the US.
Implications for the markets
Most of these battles will have little impact on the markets, although it may be interesting to see how they react regarding the share prices of firms who would benefit from more trade between the UK and the US. For all Trump's rhetoric, much more may depend on whether May gets her deal through parliament - which many think unlikely. But it also suggests that trade talks may be rather bumpier than some would anticipate.
Trump is clearly not one to speak ill of the dead, but it appears no such courtesy is being extended to the living.

What is Tradefair?
Tradefair is Betfair's new spread betting service, offering trading on thousands of financial markets such as Gold, EUR/USD, FTSE 100 and Twitter. Whether you think prices are going up or down, Tradefair lets you take a view.

Check out our latest Special Offers

Please note: Our services include products that are traded on margin and carry a risk that you can lose more than your initial deposit. The products may not be suitable for everyone - ensure you fully understand the risks involved.