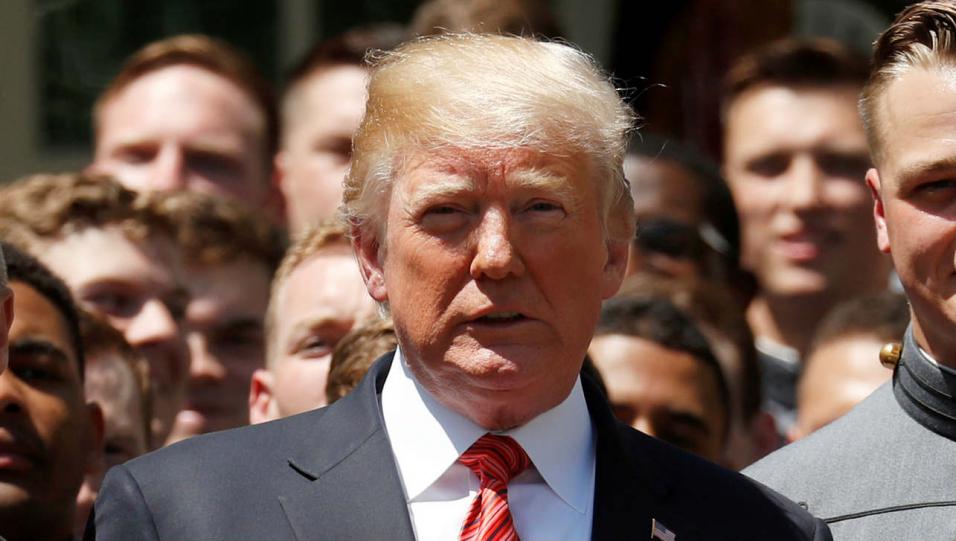 Pressure is on President Trump as a Senate committee rules that Russia did interfere in his election campaign.
An influential Senate investigation has ruled that Russia did interfere in the 2016 election to help Donald Trump become President. The Tradefair team brings you the latest in US Politics...
"The Russian effort was extensive, sophisticated, and ordered by President Putin himself for the purpose of helping Donald Trump and hurting Hillary Clinton."

- Senator Richard Burr, Republican Chairman of the Senate Intelligence Committee.
An influential Senate committee has ruled that Russia did interfere in the 2016 election that led to Donald Trump becoming President. Moreover, they concluded that the actions were premeditated to help Trump's campaign and hurt his rival Hillary Clinton.
It's just one of several probes into ties between President Trump and Moscow, with the most high profile being led by Special Counsel Robert Mueller. The findings of the Senate are in line with the general conclusion of the US intelligence community but go against the opinion of the House Intelligence Committee.
For observers, it may be difficult to determine whether the allegations against President Trump are true or not, but the Senate committee appeared to be confident of their findings.
Allegations not going away for Trump
A statement released by Senator Richard Burr, the Republican Chairman of the Senate Intelligence Committee and Mark Warner, its most senior Democrat, said: "There is no doubt that Russia undertook an unprecedented effort to interfere with our 2016 elections.
"The Russian effort was extensive, sophisticated, and ordered by President Putin himself for the purpose of helping Donald Trump and hurting Hillary Clinton."
The committee has been looking into the relationship between Russia and the 2016 election almost since Trump's inauguration and many other probes - including Mueller's - are still ongoing.
However there seems to be little doubt in the minds of those on the Senate committee that illegal activity occurred.
"After a thorough review, our staff concluded that the [Intelligence Community Assessment] conclusions were accurate and on point," Warner said.
Trouble for the approaching mid-terms
It is the second of four interim findings of the committee before its final conclusion of whether Trump or his campaign worked with Russia to influence the outcome of the election. The President has denied these allegations and tried to discredit their sources, blaming 'fake news' or 'corrupt media'.
The final findings of the committee will be released in a report later this year. But its clash with the ruling of the House could make it difficult for the Republican party as they enter the 2018 mid-term elections.
Trump has other problems on his hands too. After being recommended for the Nobel Peace Prize by the South Korean President Moon Jae-in, the landmark summit with North Korea that triggered the positive comments may now be in jeopardy.
There was already tension over what was meant by "denuclearisation". The President wants it to mean complete eradication of nuclear weapons, while North Korean leader Kim Jong-un favours a more long-term, slower process where eventually all weapons would be disarmed.
This confusion, which was already putting doubt over whether the summit between the US and North Korea would go ahead next month as planned, was then exacerbated by Trump's National Security Adviser John Bolton.
The Libya model mistake
Along with the new Secretary of State Mike Pompeo, Bolton declared what the President's intentions would be on national TV.
Pompeo, who stuck to just saying that Trump's "maximum pressure" method had forced Kim to negotiate, was soon overshadowed by Bolton. The National Security Adviser said denuclearisation meant "getting rid of all the nuclear weapons, dismantling them, taking them to Oakridge, Tennessee. It means getting rid of the uranium enrichment and plutonium reprocessing capabilities."
However, more irksome for North Korea were his comments that the US would adopt the "Libya model" when it came to disarming the nation, referencing Muammar Gaddafi's surrender of his embryonic nuclear weapons programme in 2003 that eventually led to his death eight years later.
Pyongyang officials have used this example, which was backed by NATO, as an argument against surrendering their arsenal.
An "awfully sinister move" from the US?
North Korea's First Vice Minister of Foreign Affairs Kim Kye-gwan took particular umbridge to Bolton's comments, saying it didn't show an "intention to address the issue through dialogue".
"It is essentially a manifestation of awfully sinister move to impose on our dignified state the destiny of Libya or Iraq, which had been collapsed due to yielding the whole of their countries to big powers," he said in a statement.
Kim concluded by saying that if the US wanted to force North Korea "into a corner" and demand "unilateral nuclear abandonment" then the nation would "no longer be interested in such dialogue".
North Korea leader Kim Jong-un has said he wouldn't be interested in "one-sided" demands, leading to suggestions that the summit would be cancelled. As things stand, President Trump says he's not heard any news that the event, thought to be held in Singapore, would not go ahead.
When asked about the summit, Trump said: "We'll see what happens."
Last month's summit, which saw North and South Korean leaders meet for the first time since the armistice was signed in 1953, had little impact on the financial markets as investors were maybe concerned about the long-term inferences of a one-off meeting.
There are also mixed views from experts on what impact better relations on the Korean Peninsula would have on the global markets. Some believe it would have very little impact, while others think it would offer a considerable boost to trade and international relations.
However with the matter of Trump's import tax still on the agenda, it appears that investors will just have to "see what happens" too.
What is Tradefair?
Tradefair is Betfair's new spread betting service, offering trading on thousands of financial markets such as Gold, EUR/USD, FTSE 100 and Twitter. Whether you think prices are going up or down, Tradefair lets you take a view.

Check out our latest Special Offers

Please note: Our services include products that are traded on margin and carry a risk that you can lose more than your initial deposit. The products may not be suitable for everyone - ensure you fully understand the risks involved.