US Politics: Press takes fight to President Trump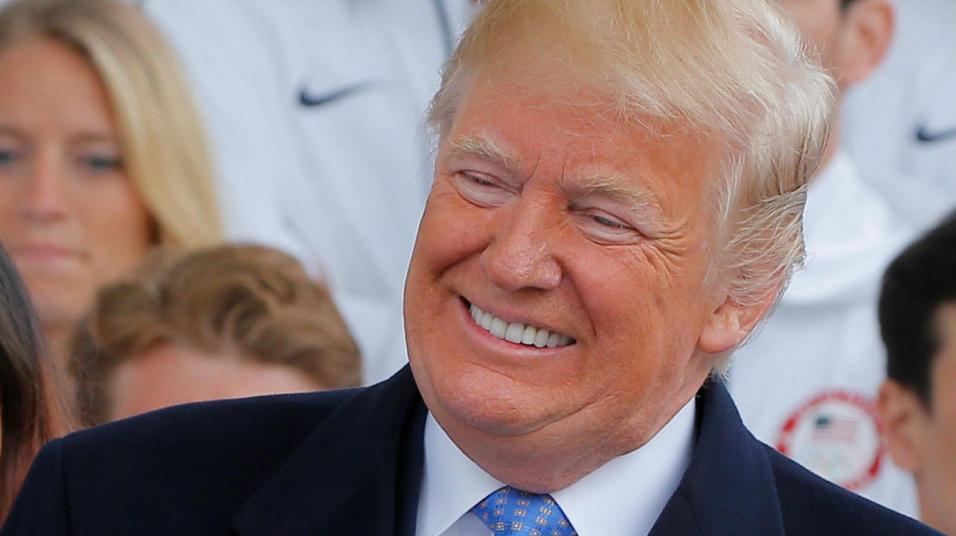 US publications have launched a campaign against President Trump
A number of leading US publications have published articles about the importance of a free press, as President Trump calls them enemies. The Tradefair team brings you the latest from US politics...
"Donald Trump is not the first US president to attack the press or to feel unfairly treated by it. But he is the first who appears to have a calculated and consistent policy of undermining, delegitimising and even endangering the press's work."

- The Guardian.
It's difficult to think of a recent political leader who has taken on the press as much as Donald J Trump, but practically since day one of his presidency he's done exactly that.
Even leading publications like the New York Post and Boston Globe have not been exempt from President Trump's scathing remarks. During his time in the Oval Office, he has been quick to blame "fake news" for some of the negativity that he has been subject to.
This has led to the President refusing to answer questions from certain reporters and even excluding them from his press events altogether. However, it all seemed to come to a head when Trump tweeted that the press was an "enemy of the US people" earlier this year.
The press seem to have taken this comment quite personally as more than 300 outlets have come together to run a campaign against Trump's "dirty war" on the media.
Is the press the enemy?
Using the hashtag #EnemyofNone, publications like the Boston Globe, New York Post and Guardian have produced articles highlighting the importance of a free press to a democracy like the US.
The New York Times went with the headline A Free Press Needs You and called the President's attacks "dangerous to the lifeblood of democracy", while the Boston Globe chose Journalists Are Not The Enemy and argued that a free press has been a core American principle for more than 200 years.
"Donald Trump is not the first US president to attack the press or to feel unfairly treated by it. But he is the first who appears to have a calculated and consistent policy of undermining, delegitimising and even endangering the press's work," a report from the Guardian stated.
Many are now concerned that the President is causing hostility between the public and the press, which could lead to violence. Indeed, CNN journalist Jim Acosta filmed a rally in July that showed Trump supporters being angry and aggressive towards media representatives. The UN has also shared concerns that the President's attitude could lead to violent attacks against the press.
In a joint statement, David Kaye and Edison Lanza of the Inter-American Commission on Human Rights said the words were "strategic" and undermined press freedom.
The UN experts added that the President's comments "increase the risk of journalists being targeted with violence", and were "designed to undermine confidence in reporting".
A dangerous choice of words?
It's Trump's choice of words that has many people feeling outraged. Labelling any section of society an "enemy" of the state harks back to some incredibly unpleasant eras in history.
Gabriel Sherman, National Affairs Editor at New York magazine, called the phrase a "chilling" example of "full-on dictator speak", while other commentators, such as Republican Senator Jeff Flake, compared the US President to former Soviet dictator Joseph Stalin.
But can a simple choice of words be that dangerous?
There are undoubtedly concerns that, as well as increased risk to people working for media outlets, President Trump may try to introduce some level of censorship to eradicate what he deems to be "fake news".
Trump vs the press
This is already commonplace in a number of other countries including China, but would jeopardise the US's reputation as the world's greatest democracy and could be deemed unconstitutional. However, Trump's measures against the press are already a step too far for the leader of the free world.
According to a Washington Post report, the President has asked White House aides on a number of occasions to punish journalists who upset him. But maybe it's just Trump's political inexperience that is provoking such a response rather than malice?
As a presidential candidate, he was able to largely control which media representatives attended his rallies but he is not afforded this same luxury as President of the United States.
Perhaps it's Trump's controversial policies that have caused people to be so cynical of his actions against the press. From building a wall on the US border to barring transgender people from the army and even his Islamic travel ban, the President could be accused of being less-than-friendly in his approach.
Should a President be allowed to call anyone "that dog"?
And the controversies surrounding his demeanor don't seem to be fading as he progresses through his first term. Former White House aide Omarosa Manigault Newman has accused the President of being racist, using derogatory language about African Americans. She has said there are various recordings of the President using racial slurs including the 'n' word, though these have yet to be released.
Trump replied by calling Manigault Newman "that dog", which has sparked further criticism.
When you give a crazed, crying lowlife a break, and give her a job at the White House, I guess it just didn't work out. Good work by General Kelly for quickly firing that dog!

? Donald J. Trump (@realDonaldTrump) August 14, 2018
Although the stock market has proven to be resilient to Trump's various scandals, it took a hit this week as concerns over Turkey caused issues for investors. There have been promises that significant investment will be made to stabilise the lira but many traders remain worried that the crisis will have a global impact.
Oil prices have already suffered and the situation adds to an already precarious global climate. This is no doubt made worse by President Trump's trade disputes with leading economies, including Turkey.

What is Tradefair?
Tradefair is Betfair's new spread betting service, offering trading on thousands of financial markets such as Gold, EUR/USD, FTSE 100 and Twitter. Whether you think prices are going up or down, Tradefair lets you take a view.

Check out our latest Special Offers

Please note: Our services include products that are traded on margin and carry a risk that you can lose more than your initial deposit. The products may not be suitable for everyone - ensure you fully understand the risks involved.