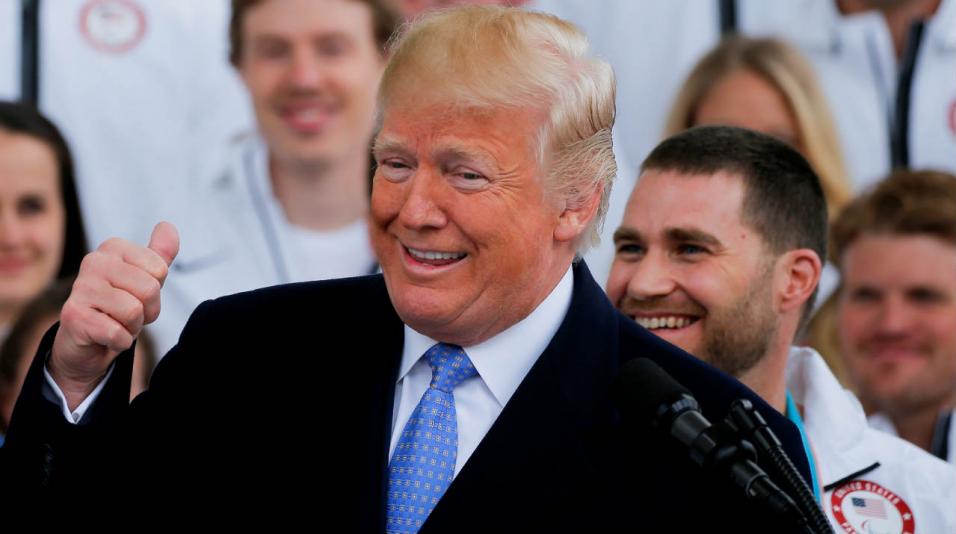 Asian stocks have suffered after Trump announced an investigation into car imports.
Donald Trump's administration has launched a new investigation into automotive imports that could trigger import increases. The Tradefair team brings you the latest in US Politics...
"Imposing broad, comprehensive restrictions on such a large industry could cause confusion in world markets, and could lead to the breakdown of the multilateral trade system based on World Trade Organization (WTO) rules."

- Hiroshige Seko, Trade Minister of Japan.
President Trump could be about to trigger another row over trade, as his administration launches an investigation into automotive imports. It's thought this will invite increased tariffs on cars coming from Europe, Japan and South Korea.
There will be big news coming soon for our great American Autoworkers. After many decades of losing your jobs to other countries, you have waited long enough!

? Donald J. Trump (@realDonaldTrump) 23 May 2018
Hours later, he announced that he had instructed Commerce Secretary Wilbur Ross to use Section 232 of the 1962 trade act to start scrutinising car imports. This is the same legislation that the President used earlier in the year to impose higher charges on steel and aluminium and will continue his 'American businesses first' mantra.
Ross said in a statement that there was "evidence suggesting that ... imports from abroad have eroded" America's auto industry.
"The Department of Commerce will conduct a thorough, fair, and transparent investigation into whether such imports are weakening our internal economy and may impair the national security."
An attack on America's car industry?
Early indications suggest that the markets are already responding in the short time since Trump acted.
Japanese and South Korean carmaker shares took a hit, with Toyota, Nissan, Honda and Hyundai all suffering off the back of the news.
Although Trump intends this to be a display of nationalism and part of his 'Make America Great Again' campaign slogan, there are some who are concerned that it will hurt the US economy in the long run.
The American International Auto Dealers Association (AIADA) released a statement saying that it will be consumers that suffer.
"It can't be repeated enough: Tariffs are taxes. American families who can least afford a 25% increase on vehicles will bear the burden of this tariff," said AIADA President and CEO Cody Lusk.
"America's 9,600 international nameplate auto franchises and their 577,000 American employees rely on competitively priced products to sustain their businesses and jobs. To treat auto imports like a national security threat would be a self-inflicted economic disaster for American consumers, dealers, and dealership employees," he added.
A hit or miss for the Republicans?
The action comes as Republicans prepare for the midterm elections later this year, which will determine whether Trump's party is able to maintain control over the House of Representatives and Senate. Whether this latest move will fall in favour of the President or not remains to be seen, but it adds to a growing list of actions from Trump that could sour international relations.
It comes in the midst of tense diplomatic conversations with both North Korea and China. The former has been insulted by now well-publicised comments from the National Security Adviser John Bolton about denuclearisation, while China was one of the first nations to bite back when Trump suggested increased tariffs earlier in the year.
India, Europe and Japan were soon to join with President Xi Jinping and threatened retaliation if the US proceeds with its plans. It's likely that this second attempt to enforce increased charges on its trading partners will be met will equally-forceful counterattacks.
Tokyo has already been clear about what it thinks of Trump's latest trade investigation, hinting at potential global consequences.
Japan's Trade Minister Hiroshige Seko said: "Imposing broad, comprehensive restrictions on such a large industry could cause confusion in world markets, and could lead to the breakdown of the multilateral trade system based on World Trade Organization (WTO) rules."
Hiroshige Seko, Minister of Economy, Trade and Industry, said it would "throw the global market into confusion" and called it "extremely regrettable".
Pressure to change NAFTA
A Trump administration official said that the move was partly to put pressure on Canada and Mexico to adapt the North American Free Trade Agreement (NAFTA), while others believe it is to encourage carmakers to shift production from Mexico to the US. Trump's supporters, who favour his uncompromising approach, will likely believe that this action is exactly what America needs to reboot its economy.
However, as the National Foreign Trade Council highlighted, the auto industry is performing well and the US economy is booming.
The markets, which have already felt some impact of increasingly difficult trade relations, are likely to be affected by this latest move from Trump. Even investors who have an appetite for risk may lack the confidence to make any meaningful contribution when international trade seems to be at an all-time loss.
This doubt in the markets may be further bolstered by the news that the US-China trade deal could now also be in jeopardy, as Trump proclaimed that it would have a "different structure".
US stocks fell initially after Trump's comments but then recovered in the wake of the news from the Federal Reserve that it's likely a gradual approach will be taken to increasing interest rates.
What is Tradefair?
Tradefair is Betfair's new spread betting service, offering trading on thousands of financial markets such as Gold, EUR/USD, FTSE 100 and Twitter. Whether you think prices are going up or down, Tradefair lets you take a view.

Check out our latest Special Offers

Please note: Our services include products that are traded on margin and carry a risk that you can lose more than your initial deposit. The products may not be suitable for everyone - ensure you fully understand the risks involved.