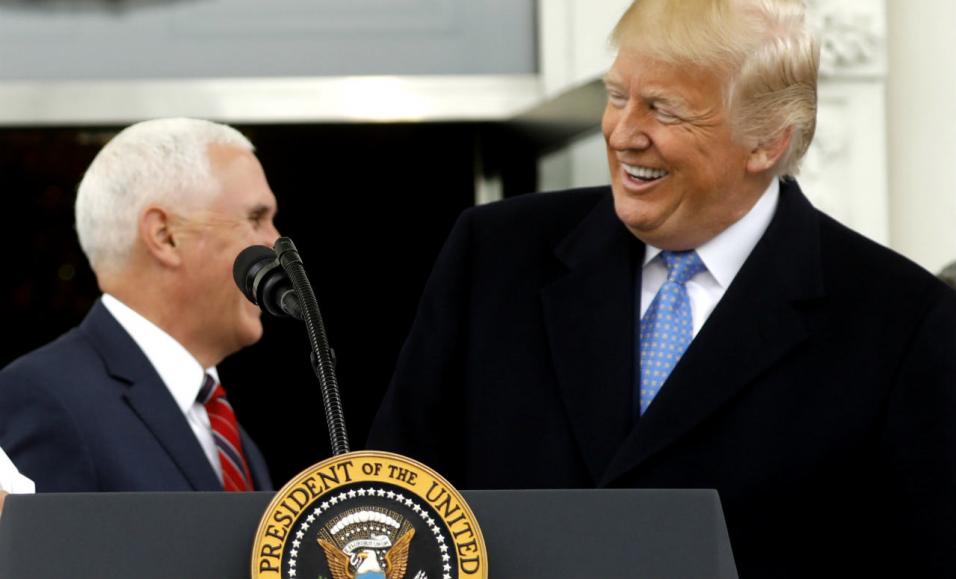 President Trump has met with three American who have been released from North Korea
President Trump has met with American citizens who were in North Korean prisons but have been released as a goodwill gesture ahead of a summit. The Tradefair team brings you the latest in US Politics...
"It's a great honour. But the true honour is going to be if we have a victory in getting rid of nuclear weapons."

- Donald Trump, US President.
President Trump must wonder what a quiet week in the Oval Office is like, with him having made significant waves yet again this week. From withdrawing from the Iran Nuclear Deal to the ongoing saga surrounding his relations with Stormy Daniels and the continuing investigation into his conduct, it's not been an easy May for the US President.
However the latest headlines are for an altogether more positive reason. Earlier this morning, the President and his wife Melania Trump greeted three men who had been released from North Korean labour camps.
All of the men were being detained for committing crimes against the state. There have long been concerns about the type of behaviour that can land someone in trouble in Pyongyang, with everything from getting the wrong haircut to owning a DVD rumoured to be illegal. However, some of the main problems are that North Korea has made itself so isolated from the rest of the world and the media is so heavily regulated it's been difficult to get an accurate picture of what life is like for its citizens.
Harrowing accounts have been told by former North Korean citizens who have defected to the South or China about the treatment they have received in the country. But it is hoped that the release of the three detainees is a goodwill gesture that will lead to more open relations between Pyongyang and the rest of the world.
In a tweet before the trio, along with Secretary of State Mike Pompeo, landed in Washington, President Trump described all of the former prisoners as being in "good health" and said a date and time for a landmark meeting with Kim Jong-un had been agreed.
The President said he appreciated that the men had been allowed to leave as "frankly we didn't think that was going to happen before the meeting" but said his proudest achievement would be denuclearising "that entire peninsula".
"It's a great honour. But the true honour is going to be if we have a victory in getting rid of nuclear weapons."
The details have yet to be announced but it's expected that the meeting will not take place in the Demilitarized Zone (DMZ) between North and South Korea. Somewhere like Singapore - which is geographically close and politically neutral - could host the landmark event.
Pompeo, who has met with the North Korean leader twice in the space of six weeks, said there had been "good and productive conversations" between the two of them.
"We're planning it will be a single day, but in the event that there is more to discuss, there'll be an opportunity for it to extend into the second day as well," he said.
Speaking to reporters on the plane ride from North Korea, Pompeo said there had been the chance to "talk substantively" about what could be on the summit agenda. He added that "both sides are confident" that conditions will be set for a "successful meeting" between Trump and Kim.
Peace in the Peninsula at last?
Many hope the summit will help to bring peace to the Korean Peninsula after nearly seven decades of war. Trump's hardline approach to talks has been credited by his supporters as the driving force behind the progress, which led to Kim and South Korean President Moon Jae-in agreeing to sign a peace treaty in the near future.
The summit between the US and North Korea will undoubtedly focus on Trump's demands that Pyongyang surrender its nuclear weapons, while Washington will be under pressure for the 30,000 US military personnel situated in South Korea and its sanctions that have been in place.
Kim and Trump have come a long way. It was only September last year when the North Korean leader vowed to "tame" the new American President and called him a "mentally deranged US dotard". In response, Trump fired his own insults at Kim, dubbing him the "rocket man" and a "madman".
The pair then squared up to each other, boasting about the size of their respective nuclear buttons, which led to Trump's now infamous speech about bringing "fire and fury like the world has never seen".
A uniquely difficult challenge for Trump
Just six months later, and it seems the two leaders have buried the hatchet and that these strong words were actually just foreplay for meaningful negotiations. Both men are known for their unpredictability and so will want to ensure they are prepared for the landmark meeting.
However, Trump may have the tougher challenge on his hands. The US's chief North Korean diplomat Joseph Yun resigned in February and the appointment of Victor Cha as ambassador to Seoul also unexpectedly fell through.
This may mean the US President has a limited arsenal when it comes to gathering as much information about the North Korean leader ahead of his meeting, which may impact his ability to negotiate.
Jim Hoare, a former British charge d'affaires in Pyongyang, told the BBC that there will be problems ahead.
He said: "If they had a proper apparatus to deal with East Asia, it might be different. But they have only an acting officer in charge of East Asian matters, the state department has been battered and there's no ambassador in South Korea. So I don't know who Trump is talking to about North Korea, I'm not sure anybody does."
Market reaction
Bloomberg described the investor sentiment in two words - "risk on" - since Trump agreed to meet Kim and this good feeling has continued as the summit approaches.
Equity markets across the region jumped and the yen slid after the White House accepted North Korea's meeting invitation, with South Korea's Kospi Index hitting its highest level since October at one point. Stock benchmarks across the region also advanced and investors showed new zeal for South Korea tourism as talks could encourage more visitors to the nation.
Whether this initial positive reaction will continue will depend on the progress achieved once the summit starts as, according to many experts, it could only be the beginning of some difficult negotiations on topics that both leaders remain stubborn on.

What is Tradefair?
Tradefair is Betfair's new spread betting service, offering trading on thousands of financial markets such as Gold, EUR/USD, FTSE 100 and Twitter. Whether you think prices are going up or down, Tradefair lets you take a view.

Check out our latest Special Offers

Please note: Our services include products that are traded on margin and carry a risk that you can lose more than your initial deposit. The products may not be suitable for everyone - ensure you fully understand the risks involved.