US Politics: President Trump eager for Mueller interview over Russia allegations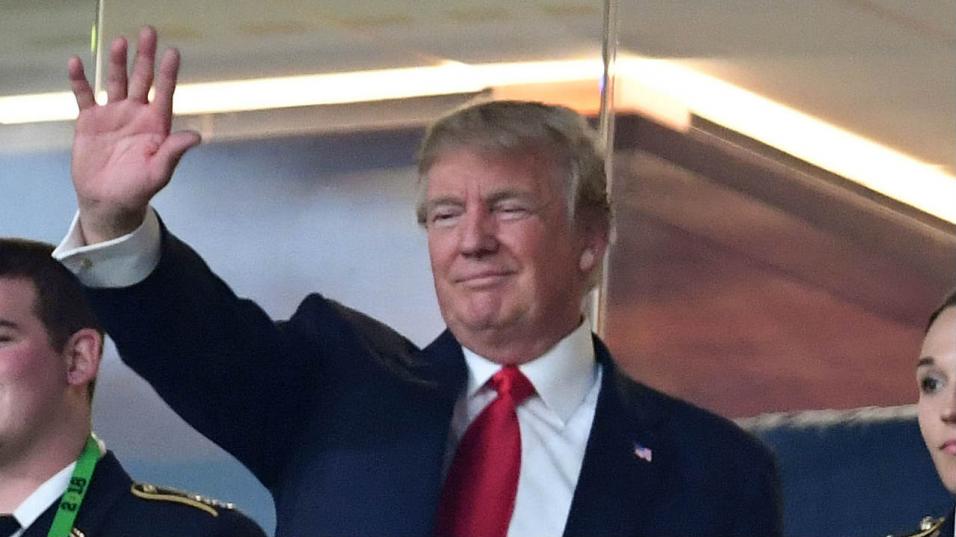 The US President has said he is 'looking forward' to talking to Mueller about his ties with Russia.
President Trump has told reporters he is eager to speak under oath to Mueller, who is leading the investigation into Russian interference. The Tradefair team brings you the latest in US politics...
"There's been no collusion whatsoever. There's no obstruction whatsoever, and I'm looking forward to it."

- Donald Trump, US President.
Donald Trump has announced that he is keen to speak with special counsel Robert Mueller, who is leading the investigation into potential interference from Russia during the US election.
Speaking to a room of just 20 reporters, the President said he was "looking forward to it". It comes after months of speculation over whether he would be willing to be questioned under oath. Reports have suggested that Trump's legal team have been negotiating with the special counsel over what topics would be included.
There is an obvious risk to the US President submitting to such an interview, but some White House officials believe it would be the best course of action, allowing the inquiry to come to a swift conclusion.
'No obstruction whatsoever'
Trump himself has been a little unclear on how he feels about talking to Mueller. At the start of the investigation, he said he would be willing but more recently has suggested that this wouldn't be necessary as there was no legitimacy in the allegations being made.
The President's latest outburst to reporters seems to indicate that he is ready to talk to the special counsel or has realised that it may be inevitable and wants to take control of the situation.
"Here's the story, just so you understand," Trump said. "There's been no collusion whatsoever. There's no obstruction whatsoever, and I'm looking forward to it."
He also highlighted how his response to the serious allegations had been in self-defence and that the media had unfairly reported it.
Trump, who said he'd like to make the conversation happen "as soon as possible" was followed by his lawyer Ty Cobb, who explained that the President was speaking in a rush and meant that he was just keen to speak to Mueller.
"He's ready to meet with them, but he'll be guided by the advice of his personal counsel," Cobb said, adding that negotiations are ongoing between the President's lawyers and Mueller's team.
"There's no collusion," Trump said. "I couldn't have cared less about Russians having to do with my campaign."
An interview with Trump approaches
The details of how a conversation with Trump would be conducted is still unclear. If the special counsel want it to be under oath, they would need to assemble a grand jury and speak to him that way. This is how Mueller has had prosecutors talk to witnesses so far in the investigation.
When reporters asked whether he'd be willing to submit to a grand jury, Trump directed questions to whether Hillary Clinton had done so over the investigation into emails sent from a private server while she was Secretary of State.
Speaking about his 2016 rival, he said. "You always say she was a bad candidate; you never say I was a good candidate. I was one of the greatest candidates."
Clinton gave a voluntary interview to the FBI, which was not under oath, and she was cleared of all wrongdoing.
Trump remains undeterred
These comments suggest that Trump is not worried about the Mueller investigation and sees it as a way for the media to taint his presidency. However, the fact that the special counsel is still in the process of analysing Russia's influence in the 2016 election indicate that they at least think there is something to the allegations.
Last week, US Attorney General Jeff Sessions was interviewed by Mueller. He is thought to be the first member of Trump's cabinet to be questioned. At the moment, four people have been criminally charged as part of the investigation, including Michael Flynn, the President's former National Security Adviser.
Trump's former Campaign Manager Paul Manafort has also been charged on 12 counts, including conspiracy to launder money.
World Economic Forum
The President is now in Davos, Switzerland, for the World Economic Forum, and it's likely that he will continue to profess the performance of the Dow Jones since his inauguration, especially with his tax reform being implemented.
However, for many, his pride towards the US economy is at odds with his actions, such as threatening to remove the country from the North American Free Trade Agreement (NAFTA). Canadian Prime Minister Justin Trudeau had said that NAFTA will continue without the US, leaving economists concerned that Trump's withdrawal would significantly harm the Dow Jones.
Since arriving in Davos, President Trump has made no comments about NAFTA, but his team has suggested that he would want to negotiate with Canada and Mexico. With one of his biggest campaign pledges being to build a wall on the Mexican border, it's unclear whether these talks would be productive for either side.
These moves from Trump to isolate the US will cause concern for some economists. In addition to the conflicting views on whether his tax reform will be good for the economy long term, removing America from trade agreements will bring a considerable element of risk to investments.

What is Tradefair?
Tradefair is Betfair's new spread betting service, offering trading on thousands of financial markets such as Gold, EUR/USD, FTSE 100 and Twitter. Whether you think prices are going up or down, Tradefair lets you take a view.

Check out our latest Special Offers

Please note: Our services include products that are traded on margin and carry a risk that you can lose more than your initial deposit. The products may not be suitable for everyone - ensure you fully understand the risks involved.