US Politics: Markets boosted by Trump's decision to delay China tariffs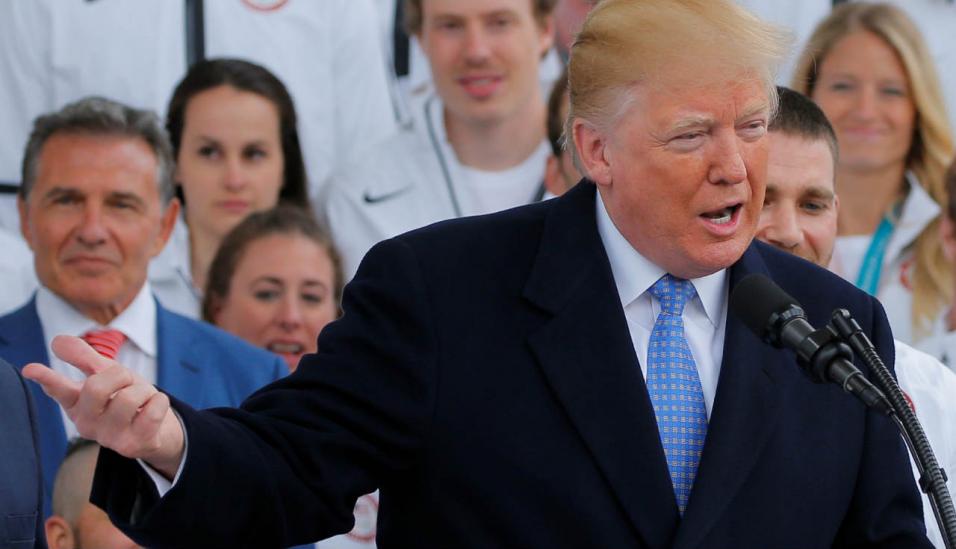 Trump called the delay a "gesture of good will"
Markets have reacted positively to news that the US government will delay tariff hikes on Chinese goods by two weeks. Tradefair brings you the latest from US politics...
"The Chinese tariffs that really matter are the ones on US agricultural and manufacturing goods, produced mainly in states with strong support for Donald Trump,"

- Artur Baluszynski, head of research at Henderson Rowe
Donald Trump has announced a delay in the planned introduction of higher tariffs on goods imported into the US from China.
The president described the move as a "gesture of good will", and some are viewing it as a sign of more positive relations between the countries, which have been locked in a trade dispute for the past year. Further talks between the two sides are due to take place in Washington next month.
Markets in Asia, the US and Europe all reacted positively to the news.
An anniversary gift
Trump announced the delay in a tweet posted on Wednesday afternoon (September 11th), which confirmed that a planned increase in tariffs on $250 billion worth of imported Chinese goods, from 25% to 30%, will now take effect from October 15, rather than October 1.
He said this followed a request from the vice-premier of China, Liu He, and was in recognition of the fact that the first day in October will mark the 70th anniversary of the People's Republic of China.
Beijing welcomed the news and issued some positive signals of its own, publishing a list of 16 US imports that will be exempted from tariffs. The Commerce Ministry also said some Chinese firms are starting to inquire about prices of US agricultural goods.
These new developments in the long-running trade war between the world's two biggest economies follow recent escalations in tensions, with Trump threatening to place new duties on all Chinese imports to the US by the end of the year.
Are relations improving?
These are clearly positive signs that the frosty relationship between the US and China is beginning to thaw. However, analysts have stressed there is still some way to go before the dispute is fully resolved.
The Chinese government may have confirmed tariff exemptions on 16 products it purchases from the US, but thousands more goods are still subject to higher taxes, including major imports like pork, soybeans and American-made cars.
Artur Baluszynski, head of research at investment management firm Henderson Rowe, said the Chinese tariffs that "really matter" are the ones on agricultural and manufacturing goods, which are produced mainly in states that support Trump.
"We just don't see China [being] willing to negotiate on them before the race for [the] US presidential election really kicks off," he added.
Iris Pang, greater China economist at ING, said the tariff exemptions could be viewed as a "gesture of sincerity", but are "probably more a means of supporting the economy".
Gary Hufbauer of the Peterson Institute for International Economics took a similar view, telling the BBC a "broad settlement is not in sight", with Beijing prepared for "a continuation of tariffs and hostile rhetoric" going into 2020.
"And Trump cannot back down without getting a storm of criticism from the hawks, both Democrats and Republicans," he added.
Despite these reservations, the fact that the latest actions taken by both the US and China have been positive offers some hope that genuine progress will be made when the countries return to the negotiating table in October.
Markets encouraged
Stock markets around the world were generally buoyed by Trump's announcement that the next tariff hike would be delayed by two weeks.
US stock futures rose late on Wednesday, immediately after the president's tweet confirming the news, with the Dow Jones Industrial Average gaining 0.6% before retreating slightly. Nasdaq futures climbed by 0.31%, while the S&P 500 was up by 0.14%.
Asian markets were also mostly up on Thursday, with Japan's Nikkei 225 and the Shanghai Composite Index both rising by 0.75% over the course of morning and early afternoon trading.
European indexes, meanwhile, reached their highest levels in six weeks, with the FTSE 100 seeing an early jump of 0.43% and Germany's DAX gaining 0.33%, before falling back slightly.
There were also some points of concern in Europe, however, including a forecast from the Munich-based IFO think tank that the German economy will slip into recession in this quarter.
What is Tradefair?
Tradefair is Betfair's new spread betting service, offering trading on thousands of financial markets such as Gold, EUR/USD, FTSE 100 and Twitter. Whether you think prices are going up or down, Tradefair lets you take a view.
Check out our latest Special Offers

Please note: Our services include products that are traded on margin and carry a risk that you can lose more than your initial deposit. The products may not be suitable for everyone - ensure you fully understand the risks involved.
Read past articles