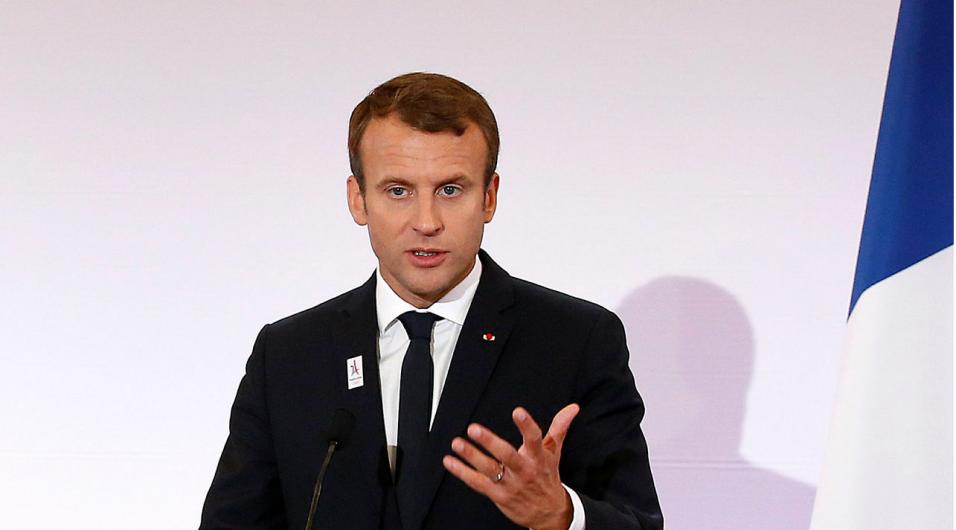 President Trump is again facing public criticism, this time from Emmanuel Macron.
French President Emmanuel Macron has addressed Congress in a speech that had critical undertones for President Trump. The Tradefair team brings you the latest in US Politics...
"We can choose isolationism, withdrawal or nationalism. But closing the door to the world will not stop the evolution of the world."

- Emmanuel Macron, French President.
President Trump has had his fair share of criticism during his time in the Oval Office but the latest condemnation has come from a very public figure: Emmanuel Macron.
The French President delivered a speech to Congress that highlighted the considerable differences between the two men's style of leadership.
Despite various high-profile displays of camaraderie, Macron used his speech to criticise President Trump's views on immigration, the environment and international trade relations.
Trump infamously withdrew the US from the Paris Agreement shortly after his inauguration in 2017. However, Macron urged American lawmakers to protect it and predicted that America would again join the accord in the future.
Taking a novel twist on Trump's campaign motto, the French President delivered calls to "make our planet great again", adding that there was no "planet B". He also put pressure on climate change deniers, which Trump has claimed to be, to face up to the consequences if they were wrong.
"What is the meaning of our life, really, if we work and live destroying the planet, while sacrificing the future of our children?" he asked.
Playing with "fear and anger"
During his speech, the French President also warned against "the illusion of nationalism" and politicians who "play with fear and anger". Echoing the sentiments of Franklin D. Roosevelt - who became iconic in his fight against fascism - Macron added: "The only thing we have to fear is fear itself."
He drew parallels between France and the US and their history of fighting for democracy and freedom, hailing the "unbreakable bonds", forged in "liberty, tolerance and equal rights". After pointing to the special relationship between the two nations, Macron expressed disappointment with the Trump administration.
His criticisms focused on the US President's attitude to trade, specifically Trump's proposed import tariff changes, and the intent to withdraw from the Iran nuclear deal. Macron said these changes would only damage jobs and increase prices and instead pointed towards the importance of creating a global community.
The French President also took aim at Washington's recent immigration policies, saying it would not "stop the evolution of the world".
He said: "We will not let the rampaging work of extreme nationalism shake a world full of hopes for greater prosperity.
"It is a critical moment. If we do not act with urgency as a global community, I am convinced that the international institutions, including the United Nations and Nato, will no longer be able to exercise a mandate and stabilising influence."
Macron also said he did not "share the fascination for new strong powers, the abandonment of freedom and the illusion of nationalism".
"We can choose isolationism, withdrawal or nationalism," he added. "But closing the door to the world will not stop the evolution of the world."
An unclear relationship
Despite the various displays of friendship between the two men, it's perhaps no surprise that the French President delivered such a critique to his American counterpart. Trump practically endorsed Macron's election opponent Marine Le Pen saying she was the "strongest" candidate.
Her critics have accused her of xenophobia, an allegation that Trump himself has become accustomed to since the campaign trail.
Instead of focusing on their past relationship though, Macron highlighted the potential of the future. He drew on the world's obligation to stand up for democracy around the world, reminding Americans that they were the founders of it.
"The United States is the one who invented this multilateralism," Macron said. "You are the one now who has to help to preserve and reinvent it."
However, it's not all been criticism for the US President this week, rapper Kanye West called Trump his "brother" in a tweet.
You don't have to agree with trump but the mob can't make me not love him. We are both dragon energy. He is my brother. I love everyone. I don't agree with everything anyone does. That's what makes us individuals. And we have the right to independent thought.

? KANYE WEST (@kanyewest) April 25, 2018
After an alleged call from his wife Kim Kardashian-West, West clarified his statement, saying he didn't support everything that the US President stood for. He then later tweeted a signed 'Make America Great Again' baseball cap that has become an emblem for Trump and his supporters.
Market analysis
Trump may have been burnt by his speed to attribute stock market performance to his presidency, as a period of tumbling prices soon followed record highs, but investors have largely ignored the more controversial elements of his time in the Oval Office. But is that changing?
There's no denying that 2018 started well for traders, with the S&P gaining nearly 6% in January alone and US equities indexes reaching all-time highs, but this wasn't to last. The Dow soon saw its two biggest one-day point losses in the space of a week and although there was marked recovery, it remained unstable and investors became wary.
A president that is so eager to tie himself to the behaviour of the markets though, needs to be prepared to take with the highs with the lows, as a tendency to just take credit for good performance won't fly with many.
Trump last tweeted about the stock exchange at the end of March, just before stocks tumbled, marking the worst start to April since 1929. His threats against Amazon and his steps towards a trade war with China have unnerved both businesses and investors, especially when consolidated by Trump's DACA rhetoric.
Solely attributing the stock performance - good or bad - to Trump won't stand with many, but what is clear is that the President has exposed vulnerabilities in the markets and this will impact investors' decisions.

What is Tradefair?
Tradefair is Betfair's new spread betting service, offering trading on thousands of financial markets such as Gold, EUR/USD, FTSE 100 and Twitter. Whether you think prices are going up or down, Tradefair lets you take a view.

Check out our latest Special Offers

Please note: Our services include products that are traded on margin and carry a risk that you can lose more than your initial deposit. The products may not be suitable for everyone - ensure you fully understand the risks involved.