US Politics: Trump backs lower interest rates, but Fed disagrees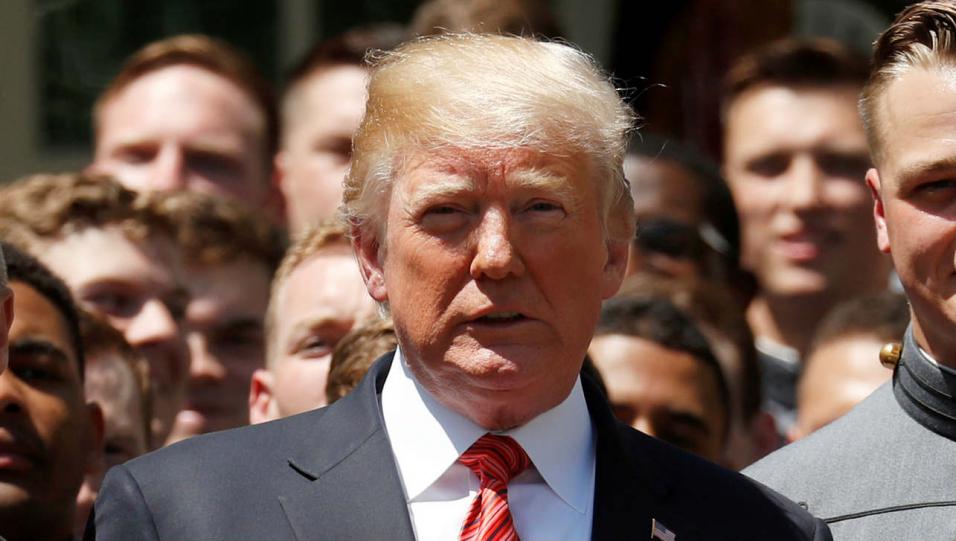 President Trump has called for a cut in interest rates
Donald Trump has called on the US Federal Reserve to cut interest rates by 1%, claiming that it would help the economy "go up like a rocket". The Tradefair team brings you the latest news in US politics...
"Our Federal Reserve has incessantly lifted interest rates, even though inflation is very low, and instituted a very big dose of quantitative tightening. We have the potential to go up like a rocket if we did some lowering of rates, like one point, and some quantitative easing,"

- Donald Trump
Donald Trump has claimed the US economy has the potential to "go up like a rocket" if the Federal Reserve cuts interest rates.
The US central bank announced its latest decision on interest rates on Wednesday May 1st, opting to keep the cost of borrowing within its current range of 2.25% to 2.5%. It has previously indicated its intention to keep rates within this range for the remainder of the year, to help the steadily growing US economy stay on an even keel.
According to the president, however, a different approach would deliver big results.
Should the US follow China's example?
In a series of tweets, Mr Trump argued the US could benefit from following the example set by China. He said the Asian nation is adding "great stimulus" to its economy while keeping interest rates low.
China is adding great stimulus to its economy while at the same time keeping interest rates low. Our Federal Reserve has incessantly lifted interest rates, even though inflation is very low, and instituted a very big dose of quantitative tightening. We have the potential to go...

? Donald J. Trump (@realDonaldTrump) April 30, 2019
The Fed used quantitative easing - the practice of central banks buying assets such as government bonds to inject more money into the economy - during the worst years of the financial crisis between 2008 and 2014. In recent years it has focused on running down the assets it acquired during that time.
According to the latest official government data, the US economy grew at an annualised rate of 3.2% in the first three months of 2019. This was higher than analysts had predicted, while the nearly 200,000 additional jobs offered by employers provided further evidence of strength in the labour market and the economy as a whole.
Mr Trump said the country is doing "very well", but with further quantitative easing and lower interest rates, could be "setting major records" and making its national debt "start to look small".
The "biggest problem" for the economy
While US GDP has demonstrated fairly consistent growth in recent years, the president's pick for nomination to the Federal Reserve Board of Governors, Stephen Moore, has identified the issue he believes to be "the biggest problem" for the economy at the moment.
During an interview with CNBC's Squawk Box, Mr Moore said male earnings have been declining for the past 25 years. This, he said, is a "big problem".
"I want everybody's wages to rise, of course," he commented. "People are talking about women's earnings - they've risen. The problem actually has been the steady decline in male earnings, and I think we should pay attention to that, because I think that has very negative consequences for the economy and for society."
Figures from the Bureau of Labour Statistics have shown that real median weekly earnings for men have risen by approximately 2.1% since 2010. Women's real earnings have increased by 3.9% over the same period.
Mr Moore has recently received criticism for columns he wrote decades ago dismissing the idea that women should receive equal pay to men.
While he has not yet received an official nomination to join the Federal Reserve Board of Governors, Mr Moore won the support of President Trump after he wrote an opinion piece for the Wall Street Journal criticising the Fed's decision to raise interest rates in December 2018.
Who benefits?
The US economy is expanding, but there have been questions raised about which portions of the population are really benefiting from this growth.
In a Monmouth University poll, only 12% of Americans said their family had benefited "a great deal" from recent economic progress, while 31% said they had received some benefit. The majority of respondents said they had been helped either not much (27%) or not at all (27%) by the latest macroeconomic developments.
Around a third (34%) of those earning less than $50,000 (£38,250) said they had benefited somewhat from recent growth in the economy.
As Mr Trump prepares to face challenges to his presidency, from within his own Republican party as well as Democrat candidates, the performance of the economy over the next 18 months could prove crucial to his chances of re-election in 2020.
What is Tradefair?
Tradefair is Betfair's new spread betting service, offering trading on thousands of financial markets such as Gold, EUR/USD, FTSE 100 and Twitter. Whether you think prices are going up or down, Tradefair lets you take a view.
Check out our latest Special Offers

Please note: Our services include products that are traded on margin and carry a risk that you can lose more than your initial deposit. The products may not be suitable for everyone - ensure you fully understand the risks involved.
Discover the latest articles
Read past articles