US Politics: Democrats target Bloomberg in his first TV debate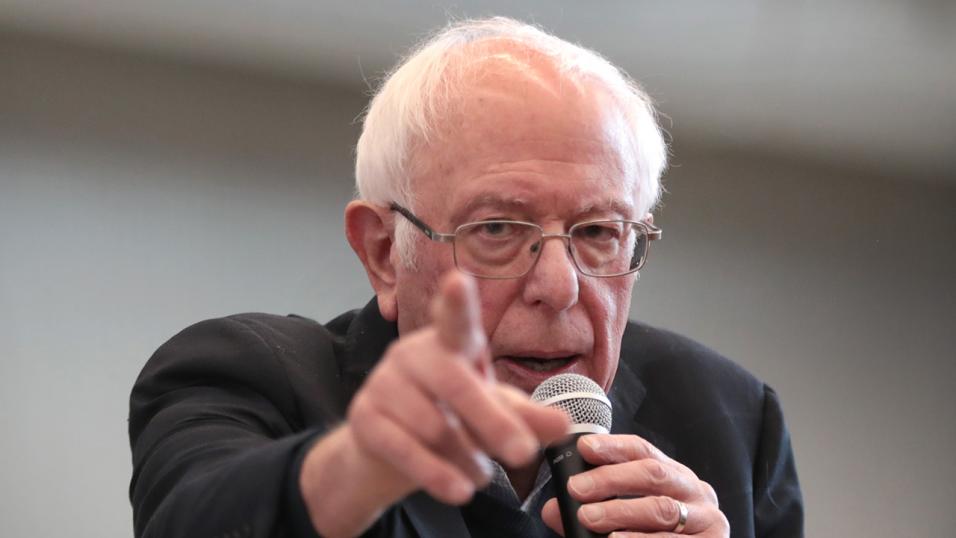 Sanders aimed criticism at Bloomberg in the debate
Michael Bloomberg's first TV debate saw him roundly attacked by the other Democratic presidential candidates. Tradefair brings you the latest from US politics...
Democrats take a huge risk if we just substitute one arrogant billionaire for another."

- Elizabeth Warren
The latest television debate between the Democratic Party's candidates for the presidential nomination took place in Las Vegas on Wednesday (February 19), and there was a new arrival on the stage: former New York mayor Michael Bloomberg.
Bloomberg qualified for the debate thanks to a recent polling surge, which placed him second in the nomination race behind Bernie Sanders.
His rise as a contender has ruffled feathers in the Democratic Party, partly because he was formerly a Republican, but also because of the huge amounts he has spent on advertising for his campaign, leading to accusations he's trying to buy the nomination.
This was one of many attacks aimed at Bloomberg in Las Vegas, during the most fiery debate of the contest so far.
Bloomberg in the crosshairs
Sharing the stage with Sanders and four other candidates for the Democratic presidential nomination, Bloomberg faced verbal assaults from all sides.
His opponents criticised the billionaire businessman for supporting a 'stop-and-frisk' policing policy during his time as mayor of New York, for derogatory comments he is reported to have made about women, for his past opposition to healthcare reform and for his similarities to Donald Trump.
"Democrats take a huge risk if we just substitute one arrogant billionaire for another," said Massachusetts senator Elizabeth Warren, comparing Bloomberg to the current president.
Pete Buttigieg, the former mayor of South Bend, Indiana, took aim at both Bloomberg and Sanders, arguing that if the race eventually comes down to these two candidates, Democrats will have to choose between two divisive figures who are at opposite ends of the political spectrum.
He called Sanders "a socialist who thinks that capitalism is the root of all evil" and Bloomberg "a billionaire who thinks money is the root of all power".
"We shouldn't have to choose between one candidate who wants to burn this party down and another candidate who wants to buy this party out," Buttigieg added.
Bloomberg had the chance to land some shots of his own, particularly against Sanders and his left-wing views.
The former New York mayor insisted that the US is "not going to throw out capitalism", adding: "We tried that. Other countries tried that. It was called communism, and it just didn't work."
Sanders responded by dismissing Bloomberg's barb as a "cheap shot" and saying that he is a democratic socialist, not a communist.
Bloomberg's rise
The bruising encounter in Las Vegas followed a rapid rise for Bloomberg in Democratic polls, which has pushed him near to the front of the pack of contenders vying for the presidential nomination.
A new NPR/PBS NewsHour/Marist poll of Democratic voters' preferences put Sanders in the lead overall, with 31% support nationwide, but a sudden surge in support put Bloomberg in second place on 19%.
Former vice-president Joe Biden was third, followed by Warren, Minnesota senator Amy Klobuchar and Buttigieg.
Bloomberg's campaign manager, Kevin Sheekey, said the polling results showed a "groundswell of support" for the candidate and proved that his "plan and ability to defeat Donald Trump is resonating with more and more Americans".
The next stage in the contest to secure the Democratic presidential nomination is this Saturday's Nevada caucuses, but Bloomberg won't be on the ballot. He has chosen to skip the first four primaries and caucuses, opting instead to enter the race on Super Tuesday (March 3), when 14 states will vote for their preferred candidate to face Trump in the presidential election in November.
'Grossly incompetent'
Never one to miss an opportunity to criticise his political opponents, Trump tweeted his views on the debate taking place in Las Vegas on Wednesday last night.
He too chose to aim his criticism at Bloomberg, saying the former New York mayor's performance was "perhaps the worst in the history of debates."
The president added: "He was stumbling, bumbling and grossly incompetent. If this doesn't knock him out of the race, nothing will."
This isn't the first time Trump has attacked Bloomberg on social media, with the two recently getting involved in a spat that saw the president call the Democratic candidate a "mass of dead energy" and a "loser".
Bloomberg responded by calling the Republican leader a "carnival barking clown".
Whoever he ends up facing in November's election, Trump is sure to put the strength of the US economy at the heart of his re-election campaign.
He received further fuel for his messages this week, as the major Wall Street stock markets surged to new highs. The Nasdaq Composite was up by 0.87% on Wednesday, while the S&P 500 Index gained 0.47% and the Dow Jones Industrial Average broke a three-day losing streak to rise by 0.4%.
What is Tradefair?
Tradefair is Betfair's new spread betting service, offering trading on thousands of financial markets such as Gold, EUR/USD, FTSE 100 and Twitter. Whether you think prices are going up or down, Tradefair lets you take a view.
Check out our latest Special Offers

Please note: Our services include products that are traded on margin and carry a risk that you can lose more than your initial deposit. The products may not be suitable for everyone - ensure you fully understand the risks involved.