US Politics: Biden's America 'won't be safe', warns Pence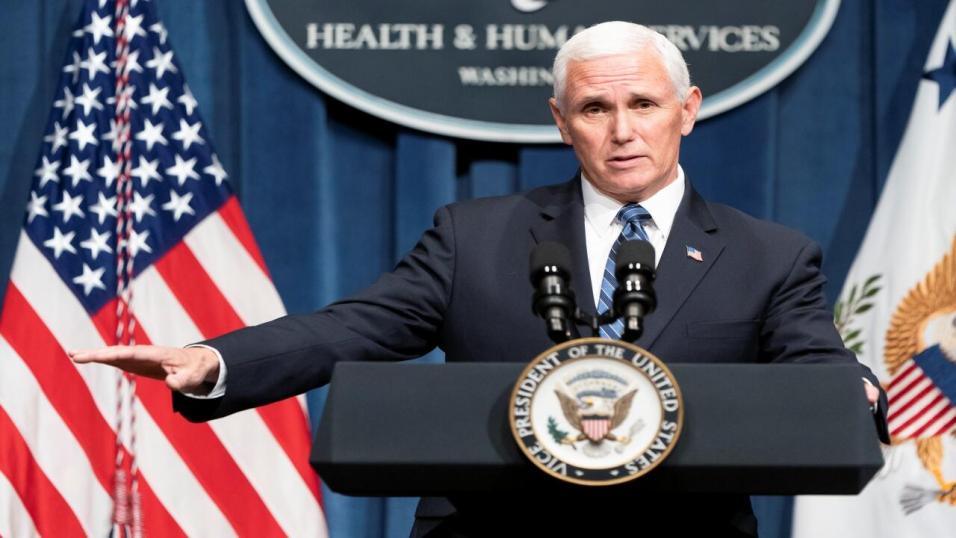 Pence said 'law and order are on the ballot'
Vice-president Mike Pence has said there will be more violence and unrest in America if Joe Biden becomes president. Tradefair brings you the latest from US politics...
The hard truth is you won't be safe in Joe Biden's America."

- Vice president Mike Pence
Vice-president Mike Pence made law and order a central theme of his speech at the Republican National Convention yesterday (August 26), telling American voters they "won't be safe" if they elect Joe Biden this November.
He spoke while protests continued in the wake of the police shooting of a black man, Jacob Blake, in Kenosha, Wisconsin, on Sunday.
Biden last week officially accepted the Democratic party's nomination to take on Donald Trump in the 2020 election. He said the country faces a choice between "four more years of fear, division and hate", or a "different path" of "hope, unity and light".
'High stakes'
Speaking from Fort McHenry in Baltimore, Pence said the "hard truth" facing the US public is that "you won't be safe in Joe Biden's America".
He claimed that Biden would "double down on the very policies that are leading to unsafe streets and violence in America's cities".
The current vice-president also said the choice in the 2020 election has "never been clearer, and the stakes have never been higher".
"Last week Joe Biden said democracy is on the ballot. And the truth is our economic recovery is on the ballot, law and order are on the ballot, but so are things far more fundamental and foundational to our country," Pence continued.
"In this election, it's not so much whether America will be more conservative or more liberal, more Republican or more Democrat. The choice in this election is whether America remains America."
Pence was speaking amid ongoing unrest sparked by the shooting of Blake, who is recovering in hospital. His lawyers claimed it will take a "miracle" for him to walk again.
Trump said he would be sending federal law enforcement and the National Guard to Kenosha to "restore law and order". He tweeted that "we will not stand for looting, arson, violence and lawlessness on American streets".
Biden calls for 'moral leadership'
Biden responded to the police shooting in Wisconsin by tweeting: "Is this the country we want to be?"
He added: "Needless violence won't heal us. We need to end the violence - and peacefully come together to demand justice."
The presidential hopeful also tweeted his support for an NBA basketball team who boycotted a play-off game in protest at the shooting.
Players for the Milwaukee Bucks gave a public announcement in which they said "our focus today cannot be on basketball".
"When we take the court and represent Milwaukee and Wisconsin, we are expected to play at a high level, give maximum effort and hold each other accountable," the statement added. "We hold ourselves to that standard, and in this moment, we are demanding the same of lawmakers and law enforcement."
Biden responded by saying the current time in the US "demands moral leadership", and praised the players for "standing up, speaking out and using their platform for good".
Trump to take centre stage
Trump will close the Republican National Convention today with a speech putting forward his case for re-election.
Law and order will continue to be a key theme in his campaign messaging as he bids to win another four years in the White House, as will the economy.
The president claimed on Twitter this week that China's political leaders and state media want Biden to win the election. He said China would "own our country" if his Democratic opponent wins, adding that this would result in a stock market crash.
Trump often refers to trends on Wall Street as evidence of the strength of the economy under his leadership.
Stock markets have continued to trend upwards this week, with the S&P 500 gaining more than 1% on Wednesday and the tech-focused Nasdaq Composite Index rising by 1.7%. The Dow Jones Industrial Average was also up by 0.3% yesterday.
Developments today are likely to be influenced by a speech by Federal Reserve chairman Jerome Powell, who is expected to introduce a new tool designed to mitigate the economic impact of the coronavirus pandemic.
European markets were in negative territory ahead of the Fed announcement, with the FTSE 100 falling by up to 0.5% during the morning session and the pan-European Stoxx 600 index also trading lower.
What is Tradefair?
Tradefair is Betfair's new spread betting service, offering trading on thousands of financial markets such as Gold, EUR/USD, FTSE 100 and Twitter. Whether you think prices are going up or down, Tradefair lets you take a view.
Check out our latest Special Offers

Please note: Our services include products that are traded on margin and carry a risk that you can lose more than your initial deposit. The products may not be suitable for everyone - ensure you fully understand the risks involved.
Discover the latest articles
Read past articles