US Politics: Biden joins calls for impeachment but White House refuses to cooperate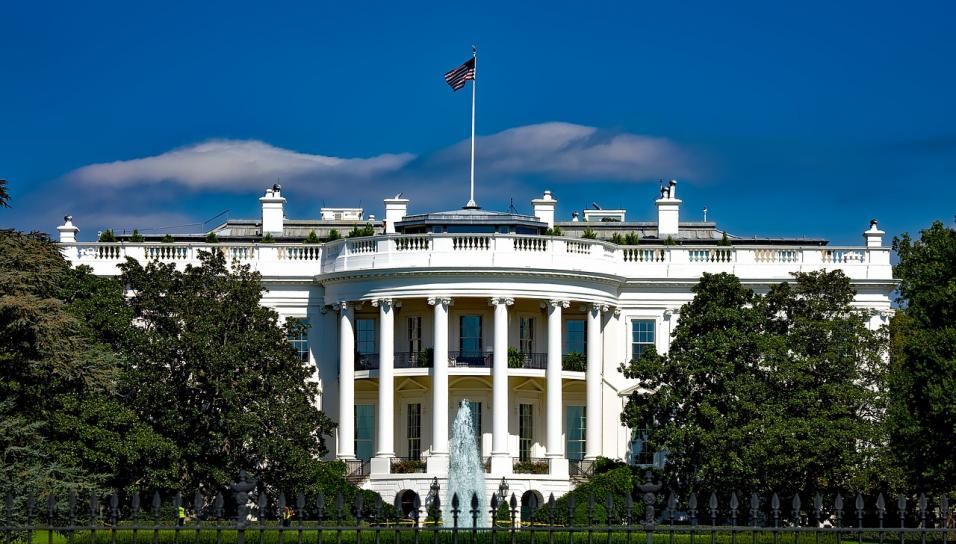 The White House has refused to cooperate with the impeachment inquiry
Joe Biden has become the latest high-profile Democrat to call for the impeachment of Donald Trump, but the White House is refusing to cooperate with investigations. Tradefair brings you the latest from US politics...
"Donald Trump has violated his oath of office, betrayed this nation and committed impeachable acts,"

- Joe Biden
Joe Biden, a leading contender for the Democratic 2020 presidential nomination and one of the central figures in the latest controversy surrounding Donald Trump, has made his first public call for the president to be impeached.
Trump is facing investigations by three congressional committees, after an intelligence whistleblower raised concerns about a phone call between the US president and his Ukrainian counterpart, Volodymyr Zelensky. It's alleged that Trump put pressure on Zelensky to investigate Biden and his son, Hunter Biden, who formerly sat on the board of a Ukrainian energy company.
The Republican leader has accused Biden of corruption, claiming he used his political influence to force Ukraine to abandon a legal investigation into his son's company. In comments made this week, Biden said Trump had "committed impeachable acts" and betrayed his country.
Biden doesn't hold back
Speaking to supporters in New Hampshire, Biden used some of his strongest language yet to denounce the president and his conduct during his time in office.
The former vice-president, who was part of the Obama administration from 2009 to 2017, said Trump had already "indicted himself" through his words and actions.
"By obstructing justice, refusing to comply with a congressional inquiry, he's already convicted himself, in full view of the world and the American people," Biden said. "Donald Trump has violated his oath of office, betrayed this nation and committed impeachable acts."
Discussing the allegations of corruption Trump has made against him and his family, Biden said the accusations were "lies and distortions and smears", designed to undermine his candidacy for the Democratic presidential nomination.
"He's just doing what he's always done: lying," Biden added.
The presidential hopeful also went on the offensive on Twitter, where he called Trump a "bully" who is "lashing out" because he's afraid of "how badly I will beat him next November".
Trump tweeted his response to his political opponent's attacks, saying it was "pathetic" to see Biden calling for his impeachment when he "did nothing wrong".
'Partisan and unconstitutional'
Trump and the White House toughened their stance against the impeachment proceedings this week, issuing an official statement refusing to cooperate with the inquiry, on the grounds that it is "baseless" and "constitutionally invalid".
White House counsel Pat Cipollone sent an eight-page letter to Nancy Pelosi, the speaker of the House of Representatives, and the chairmen of the three Democratic-led committees investigating Trump.
The document claimed the impeachment inquiry is constitutionally invalid because Democrats did not hold a vote on launching the proceedings in the House of Representatives.
It also accused Democrats of attempting to reverse the 2016 election result, adding: "President Trump and his administration cannot participate in your partisan and unconstitutional inquiry under these circumstances."
Pelosi dismissed the letter as "manifestly wrong" and accused the president of trying to "normalise lawlessness", adding that he is not above the law and "will be held accountable".
Latest developments in the inquiry
The White House also showed its opposition to the impeachment investigation by refusing to let Gordon Sondland, the US ambassador to the EU, speak to the Democratic congressional committees behind closed doors.
Trump said he would "love" to send Sondland to testify, but the ambassador would be giving testimony to a "totally compromised kangaroo court" where the rights of Republicans have been "taken away".
Adam Schiff, chairman of the House Intelligence Committee, said Sondland had access to text messages or emails that were relevant to the inquiry. He also said the Trump administration's failure to produce the witness would be viewed as "additional strong evidence of obstruction of the constitutional functions of Congress".
It also emerged in the past week that a second whistleblower had come forward in the impeachment case. Lawyers representing the first whistleblower told ABC News the second individual was also an intelligence official and they had spoken to the inspector general.
While no specific details have emerged about new claims being made, it is believed the latest person to come forward has first-hand knowledge of Trump's phone call with Zelensky.
The US president will continue to come under scrutiny from his political opponents in the coming weeks and months, as well as facing other challenges such as the long-running trade dispute with China.
Markets were encouraged this week by reports highlighting the possibility of a partial trade deal with China. On Wednesday (October 9), the Nasdaq Composite index rose more than 1%, while the S&P 500 was up 0.91% and the Dow Jones Industrial Average gained 0.7%.
However, the increases weren't enough to make up for losses experienced at the start of the week.
What is Tradefair?
Tradefair is Betfair's new spread betting service, offering trading on thousands of financial markets such as Gold, EUR/USD, FTSE 100 and Twitter. Whether you think prices are going up or down, Tradefair lets you take a view.
Check out our latest Special Offers

Please note: Our services include products that are traded on margin and carry a risk that you can lose more than your initial deposit. The products may not be suitable for everyone - ensure you fully understand the risks involved.