US Politics: Biden and Harris attack Trump at first joint appearance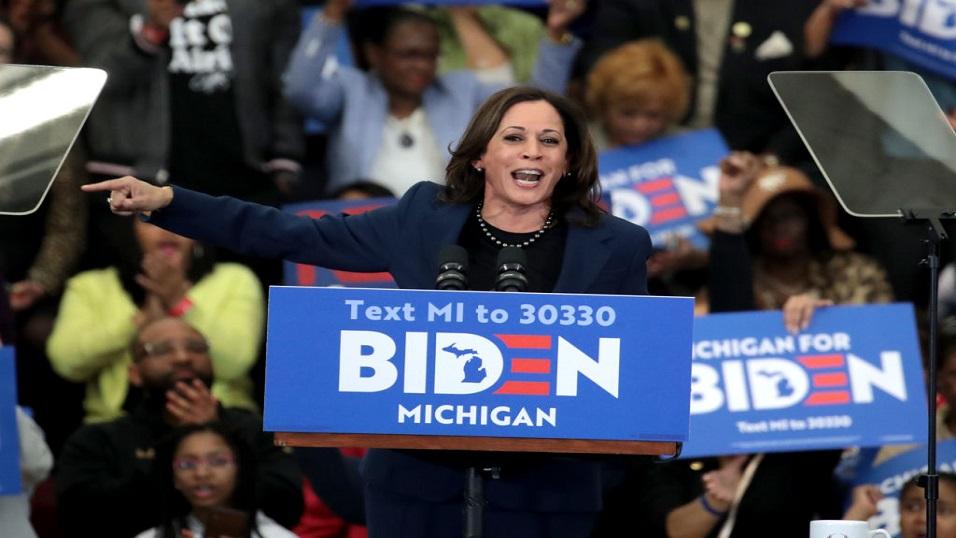 Joe Biden and Kamala Harris appeared together at a campaign event in Delaware
Joe Biden and Kamala Harris have attacked Donald Trump's record at their first joint appearance as candidates for the presidency and vice-presidency. Tradefair brings you the latest from US politics...
"America is crying out for leadership. Yet we have a president who cares more about himself than the people who elected him. A president who is making every challenge we face more difficult to solve."

- Kamala Harris
Democratic presidential candidate Joe Biden has formally introduced his newly-announced running mate Kamala Harris.
The two appeared together for the first time at a campaign event yesterday (August 12), where they spoke of the need for a change of leadership in the US and hit out at president Donald Trump.
Biden reacted to some of the president's latest attacks, saying: "Whining is what Donald Trump does best - better than any president in American history".
Meanwhile, Harris targeted his handling of the coronavirus pandemic and the economic damage that has been seen as a result, as well as criticising his record on racism and injustice.
Tatters
Harris said the current situation is a direct result of electing a president who is not up to the job. She added this has led to the country and its reputation around the world ending up in "tatters".
She added: "America is crying out for leadership. Yet we have a president who cares more about himself than the people who elected him. A president who is making every challenge we face more difficult to solve," she stated.
The event, which took place at a high school in Biden's home town of Wilmington, Delaware, was another reminder of how the coronavirus has upended the presidential campaign.
Whereas in other campaigns the speech would have been held in front of cheering supporters, this year it was not open to the public, with just a handful of reporters present. Both candidates entered the stage wearing masks and observed social distancing.
Biden will formally accept his party's nomination at the Democratic convention next week, which is due to take place largely as a virtual event due to the pandemic.
That little girl was me
The Democrats' choice of running mate has been especially closely-scrutinised this year as it is widely expected that the 77-year-old Biden would not run for a second term if elected president, thus leaving his VP in pole position for the nomination in 2024.
Harris, a senator from California, had long been tipped one of the favourites for the vice-presidency slot, and beat other high-profile names such as Massachusetts senator Elizabeth Warren and former national security advisor Susan Rice to join the Biden campaign.
The daughter of immigrants from Jamaica and India, she is the first woman of colour to appear on a major party's presidential ticket, and had previously clashed with Biden about the former vice-president's record on race.
In a Democratic primary debate last year, she spoke of her experiences growing up, saying: "There was a little girl in California who was part of the second class to integrate her public schools and she was bussed to school every day. That little girl was me."
However, the two have clearly put their previous disagreements behind them. Biden said: "This morning, all across the nation, little girls woke up, especially little black and brown girls, who so often feel overlooked and undervalued.
He added: "Her story is America's story. Different from mine in many particulars, but also not so different in the essentials."
Nasty
While Democrats have largely welcomed the choice of Harris, Republicans wasted no time in seeking to attack Biden's running mate.
The Trump campaign immediately sought to position her as being part of the 'radical left', with attack ads and fundraising emails describing her as "the most liberal leftist nominee" ever to run for vice-president.
However, some commentators have suggested these tried and tested attack lines may have difficulty sticking to Harris, who does not have a reputation as a staunch progressive, and has come under criticism from the left for what was seen by some as an overzealous approach as California's attorney general.
Trump himself, meanwhile, took a more personal tone, ridiculing Harris for her performance in the Democratic primary campaign and describing her as "nasty" for her questioning during the confirmation hearing for Supreme Court justice Brett Kavanaugh.
Critics noted Harris is far from the first woman Trump has used this insult towards, with others including his 2016 opponent Hillary Clinton, speaker of the House Nancy Pelosi and Duchess of Sussex Meghan Markle.
The markets, meanwhile, have remained largely unshaken as the presidential campaign heats up, though some analysts suggested the choice of Harris ahead of more progressive options like Warren - who is considered much tougher on Wall Street - may have calmed any uncertainty.
In trading on Wednesday, all the main US indices saw gains, with the Dow putting on 1.04% and the S&P 500 gaining 1.4% to close just 0.17% short of a record high.
What is Tradefair?
Tradefair is Betfair's new spread betting service, offering trading on thousands of financial markets such as Gold, EUR/USD, FTSE 100 and Twitter. Whether you think prices are going up or down, Tradefair lets you take a view.
Check out our latest Special Offers

Please note: Our services include products that are traded on margin and carry a risk that you can lose more than your initial deposit. The products may not be suitable for everyone - ensure you fully understand the risks involved.