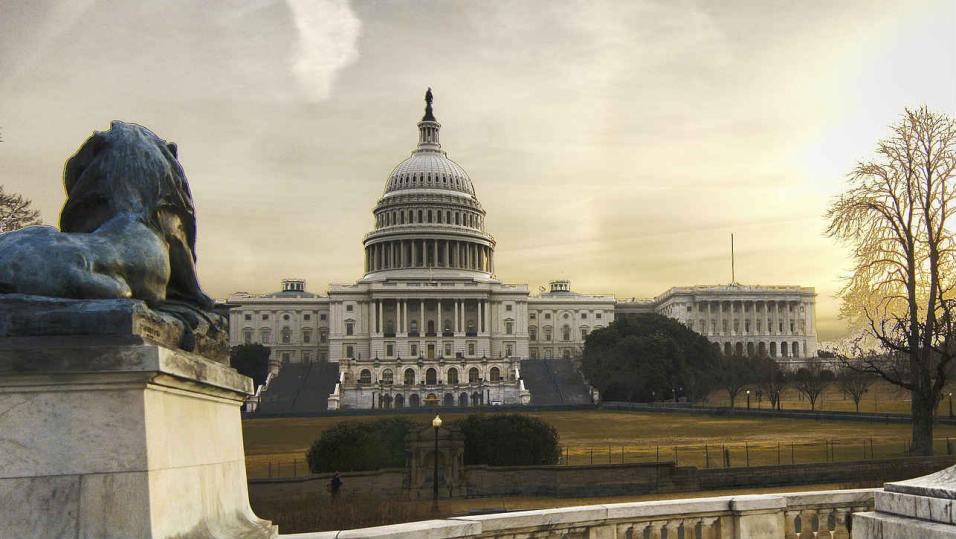 The Senate has approved President Trump's tax reform bill that promises to streamline the system and make the US more competitive.
US President Donald Trump has announced that the Senate has approved his landmark tax reform bill, meaning it could still be passed before Christmas. The Tradefair team brings you the latest in US politics...
"Today we are giving the people of this country their money back. This is their money after all!"

- Paul Ryan, Speaker of the House.
Donald Trump's first major legislative win is just a signature away from being official, as the US Senate approves his landmark Tax Cut and Reform Bill.
It would be the most dramatic overhaul of the tax system for more than 30 years and promises to make all American citizens better off. However, the reforms have been criticised by Trump's opposition for simply giving more money to the already super-rich.
Democrats, who all voted against it, say the bill will also increase the national deficit, negatively impacting the US economy in the long run. Trump and his administration have disputed this, saying that the cost of the tax breaks - which are estimated to be between $3 to $7 trillion - will deliver an economic boost outweighing any initial expenses.
Legislative triumph ahead?
Due to certain elements of the bill breaking procedural rules, it had to briefly return to the House of Representatives to be approved again. However, it's was swiftly passed and Trump is now just moments away from his first major legislative triumph.
Taking to Twitter to announce the Senate's approval yesterday (December 20), the US President said: "The United States Senate just passed the biggest in history Tax Cut and Reform Bill. Terrible Individual Mandate (ObamaCare)Repealed."
It wasn't a landslide victory for Trump though, as he failed to get any Democrats to support the reforms and had to fight to get the backing of enough Republicans.
A convincing win for Trump
With majorities in both the Senate and the House of Representatives, the bill was approved by a comfortable 51 to 48 and 227 to 203 respectively, allowing it to progress through Congress.
Democrat Leader Chuck Schumer warned Trump's administration that the Republicans would pay the price for their "awful legislation" in the 2018 mid-term elections.
"The substance and polling are so rotten that a year from now Republicans will be running from this bill in shame for voting yes this evening," he said.
Understandably, Trump appears to be elated that he is now just a hair's breadth away from celebrating his first legislative victory. However, this hasn't stopped him from addressing his critics.
'Large and meaningful' tax cuts
He tweeted: "The Tax Cuts are so large and so meaningful, and yet the Fake News is working overtime to follow the lead of their friends, the defeated Dems, and only demean. This is truly a case where the results will speak for themselves, starting very soon. Jobs, Jobs, Jobs!"
And the President is not without support. Speaker Paul Ryan, who has been a long-term supporter of tax reform, was tasked with officially passing the bill and dubbed it a "great day for growth".
He said: "Today we are giving the people of this country their money back. This is their money after all!"
A closer look at reform
It's widely accepted that the reform will help US businesses, especially multinational corporations, the super-rich and parents putting their children through private education. However, there are concerns that the benefits for the rest of the population may be short-lived.
Americans that pay for their own health insurance, as well as those living in high-tax, high-cost states could see their situation worsen even in the short term. But the majority of taxpayers will get taxed less until 2025.
However, when the cuts expire, there are concerns that some of America's poorest citizens will be the hardest hit. The Tax Policy Center estimates that the overall change will be unnoticeable by 2027, just two years after the cuts have finished.
It's also forecast that 53% of taxpayers will face higher bills and many of these are in lower-income tax brackets. There are also environmental and social concerns over some of the other aspects of the bill, which allows drilling in parts of the Arctic that have been protected since 1960. He has also modified safeguards around Utah's Bears Ears and Grand Staircase-Escalante that has faced fierce criticism from Native Americans.
What do the markets think?
Opinion polls suggest the general public are sceptical about the bill but Trump's supporters remain confident that this will change once it's implemented. However, the stock markets were driven to record highs ahead of the Senate vote in anticipation of the boost it could give the US economy and businesses.
Investors were also buoyed by the news that construction is exceeding expectations, as more homes were built last month than predicted. This will give them the confidence that the American economy remains robust and resilient to the more controversial events in Trump's presidency, such as his continued tension with North Korea.
What is Tradefair?
Tradefair is Betfair's new spread betting service, offering trading on thousands of financial markets such as Gold, EUR/USD, FTSE 100 and Twitter. Whether you think prices are going up or down, Tradefair lets you take a view.

Check out our latest Special Offers

Please note: Our services include products that are traded on margin and carry a risk that you can lose more than your initial deposit. The products may not be suitable for everyone - ensure you fully understand the risks involved.