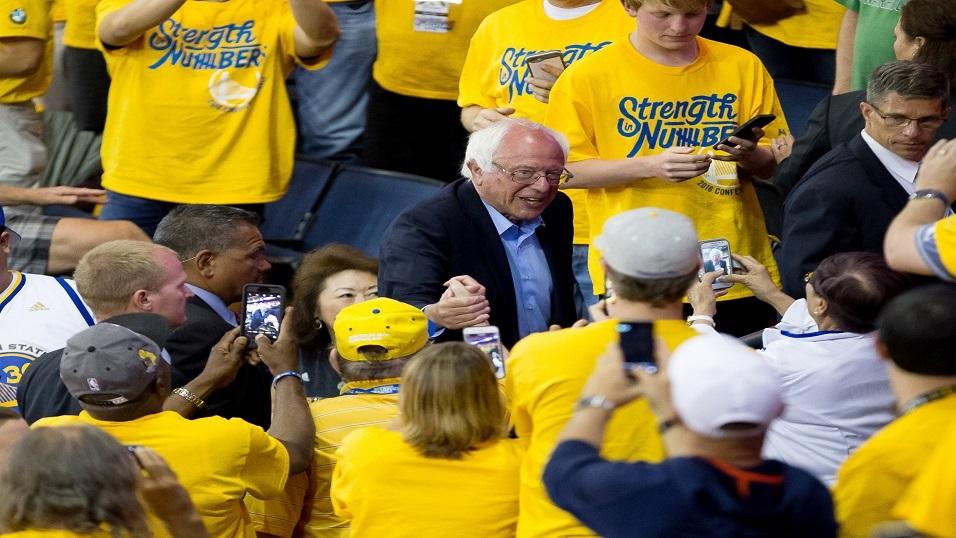 Will Bernie Sanders (above) run for president in 2020?
As the Brexit negotiations grind on, Max Liu heads stateside this week to discuss the Democrats' prospects for stopping Donald Trump in 2018 and 2020...
"Harris is an inspiring speaker and more than a decade younger than the other leading candidates, which include Elizabeth Warren [6.6], Bernie Sanders [8.8] and Joe Biden [17.5]."
In only two weeks, it will be a year since the American Presidential election of 2016. Shiver. Where were you when you realised that Donald Trump was heading for the White House? That the loudmouthed New York businessman/reality TV personality, who had responded to Barack Obama's victory in the previous presidential election by calling for armed insurrection, would soon be the most powerful person in the world? That millions of Americans had voted for a man who boasted of committing sexual assaults? That they have given their support to a man who wanted to build a wall to keep out immigrants?
In the early hours of November 9 2016, I fell asleep on my sofa. At that point, it still looked like Hillary Clinton was destined for victory. The past year, in which Trump has tried to ban Muslims from America, lost key members of his team and threatened to annihilate North Korea, has been so awful that I'm not convinced that I'm not still asleep on the sofa and will soon wake from the nightmare and reality will be resumed under a Hillary Clinton presidency.
Bettors still backing early exit for Trump

There have been several moments in 2017 when it looked like Trump wouldn't complete his first year in office, let alone his first term. Who knows, with American politics increasingly volatile and rumours circulating about the decline of Trump's mental health, it's [1.98] that he will not see out the full four years. In that sense, [13.5] on Mike Pence in the next president market looks fairly appealing (the odds, not the prospect).
On the other hand, let's remember that one term presidents are relatively few, with only one of the previous five occupants of the White House - George HW Bush - failing to win re-election.
Democrats needs to get their act together for 2018

One year on from Trump's victory means there's only 12 months to go before the 2018 midterms. If the Democrats can win back control of either Congress or the Senate, both of which the Republicans have at present, that will be a major blow to Trump. But it won't be easy and bettors make the Republicans [1.65] favourites to hold on to their majority in Congress next November and [1.2] to keep control of the Senate. The Dems are [3.65] to regain control of the Senate they lost at the 2014 midterms.

Who are the leading Democrat candidates for 2020?

Hillary Clinton has already ruled herself out of another run for the White House. Michelle Obama has done the same, although that hasn't stopped bettors backing her into [10.5]. Prominent names from the worlds of entertainment and business are already being discussed. Principal among them is Oprah Winfrey [12.5] who, as America's most popular talk-show host, has enormous reach and influence among the ordinary Americans who need to be persuaded to oppose Trump at the ballot box.
Another non-politicians who's being talked about is Mark Zuckerberg, although the fact he's not in the market at the moment indicates that this would be a big surprise. Al Franken [19.0], meanwhile, was a comedian before he became Junior Senator for Minnesota in 2009. He's perhaps a better bet, however, to throw his hat in to the vice-presidential ring, possibly as running-mate for current favourite Kamala Harris [5.4] - the Junior Senator for California.
Harris is an inspiring speaker and more than a decade younger than the other leading candidates, which include Elizabeth Warren [6.6], Bernie Sanders [8.8] and Joe Biden [17.5]. The pressure is on the Democrats to stop fighting among themselves and put an end to the Trump nightmare.