US Election: Seven potential VP picks for Hillary Clinton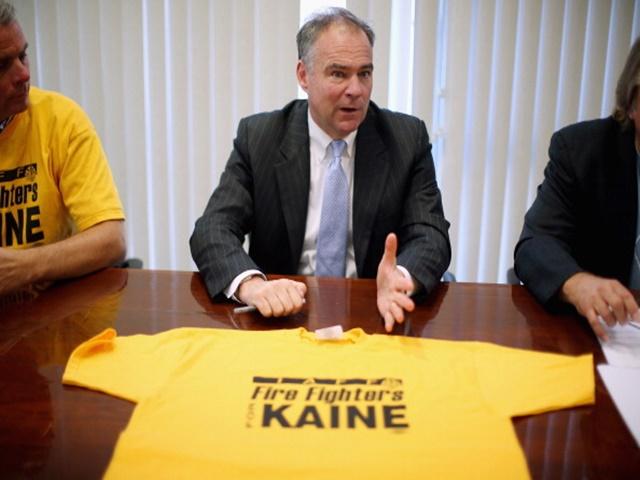 Tim Kaine is widely assumed to be on the Clinton shortlist
Now Hillary Clinton has passed the threshold to secure the Democrat nomination, betting focus shifts to her choice of running mate. Paul Krishnamurty weighs up the chances of seven possible vice presidential candidates...
"Former Governor and now a Senator for Virginia, Kaine was vetted by the Obama team in 2008 and remains very much part of the Democrat establishment."
Bernie Sanders
Odds: 12.011/1
While Hillary Clinton's long-term focus is on Donald Trump, a more pressing concern involves uniting her own party. Sanders has no realistic chance of converting the superdelegates as he aspires to, but he's still threatening to take his fight all the way to what is, on paper, a contested convention.
Though his challenge is futile, the internal damage is potentially huge. Relations between Bernie's largely independent, left-wing supporters and the so-called Democrat establishment have never been worse. These voters are far from certain to vote en masse for Clinton and plenty may be tempted by the other 'outsider' in the race, Trump.
What better way for Clinton to heal wounds and move forward than picking her former rival to be her running mate? That's the theory but, in reality, this is a massive longshot. It surely makes more sense to pick someone who hasn't been attacking the main candidate for months, and there are others who would better unite the party.

Elizabeth Warren
Odds 5.14/1
If Clinton wants to shore up her party's left-wing base, Warren would be the perfect pick. Widely seen as a future presidential candidate, the Massachusetts Senator could be forgiven for having deep regrets about standing aside this time around. Given Clinton's negative favourability ratings, she is almost certainly the Democrats' most electable female.
Whilst a large section of progressives remain sceptical about their nominee, Warren's star seems to be shining ever more brightly. Initially famous for hammering Wall Street excess, she is now making headlines attacking Donald Trump, including on his favourite medium.
You feel so much for people with college debt, @realDonaldTrump, that you raked in millions scamming students with Trump University?

? Elizabeth Warren (@elizabethforma) May 11, 2016
.@realDonaldTrump can't talk about Wall St, college costs or min wage, so he spent all day belching insults. Pathetic. Really pathetic.

? Elizabeth Warren (@elizabethforma) May 12, 2016
If @realDonaldTrump actually believes every stupid lie he reads on the Internet, we're in for a truckload of trouble if he's President.

? Elizabeth Warren (@elizabethforma) May 25, 2016
Her series of tweets show how the Republican candidate will not have it all his own way on social media, as during the primaries, and these lines of attack will certainly enthuse the base. The only possible negative regarding the VP role is that Clinton may prefer a better balanced ticket than two white, liberal women.

Julian Castro
Odds 5.04/1
This 44 year-old rising star has been touted as a rising star ever since making a keynote speech at the 2012 party convention. The former Mayor of San Antonio, now Urban and Housing Development in President Obama's cabinet, has been trading around favouritism ever since the market opened.
However Trump's name on the GOP ticket may alter Democrat priorities. Whereas Clinton would have struggled to retain anything like Obama's 70% support among Latinos if her opponent had been Ted Cruz or Marco Rubio, the Republicans have picked the most toxic candidate ever amongst this pivotal section of the electorate.
So while heritage remains important, it is not Clinton's only concern in choosing her running mate. In any case, the fact Castro doesn't speak fluent Spanish must count as a negative.

Tom Perez
Odds 8.07/1
Perez would equally be the first Hispanic to appear on a presidential ticket but has arguably wider political credentials. The Labor Secretary has a long history on the front line of key progressive causes and could reconnect Clinton with the Left. Critically, the unions love him.
His profile has never been higher after a series of policy achievements. Last week, he announced a strike-ending deal with Verizon, coming hot on the heels of announcing the Obama adminstration's significant changes to overtime pay - doubling the threshold before which overtime is a legal right.
Championing policies like that or expansion to paid leave on the campaign trail could cut right through Trump's appeal to struggling employees and union members - the biggest threat to a Clinton victory in November. Indeed Perez on the ticket would help create the kind of narrative Clinton needs - the continuity Obama candidate, demonstrably on the side of the workers and American middle-class that feels left behind.

Tim Kaine
Odds: 5.59/2
Almost any discussion about potential Clinton running mates includes Kaine, who has been solid in the betting around 6.05/1 from the outset. Former Governor and now a Senator for Virginia, Kaine was vetted by the Obama team in 2008 and remains very much part of the Democrat establishment.
Kaine would be a solid, safe pair of hands, likely to deliver a swing state. He also speaks fluent Spanish. However as a supporter of free trade acts, he would offer little towards healing the rift with Sanders' supporters and could leave Clinton vulnerable to Trump's anti-free trade act populism. Nor would he obviously excite the media or satisfy the growing appetite for anti-establishment outsiders.

Sherrod Brown
Odds: 16.015/1
Again, picking this Ohio Senator could prove useful positioning for the fight with Trump. As always, Ohio is the most pivotal state on the electoral map, probably essential to any Trump victory. Plus, he is another champion of the unions and capable of bridging the gap with the Left.
Two cautionary notes - Brown has repeatedly said he's not interested and the party would be reluctant to risk losing his Senate seat.

John Hickenlooper
Odds: 13.5
The Colorado Governor has risen on various VP lists and there's been a small market move for him in recent days. Perhaps significantly, he's been touring the national media promoting his book, "The Opposite of Woe: My Life in Beer and Politics."
Hickenlooper also said he'd probably be happy to serve under Clinton, in contrast to past statements. We can only speculate whether the raised profile is a prelude to being picked, or whether the speculation was generated to sell the book. Nevertheless, the buzz is interesting and Colorado is a swing state.

Follow me on Twitter @paulmotty and at my website Political Gambler

***

For the latest on the US Election and all of our other politics markets, check out the new, improved Betfair Predicts, which forecasts outcomes based on the very latest Exchange data...
Discover the latest articles