Democrat Nominee: Biden set to seal the deal on Super Tuesday 3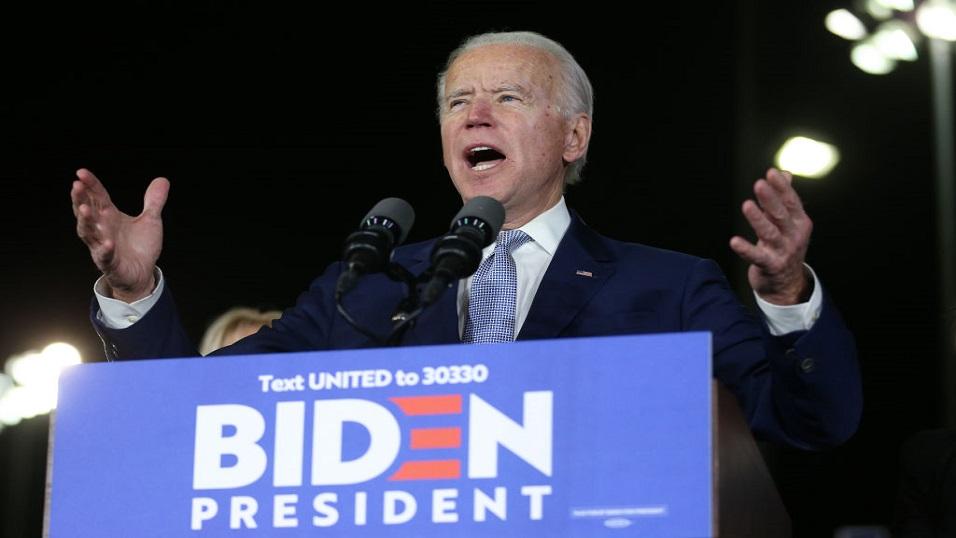 Joe Biden is on course to gain an overall majority of delegates
Ahead of another big night in US politics, Paul Krishnamurty predicts a rout for Joe Biden, but that it won't stop people speculating about his health...
"We don't tip up 1.121/8 chances on these pages but I would love to hear a rational explanation as to how the chance of Biden not being the nominee adds up to 11%."
Unless all the polls, meaningful predictors and recent indicators are hopelessly wrong, tonight will be the last consequential event of primary season.
Ultra prohibitive odds point to huge Biden wins
Four states are voting on Super Tuesday 3 - Florida, Ohio, Illinois and Arizona. The biggest odds available about Joe Biden for any of them is a meagre 1.021/50. Fivethirtyeight forecast he'll win over two-thirds of the delegates and now has a 99.8% chance of winning an overall majority - thus securing the nomination at the party convention in July.
See below for the betting links and RealClearPolitics polling average for each race.
Arizona - Biden +18%
Florida - Biden +39%
Illinois - Biden +30%
Ohio - Biden +23%
While it is true that massive upsets have become more frequent in political betting, I cannot offer a scintilla of reason to think there will be one. Sunday's head-to-head debate with Bernie Sanders left the strong impression that this was done. That the challenger had already thrown his best punches, without landing meaningful blows. Tonight will be humiliating, especially Florida.
Nevertheless, there is still some resistance to Biden on Betfair's Democrat Nominee market. We don't tip up 1.121/8 chances on these pages but I would love to hear a rational explanation as to how the chance of him not being the nominee adds up to 11%.
Online madness fuelling resistance to the obvious
Note the word 'rational' - I don't doubt what theories would be put forward. The internet remains awash with the narrative that Biden is in 'cognitive decline', amplified by the army of anonymous accounts (be they provocateurs, bots, trolls or just real people with very few followers, whose usernames happen to end in eight digits). Some of course will merely be supporters of Sanders or Donald Trump.
These accounts will remain adamant that the DNC will ultimately ditch Biden at the convention and impose a new candidate. Failing that, they'll predict a meltdown, even death, at some point prior to November. If 2016 is any sort of guide, this sort of mad speculation will persist right up to polling day.
Expect a repeat of 2016 madness
It is definitely worth recalling the betting trends of that tumultuous year. Despite never putting himself forward, Biden was gambled back and forth all year. Even in the last couple of weeks, he traded sub 20.019/1 for the presidency. So too Sanders, even after he'd lost the nomination.
When Hillary Clinton collapsed with pneumonia during September, all hell broke loose and both of their odds duly went into freefall. So too her running mate Tim Kaine. Another particularly dramatic day came in October when conspiracy marketeer Alex Jones, Roger Stone and Julian Assange turned the release of the Podesta e-mails into a huge online event.
This sort of thing will likely happen again, so don't expect the market to be particularly rational. Already two candidates who aren't in the race - Hillary Clinton and Michelle Obama - are respectively second and third favourite for the nomination, ahead of Sanders. Kamala Harris is trading below 200.0199/1 and there are large sums queueing up to back Elizabeth Warren and Amy Klobuchar.
Make of this what you will. I'm sure some of those accounts think I'm the mad one and that they are right about Biden's health. What seems certain either way is that, even after tonight's rout, there will still be plenty of betting and movement in this market.

Follow Paul on Twitter and check out his website, Political Gambler.

New on Betting.Betfair – Betslip
You can now bet without leaving Betting.Betfair with our brand new on-site betslip for Exchange markets. You'll see the Exchange back and lay prices at the end of articles - simply login and place your bets as you would do on the main Exchange site
Discover the latest articles
Read past articles