European Politics: Will the SNP take inspiration from Catalan separatists?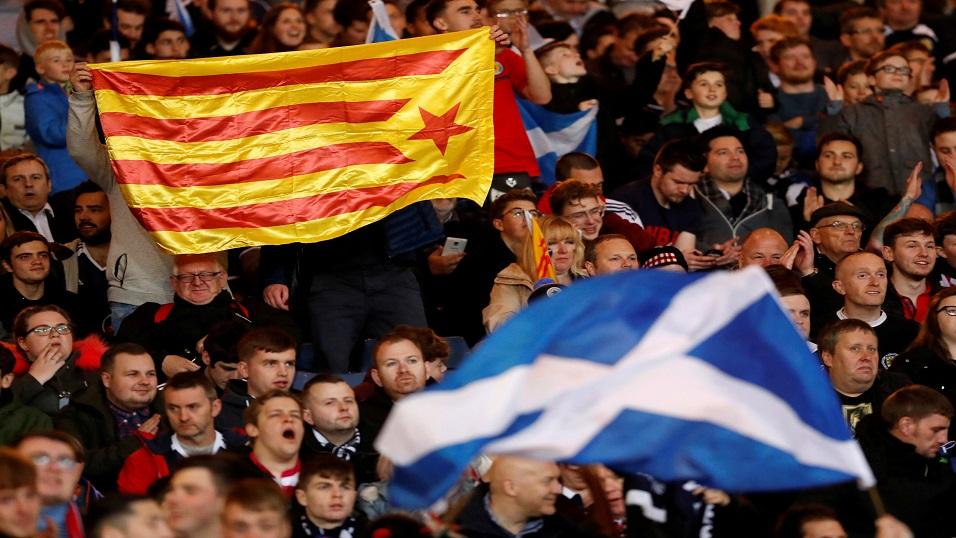 Scotland fans wave a Catalan flag at a football match
Spain is in crisis with Catalans voting to secede and the government in Madrid imposing direct rule. Will the SNP, and other pro-independence parties, feel emboldened? Max Liu reports...
"This week's YouGov poll puts Labour two points ahead of the Tories while bettors make Labour 1.9110/11 to win the next election."
The Spanish government has declared direct rule over Catalonia for the first time in nearly forty years. President Mariano Rajoy has dissolved the Catalan Parliament, dismissed its president, Carlos Puigdemont, and scheduled elections for December 21.
The government in Madrid is responding to the Catalan government who voted to declare independence from Spain on Friday. The situation has been on a knife-edge for several weeks, ever since Rajoy dispatched police to Catalonia to stop a referendum on Catalan independence.
The Spanish government declared the referendum "illegal" but the shocking footage of Spanish police beating protestors in Barcelona, and seizing ballot boxes across the region, only inflamed the tension.
The events stirred up memories of Spain's fairly recent past. For many Catalans, the wounds of Spanish fascism, which involved General Franco ruling the region with an iron rod and outlawing the Catalan language, are within living memory.
Today, around 100,000 anti-independence protestors will march in Barcelona. Last weekend, around 500,000 turned out to show their support for independence. The demos and counter-demos shows no signs of ending soon.
If elections in December go ahead, they're likely to be close-fought, according to a poll published in the anti-independence newspaper El Mundo today. Pro-independence parties are seen taking 42.5 percent of the vote while anti-independence parties get 43.4 percent. The research was conducted on Monday and Tuesday, with 1,000 people surveyed.
SNP closely following events in Catalonia
Some commentators wonder if other independence movements, in other parts of Spain, Italy and, of course, Scotland will be encouraged by Puigdemont's bold stance.
Supporters of Catalan independence followed the 2014 referendum on Scottish independence closely and a few even travelled Scotland to help campaign for a Yes vote. Now it's the SNP who are watching with interest to see what happens in Spain.
That said, the situation is very different in Spain from the one in Scotland in 2014 when a referendum on independence was held with the Westminster government's blessing. This is the key difference, although those who want independence for Scotland and Catalonia do have some shared interests.
That's why a month ago, when the referendum was taking place in Catalonia, SNP leader Nicola Sturgeon said the strength of pro-independence feeling in the region couldn't be ignored by Madrid. On Friday, after Catalonia's declaration of independence, Sturgeon said the Scottish government does not recognise Catalonia as an independent state. But she also tweeted: "The people of Catalonia must have (the) ability to determine (their) own future."
Another referendum on Scottish independence before 2019 is 11.010/1 on Betfair. At the SNP conference this month, members urged Sturgeon to hold off on holding another vote until after the UK's exit from the EU has been resolved. Anyone hoping for a referendum before 2020 is likely to be disappointed.
Johnson-Rudd split ticket to save the Tories?

In 2016, Amber Rudd famously said she wouldn't want to be driven home from a party by Boris Johnson. Only last month, she was pictured telling him to stand up in support of Theresa May at the Conservative Party conference,
But now Rudd is prepared to support Johnson to be the Tories' next leader, according to today's Mail. Johnson is 6.05/1 favourite to succeed Theresa May and Home Secretary Rudd, who herself is in the running at 11.010/1, is prepared to be support him.
The article claims Rudd would back Johnson, and try to curtail his "excesses", on the understanding that he would appoint her as Chancellor of the Exchequer. Rudd is one of the most Brexit-sceptic MPs in the cabinet, while Johnson is arguably its greatest champion, so they would hope to unite Tory voters on both sides of the Brexit divide.
This week's YouGov poll puts Labour two points ahead of the Tories while bettors make Labour 1.9110/11 to win the next election. The Tories best hope of upsetting those odds is to form a united front, so the Rudd-Johnson combination might not be a terrible idea.