Brexit Latest: Five bets for a big week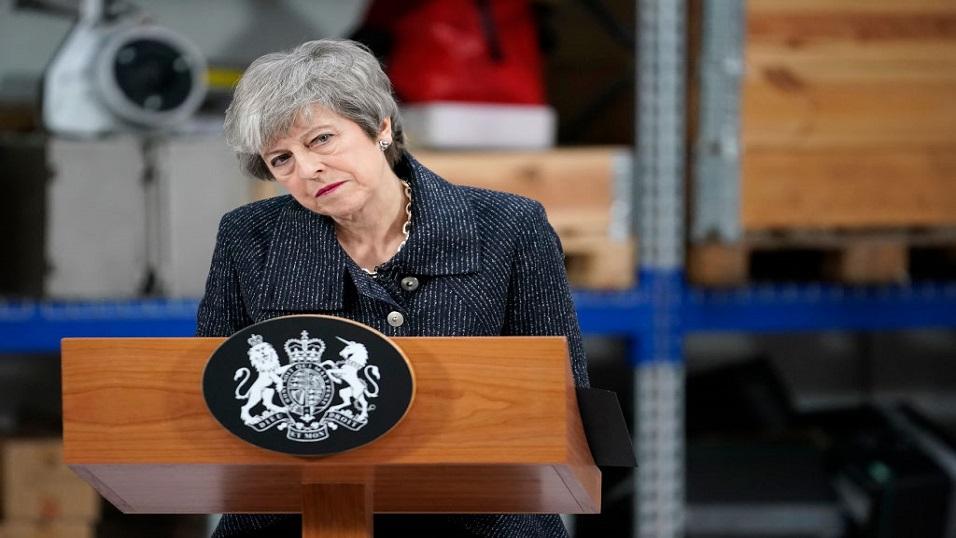 Theresa May making her latest Brexit speech in Grimsby
How many MPs will vote for the government's deal on Tuesday? Will Theresa May resign this week? Could the UK stay in the EU? Ahead of a big week in Westminster, Max Liu assesses the odds...
On Tuesday, MPs will vote again on Theresa May's Brexit withdrawal deal. Two months ago, when MPs voted, May sustained the heaviest parliamentary defeat of any British prime minister in the democratic era after the deal was rejected by a resounding majority of 230.
May to suffer second defeat
There's are new Brexit markets on the exchange. In one of them - Commons to pass Brexit deal at 2nd Meaningful Vote - you can get [5.3] on Yes. I suggest you leave those odds alone, especially as this weekend Nigel Dodds - a key figure in the influential Democratic Unionist Party - and Steve Baker, deputy leader of the European Research Group - a group of around 90 Tory Brexiteers - have said it's "inevitable" that May's deal will be defeated on Tuesday.
How many MPs will vote "aye"?
In January, 202 MPs voted for Theresa May's deal - 196 of whom were Tories, three Labour and three independents. May has been back to Brussels to try to alter the terms of the deal - in particular, the Irish border backstop, which has been a sticking point for the DUP - but it's hard to see the difference between what she's putting before Parliament now and the deal that was defeated two months ago. It would be surprising if fewer MPs were to vote "aye" on Tuesday, but it's also difficult to see many coming around. The market on this is wide open, with 210-219 [4.0] the current favourite, but I prefer 200-209 at [7.0].
The UK is, according to the PM, going to leave the European Union on 29 March. Bettors disagree and make that [6.0] (a 17% chance). Because the odds on a delay to Brexit are so short you can now bet on Article 50 being, not only delayed, but revoked. If the government loses on Tuesday then on Wednesday MPs should get the chance to vote on extending Article 50 and ruling out a no deal Brexit (no deal is [7.0] today but here's an intriguing piece on why it could still happen). The odds on Article 50 being extended are too short to back but [4.5] on it being revoked is more appealing and could shorten imminently.
May to resign this week?
May likes to present herself as the survivor PM but it's more true to say that she clings on to power at the expense of pretty much all else - the good of the country, the future of her party and her personal dignity. Still, May can spring surprises - calling a general election in 2017 being the main one - and if she loses the vote on Tuesday it's not beyond the realms of possibility that could she shock us all and resign immediately. May to leave office before Brexit complete is [2.18] but for the bolder bettor there's [21.0] available on May going this month or [6.6] on her leaving office in the period April to June.
"Forever ever?" as the rapper Andre 3000 once asked? Yes, indeed, it's now possible that there will be no Brexit. May said this on Friday that, if her deal is defeated on Tuesday, then "no one knows" what will happen and she went on to raise the prospect of no Brexit. There are commentators too who, with no sign of the Brexit impasse ending, can see the UK never leaving the EU. Brussels is getting frustrated with the deadlock in the UK but, for all their withering statements, Michel Barnier, Donald Tusk and the EU27 would prefer it if we stayed. With all this in mind, I'll take [4.5] on no Brexit before 2022.