US Presidential Election: Romney all the rage before VP debate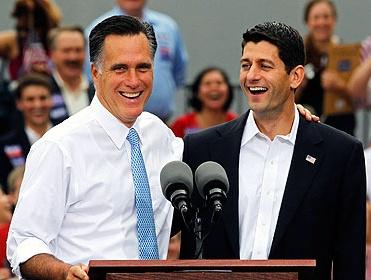 Romney and Ryan who takes on Joe Biden in tonight's VP debate
After snatching vital momentum by winning the first TV debate, Mitt Romney's surge has rocked the Betfair markets with the odds tightening by the day. Is this the start of a dramatic turnaround, or can Obama rise to the challenge? Paul Krishnamurty updates the state of play...
"Having been widely written off as wooden and extreme before most of the country had seen him in any detail, many voters were pleasantly surprised by Romney's fluency and moderate positioning."
Rarely has the cliche that a week a long time in politics been more apt. Seven days ago, the polls, media consensus and markets all pointed towards an Obama landslide, with the President trading at just 1.21/5 to win a second term. One bad debating performance and a slew of worrying polls later, Mitt Romney's odds are in freefall. In the last 24 hours alone, the challenger has shortened from 3.185/40 to 2.915/8, with Obama now a 1.528/15 chance.
The polls show an unmistakeable shift of momentum. Having led in only one of the previous 36 national polls, Romney has come out ahead in five of the last six. Although Obama is still rated ahead in virtually all the key swing states, his lead in those decisive battles has also narrowed. In the famously pivotal state of Florida, where 29 electoral college votes are up for grabs, Obama has drifted from 1.282/7 to 2.01/1. In both Colorado and Virginia, the President has gone from red-hot 1.21/5 favouritism to 1.75/7. Obama remains ahead in Ohio but the gap is closing there too. Another week like this and we will be looking at a new favourite.
These dramatic market moves mirror the growing sense of panic among Democrat strategists, not to mention any punters who took such short odds! However, while this certainly is a nervous period of the campaign for anyone cheering Obama, some perspective is required. Relatively recent candidates such as John Kerry and Walter Mondale won their opening debates before losing the race. Like them, Romney probably benefited to some extent from the surprise factor. Having been widely written off as wooden and extreme before most of the country had seen him in any detail, many voters were pleasantly surprised by Romney's fluency and moderate positioning.
That positive introduction is only the first stage of the election process, though, and if America begins taking the prospect of President Romney seriously, his programme is bound to come in for much greater scrutiny. The Democrat attack-machine is now focussing relentlessly on Romney's vague proposals on tax and spending cuts, along with what it claims are direct lies from the first debate, hoping to feed into a long-running critique that Romney is an opportunist who says entirely different things to different audiences.
Indeed, during the last two Republican primary campaigns, Romney was attacked for his liberal record as Governor of Massachusetts that he used to his advantage in the first debate. In order to assuage the fears of his base on those occasions, Romney engineered ever more extreme positions on issues like abortion, that rather undermine his new moderate image. There is plenty of damaging footage from those campaigns for Democrats to exploit.
The 'flip-flopper' label has destroyed many a political campaign, most recently Kerry in 2004, so expect the Democrats to keep ramming home that message, along with Romney's '47 %' remarks that Obama inexplicably avoided last week. A final source of compensation for Democrats is that at least this scare reduces their worst fears of a low turnout.
Nevertheless, in order to regain the initiative, Obama needs to up his game. All the doubts in the world about his opponent could prove irrelevant if the President can't forcefully defend his own record. He simply must make the most of the improving employment figures that serve as evidence of progress and the popular auto-bailout that was also strangely absent from last week's debate.
The next big campaign event is tonight's Vice Presidential debate between Joe Biden and Paul Ryan. Nobody can ever recall a VP debate dramatically affecting an election, but it remains a potential source of gaffes. Moreover, it will set the tone for next week's second Presidential debate, which takes place on Tuesday in New York.
I'll be looking ahead to that here on Sunday.