UK General Election: Labour's manifesto is the final nail in their coffin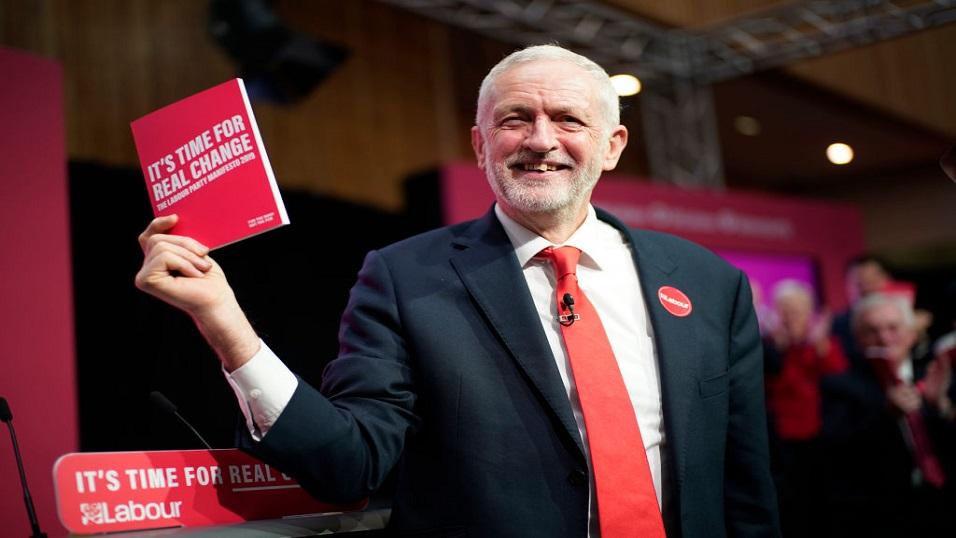 Labour's radical manifesto will be an impossible sell
Previewing tonight's leaders' debate on the BBC, Paul Krishnamurty sees opportunity for the Lib Dems but disaster looming for Labour...
"Corbyn is trying to change a nationwide belief system about debt and spending, to a largely disengaged audience, in three weeks. Good luck with that."
Following Tuesday's inconclusive head-to-head affair on ITV, tonight sees the first election debate involving the leaders of the four biggest parties. For those who want to prevent a Tory majority or Brexit, this may well be their last chance to land a meaningful blow on the front-runners.
In keeping with this earlier analysis, this snap election is proving disastrous for Remainer parties, whose historic divisions are evidently too deep to overcome. As yesterday's Ipsos Mori poll implied, Boris Johnson is on for a big majority and my takeaway from studying a long list of Tory targets seats is that the scale of it may be even bigger than generally expected.
Westminster voting intention:

CON: 44% (+3)
LAB: 28% (+4)
LDEM: 16% (-4)
GRN: 3% (-)
BREX: 3% (-4)

via @IpsosMORI, 15 - 19 Nov
Chgs. w/ Oct

See more:https://t.co/m1hoBpI81D

? Britain Elects (@britainelects) November 21, 2019
Labour's radical manifesto could be their ruin
Labour are in huge trouble. Given how their campaign transformed the 2017 election, it was always worth waiting to see the manifesto. We have now and the time has come to resurrect that line from 1983 about the longest suicide note in history.
In stark contrast to 2017, this manifesto is way too ambitious. Whilst inevitably dubbed as extreme Marxism by their opponents, the previous manifesto was an easy sell. It merely replicated a centre-left agenda, common in Western Europe and popular with voters. Voters are sick of austerity, extreme inequality and run-down public services. It cut through and blindsided the Tories.
Too late to change Labour overspending narrative
Whereas the 2019 document plays straight into their hands. We can argue about whether borrowing vast sums to invest in public goods is a smart economic strategy. But by massively outspending a Tory government that is happy to borrow vast sums, and not getting the costings nailed down, Corbyn has re-inforced a negative image of the party at the exact moment it needed to transform it.
Labour will be derided every minute of the next three weeks as profligate, idealistic and set to plunge the country into economic disaster. All the dodgy old attack lines about the last Labour government, that were weaponised so effectively against Ed Miliband in 2015, will be resurrected. Corbyn is trying to change a nationwide belief system about debt and spending, to a largely disengaged audience, in three weeks. Good luck with that.
Moreover, the manifesto has undone his relatively good work from the ITV debate. Without landing any devastating blows on Johnson, Corbyn came across as sincere, approachable and nothing like as toxic than the media caricature. That probably helped him last time too, but now views against him are entrenched.
Swinson must seize this one-off opportunity
The effect, in my view, is that the manifesto will scare off any would-be Tory Remainers who were considering a tactical vote for Labour. It may well deter them from backing the Lib Dems too, if they fear Jo Swinson will prop up Corbyn. Scuppering that narrative now becomes her number one goal in a two-hour debate that may define her entire career.
Remember her predecessor bar one and the first ever televised debate in the UK? Nick Clegg took on an unpopular PM and an opposition leader about whom plenty had doubts. He emerged, briefly, as a political star, simply by playing them off against each other with some populist rhetoric about 'time for real change'.
There is definitely a similar opening for Swinson. She is relatively unknown, the only woman leader of the big three English parties and in contrast to the two men, a committed Remainer. She will never get a better chance to address the country and to expose Boris Johnson's numerous potential achilles heels. Alternatively if she fails to cut through, she could become an irrelevance down the final stretch.
Lib Dem lines changing to distance from Labour
It is clear from Lib Dem comments this week that they are now trying to sell themselves as the party that can moderate the Tories in a hung parliament, as opposed to one that might participate in a Labour-led coalition.
Tory-defector Philip Lee, who is engaged in a fascinating race against John Redwood in the Remain stronghold of Wokingham, has said he can envisage a minority Tory government conceding a confirmatory referendum on the Brexit deal, in exchange for parliamentary support. This line could have great traction but it needs amplifying, and fast.
For the PM, merely avoiding disaster will be a success. He will be attacked on all sides from Corbyn, Swinson and Sturgeon. That isn't necessarily a bad thing.
Boris so far untouched by fake news charges
This election is his to lose. So far, it seems that Trumpian distractions and fake news work equally well in the UK. When hardly anybody trusts any politicians, voters can't be bothered getting exercised about one politician's transparent lies. "They're all the same" is a common mantra.
Just by doing these debates, Johnson is avoiding a threat. When Theresa May skipped them last time, it hurt her and put the Tories on the back-foot. Besides the Clegg example, others haven't changed a great deal in previous elections. They really aren't that risky - nothing is likely to change dramatically tonight.
Bet against Labour on seat lines
Betting-wise, that means we should be opposing Labour on Betfair's Over/Under 206.5 seats line at 2.0621/20. When I've gone through 100 Labour-held targets (50 have so far been analysed), I fully expect that at least 50 will be predicted to go blue, taking Labour below 200 in total.
To try and change that trajectory, I'd recommend three things to Corbyn. First, repeat ad nauseum the line that you are not for the 52 or the 48, but the 99%. Second, amplify your commitment to scrapping Universal Credit - a touchstone issue that matters to ordinary voters in way the commentariat will never understand.
Third, ally with Swinson in demanding release of the Russian report - exposure could really hurt the Tories. To be clear though, I am not betting on it cutting through. Russian interference is a story that will run and run but, as with Donald Trump, it may only do so after Boris Johnson has won the election.
For more tips and insight on the Election, check out the Politics...Only Bettor podcast, where Paul joins Betfair trader Joe Lee and The Sun on Sunday's political correspondent Ryan Sabey to discuss all the latest from the campaign trail and the Betfair markets
Follow Paul on Twitter and check out his website, Political Gambler.
Recommended bets
Back Labour to win under 206.5 seats @ 2.0621/20
Discover the latest articles
Read past articles