French Election: Clear favourite Macron is taking nothing for granted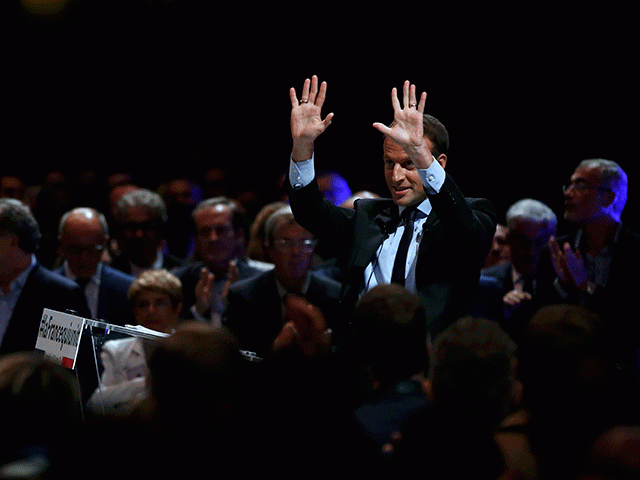 Macron (waving) is favourite to be France's next president
Bettors make Emmanuel Macron firm favourite to be France's next president but what would it take for Marine Le Pen to upset the odds? Max Liu assesses the markets.
On Betfair, 60-65% is the 2.89/5 favourite in the Macron second round vote percentage market.
With nine days to go before the second round of voting in France's presidential election, Emmanuel Macron is 1.141/7 to win with his opponent Marine Le Pen 7.87/1. Bettors are confident that Macron, who upset the odds to win the first round last Sunday, will be France's next president. The En Marche candidate won 24% of the vote in the first round while Le Pen, who bettors backed to win the round, took around 21%.
Macron is expected to score a decisive victory in the second and final round on May 7, as most of the eliminated candidates have urged their supporters to vote for him. The Republicans' Francois Fillon and the Socialist Benoit Hamon both say they will vote for Macron, although the far-left candidate Jean-Luc Melenchon has surveyed his supporters, asking them to tell him whether they will vote for Macron.
Will Melenchon's supporters vote for Macron? They certainly won't vote for Le Pen but, if they decide that Macron's pro-business policies are a deal breaker, then Le Pen will benefit from a fissure on the left. There's also speculation that some Republican voters will decline to follow Fillon's advice and could back Le Pen.
An Opinionway poll shows that 54% of people who voted for Macron voted tactically. This indicates that Macron is supported by a coalition of left and right. The problem with coalitions is that they can fall apart. Now that he's in the second round, it is Macron who voters are taking a long hard look at before casting their vote. This week he's been accused of a being the puppet of financial institutions, a threat to French sovereignty due to his support for the European Union, and he's been attacked by tabloids which are obsessed with his marriage to an older woman.
So will the Macron vote collapse before round two? It'd be a big surprise if there were a significant shift away from the favourite. It's only just over 70 years since France lived under Nazi occupation and, while voters in America and arguably in Britain have shown over the last year that right-wing populism remains potent, most French people are extremely wary of Le Pen.
In 2002, Le Pen's father Jean-Marie made through to the second round before being trounced by Jacques Chirac. Nobody should assume that 2017 will see a repeat of that result: 15 years ago, Le Pen senior was up against an experienced incumbent and the Front National was not as popular as it is today.
Opinionway are carrying out daily polls and, on Thursday, Macron dropped below 60% for the first time in over a month while Le Pen was on 41%. On Betfair, 60-65% is the 2.89/5 favourite in the Macron second round vote percentage market. It will be fascinating to track that market in the next week before second round voting day.