French Election: Macron prepares for office but Le Pen will be back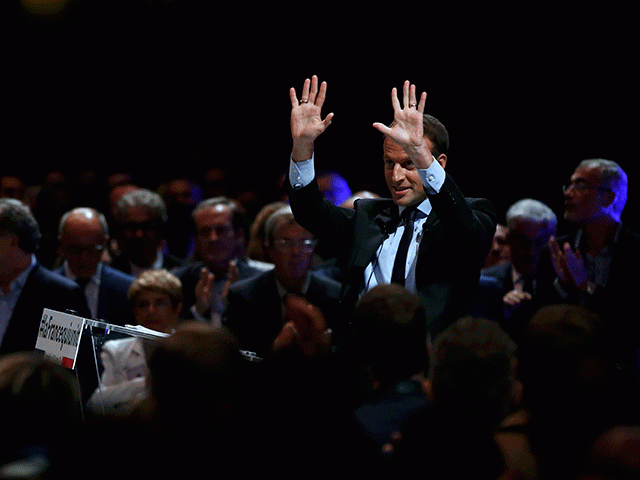 Macron (waving) is likely to be France's next president
As Emmanuel Macron prepares to become France's next president, Max Liu looks back at the most extraordinary election in living memory and wonders what the future holds for the Fifth Republic...
Voting is under way in round two of the French presidential election and the centrist Emmanuel Macron is 1.051/20 to win. French polling stations opened at 7am BST and will close at 7pm (BST). Shortly afterwards exit polls will be published and we should have an indication of who will govern France for the next five years.

The final polls on Friday - no campaigning or polling is permitted the day before the election - indicated that Macron extended his lead over his rival, the far right candidate Marine Le Pen 15.014/1, after their ill-tempered final TV debate on Wednesday. Macron lead by around 22 points which is reflected on Betfair where punters make him 1.8810/11 to take 60-65% of the second round vote.

Macron is set to be powered to victory by voters he's swept up from candidates who were knocked out in the first round, with 54% of those who voted for Jean-Luc Mélenchon and 72% of those who voted for Benoit Hamon saying they will back Macron in round two. Just nine per cent of Mélenchon voters and seven percent of Hamon voters plan to vote for Le Pen.

The Conservative Francois Fillon's supporters are more divided, however, with 45% backin Macron, 32% switching to Le Pen and 23% saying they were still undecided after the final TV debate. Another key feature of Sunday's result is likely to be the unprecedented number of abstentions and blank ballots. On Betfair, turn-out of 76-79% is 1.9110/11.
What happens next?

This has been the most extraordinary French election in living memory. Like last year's American election, it has broken the electoral template that's served a major western democracy for over half-a-century. With candidates from neither of the main parties reaching the second round, French voters have arguably gone further than Americans in ditching the status quo.

French voters return to polling stations on June 11 and 18 when they will elect the 577 representatives to France's National Assembly. To be an effective president, Macron needs his En Marche! party to win the most seats. They're 1.84/5 on Betfair to do that, having eclipsed the Republicans 2.01/1 in recent days, so it could be that En Marche! carry their momentum from Macron's likely victory into next month's votes.
Le Pen is already planning for 2022

If this evening's exit polls indicate that Macron's victory is emphatic then Le Pen could make a concession speech fairly early. As long as she performs better than the 18 percent of the vote her father received in the second round in 2002, Le Pen will be encouraged by her progress in this election.

Le Pen's concession speech will be interesting. Will it be gracious or will she go back on the offensive, as she did in Wednesday's TV debate and say that France has opted for the candidate of the Paris elite? Either way, her message is likely to be that she is going nowhere and she is undoubtedly already thinking about how she can win the next French election in 2022.

At 39, Macron will be France's youngest president but Le Pen herself is only 48. She will be back. After a tumultuous, highly unpredictable six months for French politics, few would risk making predictions, but one thing is for sure: for the next five years, Le Pen will be watching Macron's every move.

Macron's presidency needs to succeed and give people reasons to feel optimistic. If not then, five years from now, disillusioned voters will fall into the arms of Le Pen in even greater numbers than they have in the extraordinary election of 2017.

***
Read past articles