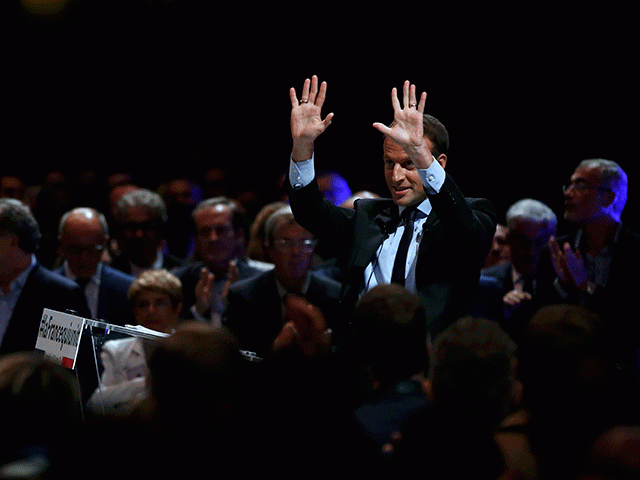 Macron has drifted in recent days but remains the favourite
There has been plenty of movement on the French Election market ahead of the second TV debate on Tuesday night, with François Fillon receiving support in recent days and Emmanuel Macron drifting out - although the En Marche! candidate remains the odds-on favourite for Presidency...
• Fillon backed from 8/1 to as low as 19/5
• Macron candidate still 8/11 clear favourite for presidency having hit a low of 1/2 last week
• Le Pen remains odds-on favourite to win first round, with a 57% chance
• Over £9m now matched on Next President market
After his odds drifted out to double figures throughout 'Penelope-Gate', Fillon is being backed by punters again and hit a low of [4.8] today ahead of the second live debate tonight.
Macron was trading at [1.8] earlier today, the highest price he's been since March 15 but he is still very comfortably the favourite in the market.
Some 45% of all money on the Next President market in the past week has been for Macron while 35% has been on Marine Le Pen.
Far left candidate Jean-Luc Melanchon has been backed from three figures to a low of [28.0] today, presumably after a strong showing in the polls on Monday and after ruling out a coalition with the socialist party candidate Benoît Hamon who is trading at [270.0]
French Presidential Election 2017 - Exchange latest
Next President - £9m Matched
Emmanuel Macron 1.72 (8/11 or a 58% chance)
Marine Le Pen 4.6 (7/2 or 22% chance)
François Fillon 5.7 (9/2 or 18% chance)
Jean-Luc Melenchon 32.0 (29/1)
Francois Aseelineau 210.0 (209/1)
Benoît Hamon 270.0 (269/1)
Nicolas Dupont-Aignan 400.0 (399/1)
Alain Juppé 1000.0 (999/1)
François Baroin 1000.0 (999/1)
To win the first round
Marine Le Pen 1.7 (5/7 or 59% chance)
Emmanuel Macron 2.76 (7/4 or a 35% chance)
François Fillon 13.5 (12/1 or 6% chance)
Jean-Luc Melenchon 80.0 (79/1)
Benoît Hamon 200.0 (199/1)
Alain Juppé 600.0 (599/1)
Nicolas Dupont-Aignan 1000.0 (399/1)
François Baroin 1000.0 (999/1)