UK Politics: Brexit Party looks set to make major election impact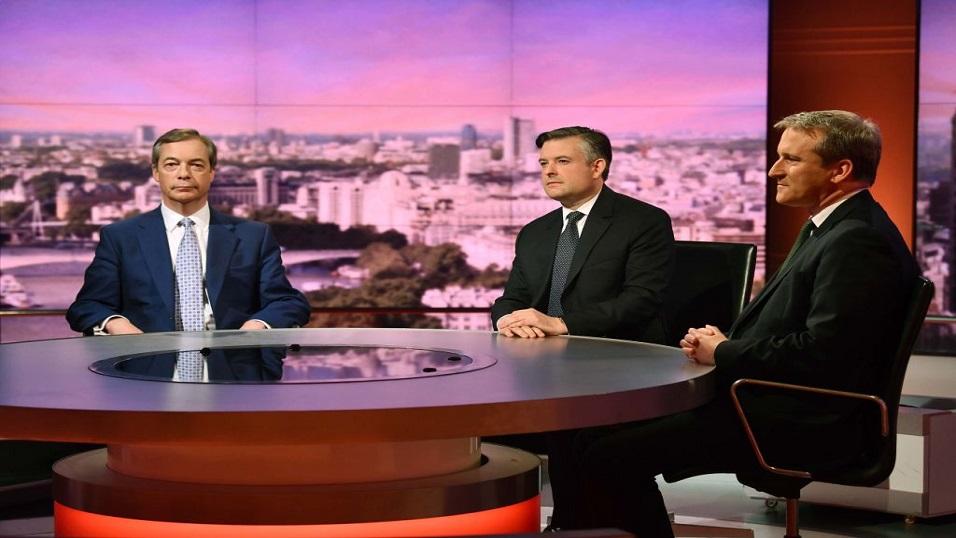 Farage (far left, ha ha) on the Marr Show
The Brexit Party are opening up a commanding lead in the European election polls, while the Tories slip back, but Labour could be the beneficiaries at a general election, says Max Liu...
Nigel Farage's Brexit Party are 1.152/13 to win most seats when the UK holds European elections on 23 May, with nearest rivals Labour out to 7.87/1. It was confirmed this week that voting will go ahead and you can now bet on how many seats the parties will take as well as turnout on the Exchange.
The odds have shortened on victory for Farage's party after a series of polls showed them opening up a commanding lead over the two main parties. This weekend, Opinium indicated a surge in support for the Brexit Party, as they hit 34%, with Labour on 21% and the Conservatives crashing to an all-time low 11% behind the Lib Dems' 12%. ComRes put the Brexit Party only two points ahead of Labour but still show the Tories trailing the Lib Dems.
If the Opinium figures are correct, the Brexit Party is destined to take more of the vote than the two main parties' combined. Farage was all over the BBC this week, on Thursday's Question Time (for the 33rd time) and today's Andrew Marr Show, claiming the mainstream media/UK political establishment - is in for a bigger surprise than anticipated on 23 May.
Bettors make it 2.47/5 that the Brexit Party will take 30-35% of the vote and, if that transpires, it could accelerate Theresa May's exit, with July to September 2.486/4 deemed the most likely period.
Could rise of Brexit Party let in Labour government?
The government would have you think that, if it goes as badly for them as anticipated, the outcome of the European elections is an anomaly. After all, Ukip took the most seats at the EU elections in 2014 then won only one seat at the following year's general election. In 2017, they emerged from the general election with no seats and Farage failed for the seventh time to get elected to the Westminster parliament.
But there are signs that the Brexit Party could cause havoc at a general election too, with a poll from ComRes this weekend showing them moving into second place (20%) behind Labour (27%) but ahead of the Tories (19%). That means the two main parties would have only 39% between them - a total which some commentators are claiming is their lowest combined vote share ever.
David Cameron's fear in the build-up to the 2015 general election was that Ukip could split the Tory vote and hand victory to Labour. It failed to happen, but these latest figures will sound alarm bells among Tories and bettors have taken notice already, with Labour into 4.03/1 to win a majority at the next general election and 2.0621/20 to take most seats.
Takeaway from Verhofstadt doc? Don't rule out no deal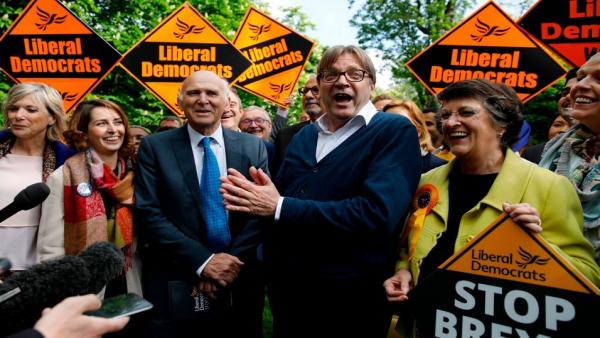 The documentary about Brexit from the EU side, which screened on BBC4 this week, was hilarious at times, but it was also deeply concerning because it illustrated the vacuum of leadership on the UK side and revealed the EU's growing frustration with us.
In the film, Guy Verhofstadt was withering about most UK politicians, including Remainers who he said were in a "negative coalition" with hard Brexiteer MPs. Verhofstadt wants that to be broken apart to pass May's withdrawal deal - something which is 1.558/15 to happen this year.
There was a chilling moment when one of Verhofstadt's colleagues said that, while a no deal Brexit would be bad for the EU, it would be preferable to compromising the European single market - a timely reminder that, at 7.613/2, a no deal Brexit in 2019 shouldn't be ruled out.
In London on Friday, at an election campaign event alongside Vince Cable, Verhofstadt warned EU member countries: "Never repeat Brexit again." In the Exchange's Next Country to Hold an EU In/Out Referendum market, no referendum before 2022 is 2.546/4. Watching that film, you can see why other countries would be put off.

Discover the latest articles
Read past articles