Power Juicing, Running Bad and Poker Plans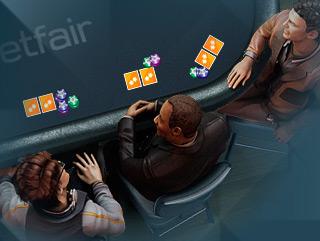 Jokers to the left of me!
With one thing or another it has been a month since I last updated my blog and for that I do sincerely apologise and promise that from now on this will be regularly updated - even throughout the upcoming World Series of Poker. So what have I been up to? Keep reading to find out.
I'm assuming he's doing this with something like ace-ten and he just doesn't know what to do with it so I fold, he shows me eight-four off and high-fives his friend! They drove me berserk!
If you flick back to my last entry you will see that I was experimenting with different juices and smoothies after purchasing a state-of-the-art juicing machine and I am proud to reveal two juices that are amazing though nobody ever believes that they taste good! The first is mango and spinach, yes mango and spinach which is surprisingly lovely thanks to the spinach dulling down the sweetness of the mango and the second was created after I read something by the Godfather of Juicing, Jay Kordich, that said parsley is one of the most potent herbs out there.
Apparently if you juice pure parsley you get a huge buzz that is bigger than some illegal drugs (allegedly) but I didn't want to get too high so I only put a small amount in my juicer and mixed it with some carrots, apple and celery and it went well; I certainly had more energy than usual which was useful because I've been playing poker 14-16 hours recently. Don't worry though because despite what they say parsley is not a gateway drug and I will not be moving onto the harder stuff like sprouts and aubergines!
I mentioned poker there so it seems like the perfect time to change direction, leave the juices of herbs, fruits and vegetables behind and talk about this crazy card game we all love! I played in the GSOP Grand Final in the Dominican Republic and it was the first time I have ever been in a tournament and abused for a full eight hours thanks to these two Swedish guys to my left who were three and four-betting me every hand and a very drunk, loud English guy to my right.
The guy on my right was English but lived in Norway and was bragging that he lives on the Norwegian equivalent of the dole because he has somehow tricked the government into giving it to him. He was always drunk too, really drunk. I saw him a few days previously abusing a waiter and now the idiot was on my table! He was that annoying and smelled so bad that I pretended to be Spanish so I didn't have to speak to him and even though I was talking to the rest of the table in English, whenever a new player arrived he would introduce the entire table to them and tell the newcomer where we were from; referring to me as Spanish but saying he thought I spoke another language too!
The two Swedish guys to me left annoyed the hell out of me because every fricking time I opened one would three-bet and the other four-bet then when I folded one would show a deuce then they would laugh and high-five each other! This went on all day long, it was pretty tilting. One hand saw how ridiculous it was when I three-bet with queen-seven of hearts knowing one of these clowns would four-bet and I was going to five-bet shove but he four-bet over 75% of his stack and no human is ever folding in a tournament after putting this amount of chips into the pot. Because he's so "special" I'm assuming he's doing this with something like ace-ten and he just doesn't know what to do with it so I fold, he shows me eight-four off and high-fives his friend! They drove me berserk!
Online I have now played almost 75,000 hands of Pot Limit Omaha cash games and as you can see from this image, things have not been going too well and I am $31,558.26 down! However, if you scan your eyes across the image you will see that I should have won $26,816.33 with my $EV statistic so I am running really badly at the minute. Hopefully that means that I have a big upswing coming my way shortly and I'll be happy if that happens in the PLO cash games or in the SCOOP events that I have planned to play, including the $10,300 Main Event. I final table bubbled the $55 rebuy so I had some run-good but I just need that little bit extra like my friend Viktor "Isildur1" Blom who won back-to-back titles!
Finally, the World Series of Poker is just a few weeks away and I am planning on playing there this summer. I should be playing in quite a few of the bracelet events but I'm also hoping to play in quite a number of the tournaments being held at the Venetian which I believe is where the Betfair players will be staying this time around so that really helps. I'm going to take it more seriously this time aroudn too and will probably just go out once a week instead of five nights a week like on previous trips and fingers crossed this will see good things happen in "Sin City."
Oh, before I go, don't forget to listen to my radio show every Wednesday evening at 19:30. I'm trying to get a permanent link on here so you can just click and tune in so watch this space. Until next time, ciao.
Discover the latest articles