Medellin - My South American adventure begins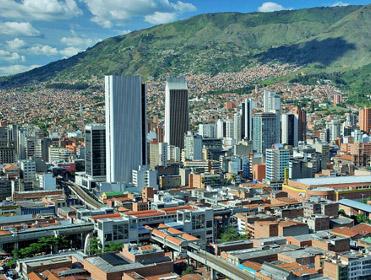 Medellin is perhaps the city with the greatest number of steep hills I've ever encountered
Ever since I was very young I've always had in innate attraction to South America. I can only assume this stems from my past as, at a much younger age, I lived in Portugal (apparently speaking the language fluently despite now being able to recall barely two words!) Anyway, just recently I realised that one of my reasons for playing poker professionally was to give myself a flexibility and freedom that could never come with a regular more 'usual' job. So, if I have this alleged freedom why am I not doing the things I want to do? I've certainly been very fortunate and experienced many things in life which would be considered by many to be luxuries. However I believe life is about engaging in activities and projects which not only make you happy in the present but also propose a future benefit: "to live life to the fullest" if you will. With this in mind I decided to abandon my overpriced shed-box of a flat in London, place my 'things' in storage and take a step into the murky jungle - the illusive South American continent which I have yearned for so long.
I realised that one of my reasons for playing poker professionally was to give myself a flexibility and freedom that could never come with a regular more 'usual' job.
My primary goal was - and still is - to learn Spanish to a strong conversational level by the end of the year. Baring this in mind I felt I was only left with two real options: Argentina or Colombia. Sadly the UK had warned against travel to both countries so I had to make a tough decision. In the end I decided upon Medellin in Colombia, not because it was the murder capital of the world a decade ago, but because my research had led me to believe that it was a place full of friendly people, that it would be easy to socialise there, and - more importantly - that it would be filled with a surplus of beautiful women.

The first few days in Medellin were very interesting; in fact my whole time here (10 days) has been interesting in many respects. Medellin is perhaps the city with the greatest number of steep hills I've ever encountered (I genuinely believe that less than 15 per cent of my time in taxis has seen them getting out of second gear). There have also been more than a few occasions when I genuinely thought the taxi I was in was going to fall down a hill or mountain. Walking anywhere is physically taxing (though moderately more appealing than dying in a taxi) but on the bright side may explain the tremendous thighs of the local females.

Like many other South American countries Colombia is incredibly rich in culture and tradition. Their attitude here is about quality of life and enjoying themselves, not centred around making money or working too hard. Although idealistic it's rather infuriating when you're trying to accomplish the simplest of tasks. On our third day we spent eight hours (no exaggeration, I promise!) at a 'Movistar' phone shop attempting to top up our internet dongles and buy a single phone. The complications began firstly by not speaking Spanish (end of the year, end of the year!) followed by the assistant being somewhat more interested in organising her social life than helping customers. A myriad of connection issues and administrative problems then kicked in, followed by a series of random excuses including: "the head office has been blown up" (it could have been worse; it could have been in a taxi trying to get up a hill without dying). As darkness descended we gave up, negotiated a refund and headed home. This has NOT been uncharacteristic of Colombia by any means. We frequently set aside hours each day to perform seemingly simple tasks because they lack automation and efficiency, and deep down appear to have no desire to be in a rush about anything. A standard shopping check-out took over fifteen minutes simply because the cashier appeared to be heavily stoned, yet no one else in the queue said a word (maybe they were stoned too?) There's no rush or sense of urgency; it's the exact opposite of London and New York in that respect to the absolute maximum.

The most obvious and striking difference for me was the fact that no one actually speaks English. Even though I knew this before I came I did not fully appreciate what this would mean. After all my travelling around the world including a few other third world countries, I realised I had not actually ever been the one who cannot communicate. Telling the taxi driver where you want to go, ordering food, asking for directions, trying to make friends, finding out the prices of gym membership and even partying are nearly impossible without speaking the language as they simply cannot comprehend what you are saying. In one respect it pushes me to achieve my language goal, but at the other end of the spectrum it takes away from enjoying the full Medellin experience when you basically have an 'observer-only account with proof of funds'; very tilting.

Food: where do I begin! As some of you may already know I'm a huge foody and even started a food blog a while ago. Unfortunately Colombia is just as bad if not worse than Brazil in terms of their food. They simply do not believe in vegetables and worse yet, EVERY dish is fried and/or covered in cheese. I quickly learnt to ask for my dishes without cheese and not fried (you see what I did there?) however they still managed to partially fry some ingredients or add half a kilo of salt to fruits and then hide them in the dish somewhere. Most surprisingly was when I forget to inform them "sin queso, sin fritto" on a dish that was obviously 'safe' in my mind (in this case a standard California roll) but out it came fried and I ended up arguing with the waiter (by waving my arms around) that it wasn't the dish I ordered. I failed to realise that "special sushi rolls" meant fried. Once they even managed to sneak fried vegetables into my "ensalada fresca" (fresh salad) and my plain grilled octopus came hidden in a bowl under two centimetres of grilled cheese. I was quickly feeling the effects of this on my body and after the third day they finally got me. My body broke down and whether it was a reaction to all the fried foods and cheese or simply food poisoning, I was incapable of eating or talking for a day. I was switching between boiling to freezing within minutes. For the first time in years I'd become sick. At this stage I truly missed my Vitamix and Juicer :(

Following a swift recovery, some improvements in my Spanish and some socialising, Medellin has become more fun. As with any city you really need to meet the locals to learn where to go and what to avoid. Although difficult I have now found some tasty restaurants that aren't so into drastically reducing the life expectancy of their patrons. I've even found a couple of gourmet restaurants and one specific venue that has been strongly inspired by Fat Duck and Il Buli. Brilliant.

The locals are perhaps the friendliest people I have met of any country. Always smiling, always willing to help and correct your Spanish, and going out of their way to provide assistance. It's strange to think that this city at one time produced 80 per cent of the world's cocaine and was the murder capital of the world; bold, aggressive and very scary statements about a place which appears to be truly beautiful. I am still confused as to how the vast majority of the girls here are so beautiful with incredible curvaceous figures while feasting on a diet which is destined to lead them to an early grave. I can only assume the Colombians have incredible genetics and there must be a lot said for walking up steep hills!

Unplanned but not unwelcomed is the LAPT which I've never played before but by happy coincidence happens to be in Medellin soon! I'm actually very excited to play in it, to listen to people talking (or most likely shouting!) in Spanish to one another all day and seeing what crazy events unfold. Poker in a Latin country is going to be golden.

Undoubtedly I have missed out many details and not made the above stories as frustrating or funny as they actually were, but yet again I have become ill and this has negatively affected my mind and (clearly) my writing skills. I look forward to providing another even more positive update shortly once I win this LAPT :)

P.S. The fruits here are stunning. They have some crazy ones plus a huge variety of passion fruits including one breed called maracuya which are as large as my head - no easy feat!
Discover the latest articles