MasterChef, Moustaches and Increased Listeners!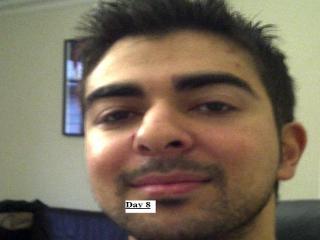 First of all a big thank you to everyone who has been listening into my radio broadcast on Wednesday nights, last week I had over 250 listeners, which was fantastic, really good. Let's see if this week's has beaten that, especially because I had a lovely lady guest with me!
Over Halloween I went to three or four parties, one of them dressed up as a slice of pizza!
How many of you are doing your bit for Movember? As you can see from the picture on this article (taken on Day 8) mine is starting to take shape. All I have at the moment is Persian stubble but there it is starting to come through now. I think it is going to be pretty ugly to be honest and it's not going to work well on my ladies nights and my speed dating nights I go on! Hahaha! Feel free to add me on Facebook where I constantly update my moustache growing progress and please donate on my Movember page because it is such a great cause.
This blog usually gets a couple of stories about my passion for socialising but I haven't been out much this past week, I've been pretty chilled. I mean I've been to a couple of pubs and stuff but that doesn't really count! Over Halloween I went to three or four parties, one of them dressed up as a slice of pizza! The outfit was epic, such a great success because whenever anyone saw it they just started laughing and wanted to talk to me so it was great!
You may recall that last week I was on life tilt because I couldn't find any mung beans at my local Sainsbury's well I didn't even make the curry I had planned to. I have a lodger at the moment and she has been making some really nice and healthy food like salads and plenty of vegetable juices thanks to a vegetable blender she made me buy, one of those you always see on cooking shows on TV. It cost me my net worth but it means we can have some fresh juices, I will be as green as a cucumber in a month's time!
On the subject of food I will be heading to watch MasterChef this weekend. As you know I love my food so this should be a really good day out. I've added everything to my ticket including wine and cheese tasting so I am really looking forward to it, it should be great fun.
I also need to get back grinding some hands on Betfair Poker because I have not been playing much these past couple of weeks, probably in the region of 6-8,000 hands so nothing compared to how much I usually play. Instead I have been studying hard in Holdem Manager and I am finding so much out about my game and the regulars that I play against that I am confident I will be one of the biggest winners on the whole of Ongame in the next few months. Watch this space.
Discover the latest articles